Previously: The Screaming Tunnel Of Niagara Falls.
Officially, the hollow is called Spring Valley County Park — but that's not the name by which many locals of York County, Pa. know it. More commonly, it's known either as Rehmeyer's Hollow or Hex Hollow. And the old, wooden house still standing in that hollow? That's the Hex Murder House.
On Nov. 28, 1928, the house's occupant, Nelson D. Rehmeyer, met his end at the hands of three men — or perhaps more accurately, at the hands of one man and two boys. John H. Blymire was almost 34 when he became convinced that Rehmeyer had hexed him; his two accomplices, John Curry and Wilbert Hess, were teenagers.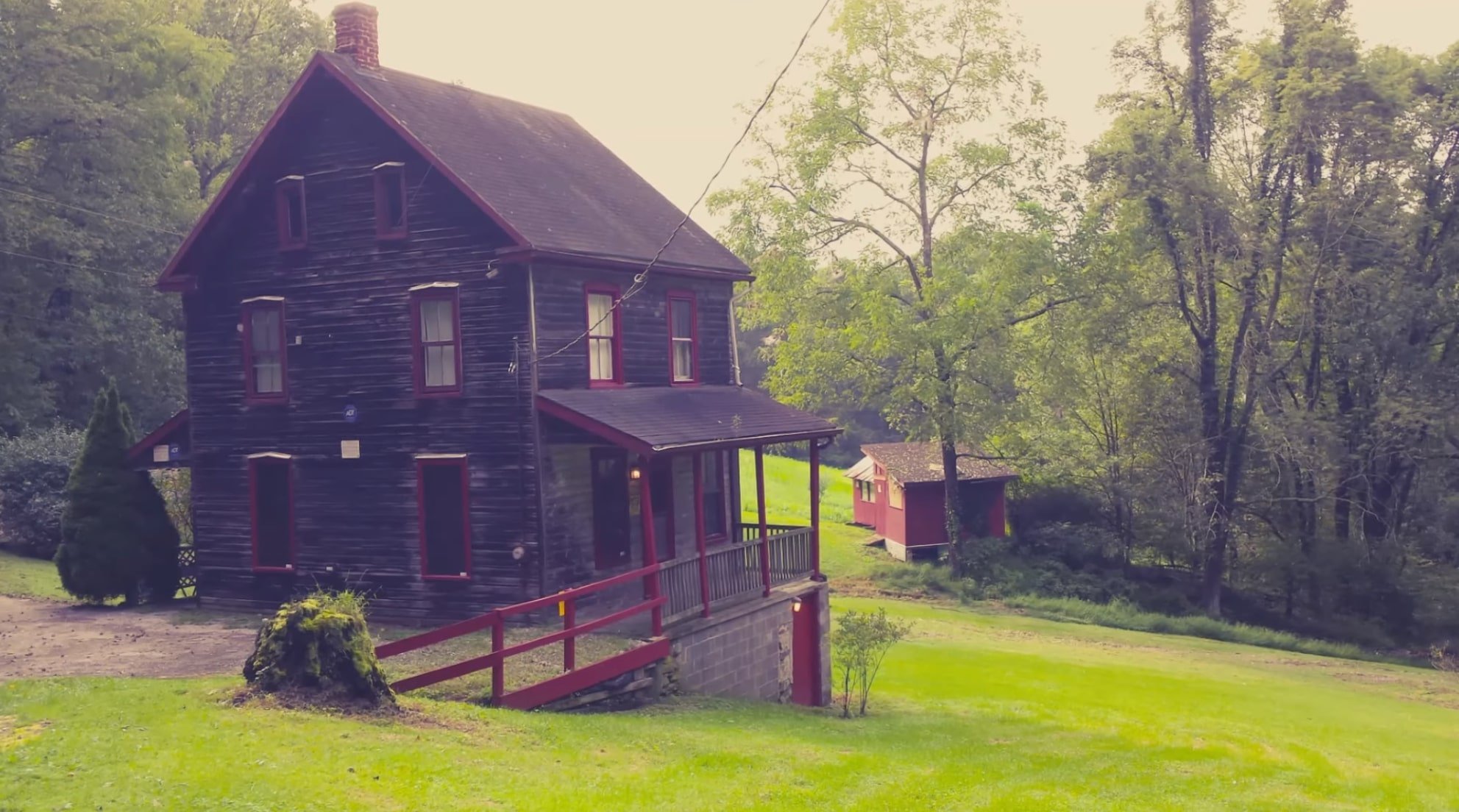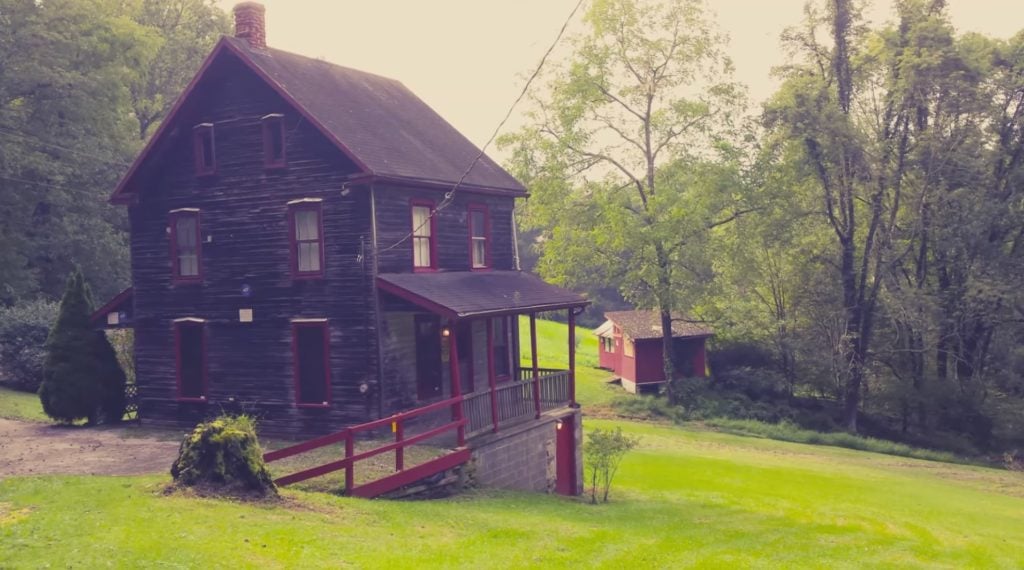 They hadn't meant to kill 60-year-old Rehmeyer.
But they did.
And his house, which remains nestled in the woods of Hex Hollow, might be one of Pennsylvania's most haunted abodes.
[Like what you read? Check out Dangerous Games To Play In The Dark, available from Chronicle Books now!]
Rehmeyer was a practitioner of powwow — the Pennsylvania Dutch folk tradition of ritual healing. Called braucherei in the Pennsylvania German language, Deitsch, the tradition was brought to the United States by German immigrants colonizing Pennsylvania in the 17th and 18th century; the name "powwow" became attached to it sometime in the 18th century. (And yes, the name was appropriated from a Native language — probably an Algonquian one. Colonists gonna colonize.)
Powwowing comprises a variety of rites, charms, and beliefs, Christian in nature, meant to heal and help ill, injured, or otherwise hurting people — both physically and spiritually. It might be thought of as faith healing, as Brian Goodman puts it at Dagger Press; others, meanwhile — like Christopher Bilardi, a current practitioner who was interviewed in the 2015 documentary Hex Hollow: Witchcraft And Murder In In Pennsylvania — call it "active prayer." For a succinct definition, Goodman points to Ned D. Heindel, professor at Lehigh University, who put it in his book Hexkopf: History, Healing, and Hexerei, "Pow-wowing was essentially a religious movement which regarded illness as the work of the devil, an evil manifestation to be expelled by charms, herbs, manipulations and incantations delivered by an empowered believer in the Scriptures."
Practitioners of powwow, who are sometimes referred to as powwowers or braucher, have long used as a primary text a book called Der Lange Verborgene Freund, of The Long Lost Friend, originally published in 1820 by Johann Georg Hohman, or John George Hohman. It's not long — barely 100 pages, if that — but it's full of a combination of charms, prayers, and remedies that make up the fundamental basics of powwowing. You can read an English translation online here.
Rehmeyer had one, of course. And his copy would prove to be essential to the events that ended his life.
Nelson Rehmeyer was born in October of 1868, several decades after the Rehmeyers had first arrived in Pennsylvania in the 1840s. He was a farmer — primarily of potatoes — and although some news coverage of his death would call him a "hermit" or a "recluse," he was more of a homebody than anything else: He lived alone, having separated from his wife, Alice, some years earlier, and mostly spent his days at home on his farm. He was generally friendly whenever he did interact with people, though — and, in fact, had a reputation for helping people.
He did it through powwowing.
John Blymire, meanwhile, was also a powwow practitioner. Born in York County in 1895, he came from a family of practitioners; what's more, they were on friendly terms with Rehmeyer, who had helped heal John in his childhood. (The affliction was believed to be a hex, but was more likely malnutrition.) But Blymire's life had been difficult — according to J. Ross McGinnis, author of Trials Of Hex and interviewed in Hex Hollow, he grew up to be something of a drifter — and as a powwower, he was considered to be nothing extraordinary. He married, but several of his children died young; he also may have had one or more untreated mental illness. He did spend some time in the Harrisburg State Hospital, but he left of his own accord — just walked out one day, and trudged the 25 miles home to York County on foot.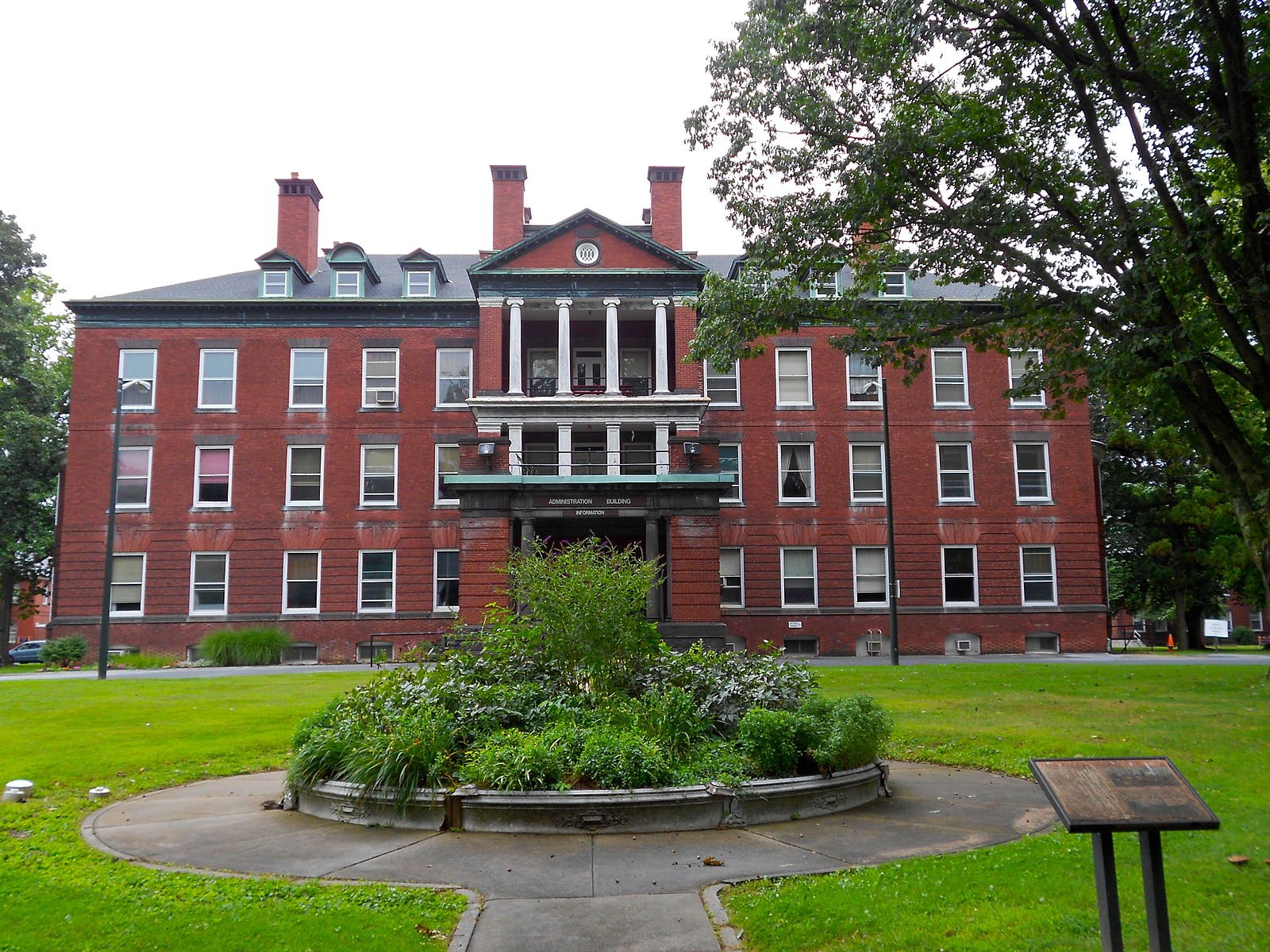 During a particularly difficult time, he developed the belief that he had been cursed — and that this curse was the reason for his lifelong misfortune.
Because belief in powwow isn't just about magic as a force for good. There is always a balance. Where there is good, there is evil. And where there is evil, there is hexerei — and John Blymire thought he'd been hexed.
So Blymire visited Nellie Noll. Her given name was Emma Knopt, but she was known more commonly by her other moniker — and, more commonly still, as the witch of Marietta. Blymire's hope was that Knopt could divine who had hexed him. He visited six times, with each session costing him $5. And on the final occasion, Blymire had his answer: Knopt instructed him to hold out his open hand and place on it a dollar bill — and when she removed the bill, a picture of Rehmeyer appeared beneath on Blymire's palm.
Knopt told him there was only one way to remove the hex: First he needed to acquire both a lock of Rehmeyer's hair and his copy of The Long Lost Friend and a lock of the man's hair; then he needed to bury the former and burn the latter.
So Blymire got to work. It took him a few months — he needed to enlist help and subsequently recruited John Curry, then 14 years old, and Wilbert Hess, 18 — but in November of 1928, he was ready to take action.
It took more than one visit. On the first one, which occurred on Nov. 26, Blymire and Curry stopped first at Rehmeyer's wife Alice's home to see if she knew where he was; she suggested they call on him at his farmhouse.
So they did. Rehmeyer answered the door and invited them in; they had a drink and a chat, with Blymire and Curry ultimately spending the night. They left in the morning.
But later that night — the night of Nov. 27 — they returned. Hess was with them, and they had brought stick and ropes. They knocked on the door, rousing Rehmeyer. They told him they thought they had left something of theirs in the house after sleeping over the night before; would Rehmeyer mind if they came in to check? Of course not.
Rehmeyer opened the door.
A number of accounts exist regarding what happened next. What we do know, however, is that there was a struggle, and that it took place in the kitchen. One of the men took up a piece of wood and hit Rehmeyer over the head with it — hard enough to break the man's skull. Bone fragments caused hemorrhaging in his brain, and eventually, although they had intended to tie Rehmeyer up, the three attackers realized they didn't have to. Nor did they have to carry through with burning Rehmeyer's book and burying his hair. Rehmeyer, they discovered, was dead — which meant the hex had died with him. It was now the early morning of Nov. 28. Rehmeyer's clock had stopped at 12:01am.
They lit the house on fire before they left. No house; no evidence. Right?
But the house didn't burn down. Rehmeyer's remains were soon discovered, and Blymire, Curry, and Hess arrested soon after that. The York Witch Trials, as they're known, began in January of 1929, although you won't find the word "witchcraft" anywhere in the court records; officially, the motive is listed as robbery. After just a few days, the verdict came in: Guilty. Blymire and Curry were both sentenced to life in prison for first-degree murder, while Hess was given 10 to 20 years for second-degree murder. Blymire's sentence was eventually commuted, and both Curry and Hess were paroled. Blymire died in 1972, Curry in 1978, and Hess in 1979.
But the house is still there.
Although attempts have been made — notably by Rehmeyer's great-grandson, Rickie Ebaugh, who currently owns the property — to turn what's now known as the Hex Murder House into a museum, none of them appear to have yet come to fruition; access to the interior isn't typically available, so anyone who might try to visit is limited to a quick drive-by. However, hayrides led by Ebaugh sometimes spring up around the Halloween season — and occasionally, those hayrides include a look around the inside of Rehmeyer's former home. According to Penn Live, which reported on the hayride in 2013, the house is still furnished with many of Rehmeyer's original belongings; additionally, a portion of the kitchen floor has been covered over with glass, putting the scorched floorboards beneath — the area where Blymire attempted to start the fire that failed to burn the house down — on display.
And, of course, a certain… reputation hangs over the place.
Some accounts say shadowy figures can be seen lurking around the property when no one is actually there. Others state that if you throw rocks at the house, it will throw them right back at you. EVPs have been recorded in the forest surrounding the house. A spectral black dog with red eyes has reportedly been spotted in the underbrush. And according to one (admittedly somewhat outlandish) tale, something — perhaps the spirit of Nelson Rehmeyer himself — might come at you from behind the wheel of a car.
But whether or not the ghost stories are true, the tragedy certainly is.
And the house, no doubt, remembers.
***
Follow The Ghost In My Machine on Twitter @GhostMachine13 and on Facebook @TheGhostInMyMachine. And don't forget to check out Dangerous Games To Play In The Dark, available now from Chronicle Books!
[Photos via East Coast Haunts, The Wandering Woodsman/YouTube; Smallbones/ Wikimedia Commons, available under a CC0 1.0 Public Domain Dedication.]