Previously: The 67 Exorcisms of Anneliese Michel.
(CW: Suicide.)
On March 26, 1997, 39 people were found dead in an upscale, two-story house in the affluent Rancho Santa Fe area of San Diego County, California. Dressed identically in black shirts, sweatpants, and Nike Decade sneakers, each had a five-dollar bill and three quarters in their pockets; they all lay neatly on bunk beds, covered by squares of purple cloth. It was only later, when we knew them to be members of the Heaven's Gate cult, that we learned what they had done and why: In order to "evacuate planet Earth" and "graduate" to the next level of existence, they had each consumed a mixture of phenobarbital and apple sauce, followed up the concoction with vodka, and wrapped plastic bags around their heads for good measure. The Comet Hale-Bopp, they believed, had been their sign that it was time for them to do so; the comet had been discovered on July 23, 1995 — and they believed that an extraterrestrial spacecraft to which they could ascend followed in its wake.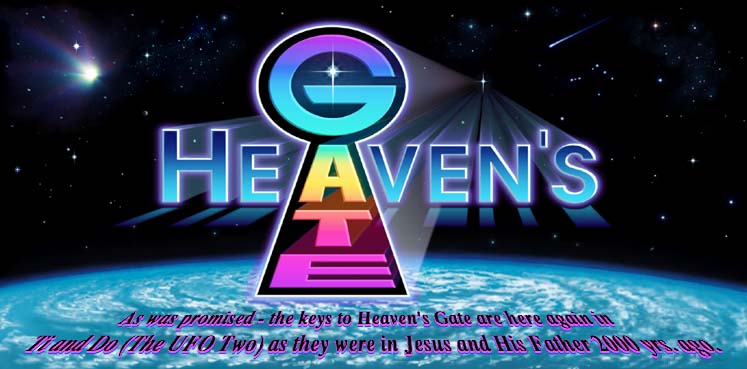 It sounds cliché, but the story truly gripped the nation.
[Like what you read? Check out Dangerous Games To Play In The Dark, available from Chronicle Books now!]
The group that would become Heaven's Gate saw its beginnings in the 1970s, when Marshall Applewhite and Bonnie Nettles first met. Together, they embarked on an intensive curriculum of religious study and science fiction, pulling together what they read into a belief system that became their religion. They recruited followers, reinvented their group, recruited more followers, and reinvented themselves again; their name changed with some regularity, as did the individual names by which Applewhite and Nettles went: Sometimes they were Bo and Peep; other, Do and Ti. They sought to achieve a "higher evolutionary level" — one beyond simply human — and believed that making contact with extraterrestrials was the way to do it.
Nettles died of liver cancer in 1985. Her death had a deep and lasting effect on Applewhite, and thereby on the belief system he and Nettles had constructed; he incorporated her death into his doctrine, but also revised it to account for the fact that her body remained behind: The ascension, he now said, would be spiritual. Once all who followed his doctrine reached the spaceship that would begin the next level of their existence, they would receive new bodies.
What seems to set Heaven's Gate apart from many other cults — whether we're talking about doomsday or apocalyptic cults specifically, or something more like the Rajneeshees, which were recently the focus of the Netflix series Wild, Wild Country — is that you could actually leave it if you wanted to without anyone trying to prevent you from going. I don't think I'd go so far as to describe it as benign — it did have a charismatic, somewhat egotistical leader who led its members into a death pact, after all — but we know from the few former members who remain that what kept people in the cult wasn't force, or even intimidation; it was whole-hearted belief.
That's… interesting to me.
Applewhite and his group rented a mansion in Rancho Santa Fe in October of 1996. They recorded several video messages telling the world that it was their "last chance to evacuate planet Earth before it is recycled." Comet Hale-Bopp approached. And in late March, they all died by suicide, including Applewhite himself.
I was 12 years old when the Heaven's Gate cult became a topic of national and global conversation; the story was so explosive that even now, I can remember how pervasive it became. Not since the People's Temple and Jonestown, roughly 20 years earlier, had we seen an incident of mass death by suicide within the context of a cult organization; at the same time, however, the siege at Waco involving the Branch Davidians was still fresh in our minds, having occurred a mere four years prior. We struggled to understand what could lead someone to become so deeply entrenched in what seemed like illogical beliefs that they would choose to perform incomprehensibly drastic actions.
We still grapple with these questions today — both with regards to older cults like Heaven's Gate, the Manson Family, and the People's Temple, and to newer ones like NXIVM — and we still have no answers.
Perhaps that explains why we're still so invested in the story of Heaven's Gate after all this time.
Further Reading:
"39 Dead In Apparent Suicide" in the Los Angeles Times. One of the first news reports on the mass suicide. Published on March 27, 1997, the piece detailed the conditions in which the 39 cult member were found; even then, it was clear that they had probably died by mass suicide. Interestingly, though, the group wasn't identified as Heaven's Gate, but as W. W. Higher Source.
Neighbors and others who had known the members of the group had nothing but nice things to say about them: A lawyer for the owner of the house they rented described them as "peaceful, sincere, loving people"; a client of their business said they were "some of the most pleasant people I've ever worked with"; and a neighbor told the Times, "They could not have been quieter, nicer neighbors."
No one saw it coming.
Marshall Applewhite and Bonnie Nettles on Wikipedia. Applewhite's and Nettles' Wikipedia pages are just as fascinating as the one on the cult itself is. They cover each of the cult leaders' personal backgrounds in more depth than the Heaven's Gate page does, so if you're more interested in the history behind the cult than in its teachings and belief system, these are the pages to check out.
"Heaven's Gate: A Timeline" in the San Diego Tribune. Via the Wayback Machine, a brief timeline of the cult's activities between 1972, when Applewhite and Nettles meet, and 1999, when the remaining items from the Heaven's Gate compound were auctioned off.
The Heaven's Gate Website. The cult's website is still live all these years later. At the top of the homepage, the words "RED ALERT" flash in large, scarlet letters; then follows a farewell message of sorts, noting that the arrival of Hale-Bopp has "brought closure" to Heaven's Gate. "Our 22 year of classroom here on planet Earth is finally coming to conclusion — 'graduation' from the Human Evolutionary Level," reads the message. "We are happily prepared to leave 'this world' and go with Ti's crew."
All of the group's material remains live on the site as well — both writings and videos.
I don't know much about who's running the Heaven's Gate site now; according to a few snapshots captured on the Wayback Machine from late 1997 and early 1998, following the cult members' deaths, it was maintained by an organization (or perhaps a program or initiative — it's unclear which) calling itself Right to Know, and although there was once a link to Right to Know's own website on the homepage of the Heaven's Gate site, there doesn't appear to be anymore (and the Right to Know URL is defunct now, anyhow). Right to Know itself seems to have been a project of something called the TELAH Foundation — TELAH standing for "The Evolutionary Level Above Human" — which was made up of just two people, former Heaven's Gate members Mark and Sarah King. The WHOIS info that's currently available for the Heaven's Gate site is sparse, showing only that the domain is registered to someone based in Burlington, Ma; I believe the Kings are still running it.
"The Online Legacy Of A Suicide Cult And The Webmasters Who Stayed Behind," by Ashley Feinberg. In 2014, writer Ashley Feinberg took a deep dive not only into the Heaven's Gate website, but also into Higher Source (sound familiar?), the web design company that the Heaven's Gate group ran as a mean to make money and keep themselves afloat, as well as Mark and Sara King. At the time the article was published, the Kings were maintaining the Heaven's Gate website.
In 1999, the Kings had reached an agreement with officials in San Diego County wherein they were allowed to remain as custodians to "religious writings, artwork and more than 20 arm patches embossed with the group's logo," according to the Los Angeles Times; the rest of the group's estate passed to country control and subsequently put up for auction. If the Kings are indeed the ones still running the Heaven's Gate website, they appear to have made good on their promise to "keep [the items] in memory" of the 39 deceased cult members.
"Suicide Group's Possessions Auctioned Off" in the New York Times. Speaking of the auction, it happened in November of 1999. The 183 lots included cars, bunk beds, books — the minutiae that makes up any American's day-to-day existence. One of the beds was purchased by the curators of Los Angeles' Museum of Death; at the time, the museum's LA location hadn't even opened yet — originally located in San Diego, it would throw open its ghastly doors in Hollywood in 2000 — but the bed remains there today as part of a recreation of the cult's death site. Check out the Times' article for more details about what hit the auction block — and who bought it.
Heaven's Gate Podcast. I actually have not listened to the entirety of this podcast yet, but it's definitely on my To Listen list. Hosted by Glynn Washington of the NPR podcast Snap Judgment, it's a 10-episode deep dive into the whole story from every imaginable angle.
Washington himself grew up in an organization some consider to have been an apocalyptic cult during the '70s and '80s; according to an interview with him published on NPR's website in January of this year, he recognized a lot in the Heaven's Gate story when it first broke in 1997 as familiar based on his own history — and it's that personal connection that's driven his interest in Heaven's Gate both then and now.
"Remembering The Sneaker That Took One Cult To Heaven," by Brendan Dunne. Over at Sole Collector, Complex Media's niche site about sneakers and sneaker culture, an up-close-and-personal look at the shoe that went down in history as ushering the Heaven's Gate cult members out of this world and (maybe) into the next. The Nike Decade wasn't a fancy or high-tech sneaker; it was a budget option that Mark and Sarah King told Dunne appealed to Marshall Applewhite on an aesthetic level. Also, the group was able to "get a good deal on them." According to the records, the shoes were purchased in bulk on March 1, 1997 for just shy of $550 in North County, Calif. These days, a single pair of the discontinued style tends to go for more than that on eBay.
Heaven's Gate Database on YouTube. I'm not sure if this YouTube site is an "official" one in any sense of the word; it does, however, feature 18 videos, many of which were the ones recorded by Applewhite during the '90s.
"Last Chance To Evacuate Planet Earth Before It Is Recycled," by Porcupine Tree. Originally released on the 2000 album Lightbulb Sun, this piece by British prog rock band Porcupine Tree samples the video Applewhite recorded on Sept. 29, 1996. You can watch the video here; it's long, though — over an hour — so if you don't have the patience for it, you can also read the transcript here. It's basically Applewhite's explanation of the Heaven's Gate philosophy, as well as — if you read between the lines — a pronouncement of and reasoning for what the group would do a scant six months later.
The song is eerie enough on its own, even if you don't recognize what the speech in the middle of it is.
It's really something else when you know what you're listening to, though.
(Lightbulb Sun is a terrific album, by the way. Highly recommended.)
"Heaven's Gate: 20 Years Later," by Michael Hafford. The 20th anniversary of the Heaven's Gate incident occurred in 2017, so as you might imagine, a wide variety of retrospectives were published in late March of last year. This piece from Rolling Stone takes the "things you didn't know about Heaven's Gate" angle, which is maybe a little trite; the piece is quite informative, though, so I'm willing to overlook it. (Warning: There are photographs from the death site, so if that's not something you want to look at, you might not want to click through.)
Heaven's Gate: America's UFO Religion by Benjamin Zeller. This 2014 book is considered one of the best academic treatments of Heaven's Gate; indeed, it's the only single-author, book-length examination of the cult. It works not just to tell the story of Heaven's Gate, but also to situate it within its time and the larger American culture of the moment. An excerpt was published in Salon in November the year the book was published; to get a taste of what you can expect from the full work, check it out here.
***
Follow The Ghost In My Machine on Twitter @GhostMachine13 and on Facebook @TheGhostInMyMachine. And don't forget to check out Dangerous Games To Play In The Dark, available now from Chronicle Books!
[Photo via screenshot/Heaven's Gate.]