Previously: Dancing Mania & The Dancing Plague Of 1518.
(CW: Mental health, abuse. Also, many of the links include disturbing photographs, so click through at your own risk.)
If you've heard of only one real-life exorcism case, it's probably the exorcism of Anneliese Michel — or, more accurately, exorcisms. Plural. Between 1975 and 1976, Anneliese underwent 67 of them; none of them, however, could save her — and may, in fact, have killed her.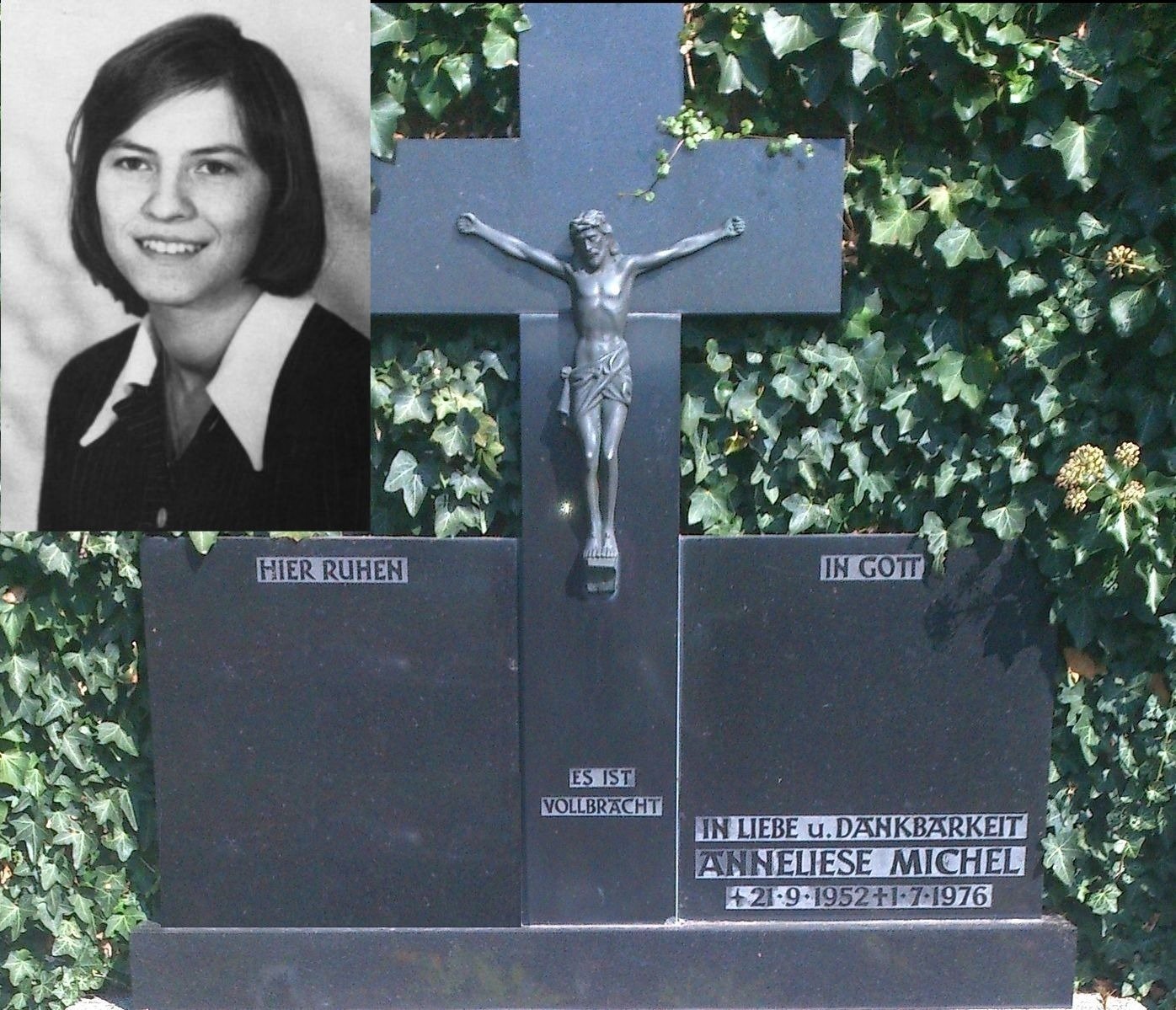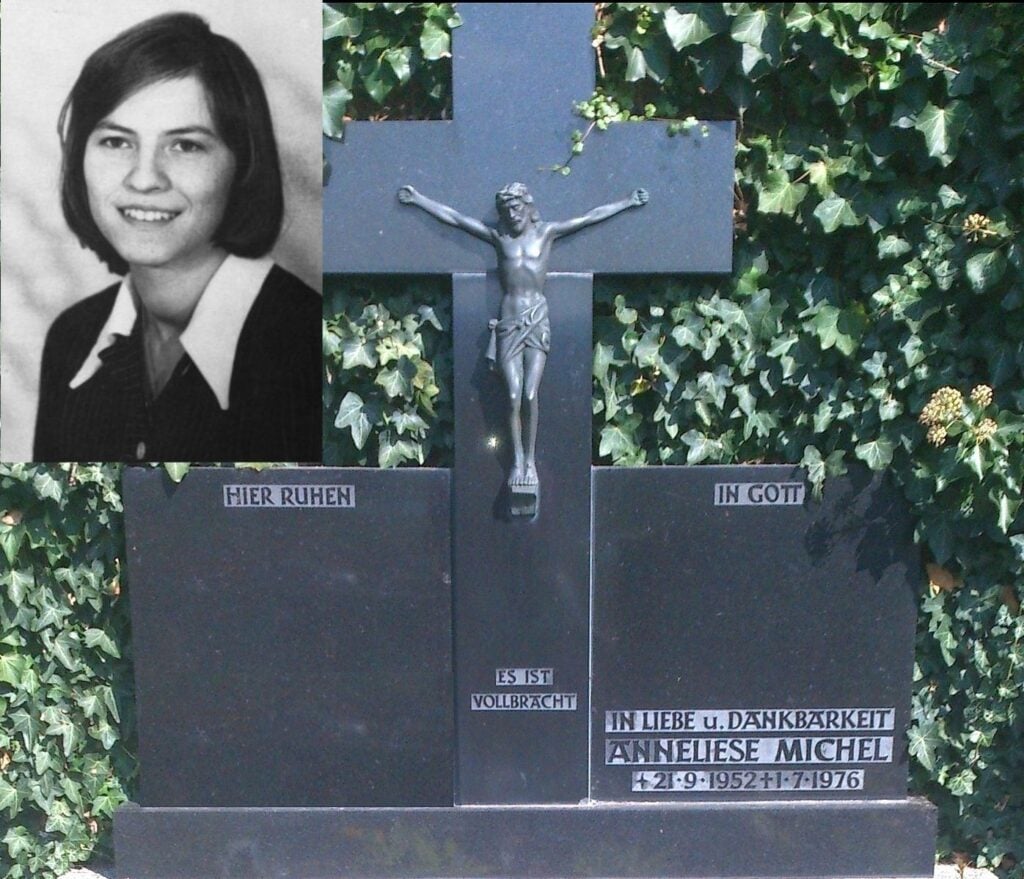 Born on Sept. 21, 1952 in Leiblfing, a Bavarian municipality in what was then West Germany, Anneliese Michel came from a Catholic family — two parents, three sisters, all practicing. She went to Mass twice weekly and was described by classmates as "very religious." At 16, she experienced a severe seizure and was diagnosed with temporal lobe epilepsy; a diagnosis of depression followed not too long afterwards. After five years of treatment failed to yield results, however, the family began to fear something more… extreme: That Anneliese had been possessed by a demon.
[Like what you read? Check out Dangerous Games To Play In The Dark, available from Chronicle Books now!]
As her behavior became more and more erratic, the family appealed to the Church for an exorcism time and time again. Eventually permission was granted, and beginning in 1975, two priests arrived at the family's home and began conducting the first of what would end up being 67 exorcisms. During this time, Anneliese essentially ceased eating and drinking; she was also no longer receiving psychiatric care. Each exorcism session lasted up to four hours in length; they were carried out at a rate of one to two per week.
On July 1, 1976, she died. The cause of death was determined to be malnutrition and dehydration. She was only 23 years old.
Following Anneliese's death, her parents and the priests that performed the exorcisms were charged with negligent homicide. The trial was carried out in 1978; all the defendants were found guilty of manslaughter resulting from negligence and sentenced to six months of jail time and three years' probation. The jail time was later suspended.
Even today, the debate rages: Those who believe in demonic possession claim that Anneliese died because of it, while those who don't focus on the mental health aspects of the case. But where both groups are in agreement is about how much of a tragedy it was — a life cut short by forces neither she nor anyone around her understood.
Further Reading:
Casefile: "Anneliese Michel." This episode of Casefile, a highly-rated true crime podcast out of Australia, provides a thorough overview of the entire case. In 45 minutes, it walks listeners through the story from start to finish, beginning with Anneliese's early life and carrying through the court case after her death. It's balanced and unbiased, presenting a variety of perspectives — medical, religious, and more. If this is your first deep dive into the case, Casefile's episode is an excellent place to start. Note that there are audio clips from Anneliese's exorcisms used throughout, which can be disturbing to listen to, so proceed with caution.
Anneliese Michel: A True Story Of A Case Of Demonic Possession by Lawrence LeBlanc. Casefile's main source for their episode on Anneliese.
"Anneliese Michel: The Girl, The Possession, The Exorcisms" at The Paranormal Scholar. Not into podcasts? This article covers all the base of the Anneliese Michel case in written form. It's an excellent and comprehensive account, so I'd actually recommend reading it even if you do start with Casefile's episode; husband and wife duo Erik and Laura run a great site with terrific analysis, so their stuff is always worth checking out. You can also watch their half-hour documentary about Anneliese on their YouTube channel.
Photos Of Anneliese Michel And Her Exorcisms. A collection of photographs of Anneliese Michel as a child and a young adult, as well as photographs taken during her 67 exorcisms. Warning: The images are really upsetting, so proceed with caution.
Unedited Audio Recordings Of Anneliese Michel's Exorcisms. Casefile's episode on Anneliese Michel featured just a few clips of sound recordings made during the young woman's many exorcisms. This file, though? It's an hour and a half of those recordings. Warning: Like the photos, the recordings are really upsetting; proceed with caution. There are also photos at the link.
The Exorcism Of Emily Rose, dir. Scott Derrickson. The 2005 film that renewed interest in the Anneliese Michel case. Focusing primarily on the court case, the "possession" story is told in flashbacks. Jennifer Carpenter stars as Emily Rose, with Tom Wilkinson as the priest on trial, Father Richard Moore, and Laura Linney as his lawyer, Erin Christine Bruner. Rent it for $3.99 on Amazon.
"God Told Us To Exorcism My Daughter's Demons. I Don't Regret Her Death," by Elizabeth Day. In 2005, shortly after the release of The Exorcism Of Emily Rose, Elizabeth Day interviewed Anneliese's mother, Anna, who was then in her 80s and still living in the house in which Anneliese had died, for the Telegraph. Anneliese's father, Josef, had died six years prior. Anna Michel had largely stayed silent about what happened to her daughter in the aftermath of the court case and convictions, and she told Day she had no interest in seeing The Exorcism Of Emily Rose; in all that time, though, her perspective has never wavered.
The Exorcism Of Anneliese Michel by Felicitas D. Goodman. The Exorcism Of Anneliese Michel is frequently cited as the most comprehensive book about the case; however, some reviews have also called it out for being "distorting," "religiously motivated," and "strongly biased." You'll have to decide for yourself whether you think it's reliable or not.
Lessons Learned: The Anneliese Michel Exorcism by Fr. John M. Duffey. Written as a response to Goodman's book, this one approaches the case specifically from the angle of how the clergy operates. Like Goodman's book, its reviews run the gamut from both extremes: Those who feel it's a thorough exploration of Anneliese Michel's case and what exactly went wrong during it, and those who feel it's bunkum.
Skeptoid: "The Exorcism Of Anneliese," by Brian Dunning. I love Skeptoid; it's one of my favorite podcasts. As its name might suggest, the podcast's episode on Anneliese Michel approaches the story entirely from a skeptic's point of view; the issue, according to Dunning's analysis, was medical, not demonic. It's a nice counterpoint to the many, many takes on the case out there that swear up, down, left, and right that it was absolutely demonic possession.
Study: Do People Believe Demonic Possession An Exorcism To Be Plausible? In 2000, a study out of the University of Washington slated for publication in the Journal Of Experimental Psychology: Applied began making the rounds. It found that people could be very easily manipulated to change their minds about possession and exorcism — even going so far as becoming convinced that they had experienced possession as a child when previously they said they hadn't. The study is of particular interest when you consider the number of points of view on the Anneliese Michel case that believe she may have been influenced by the film The Exorcist, which had been released in Germany in 1974.
Requiem, dir. Hans-Christian Schmid.
The Exorcism Of Emily Rose wasn't the only film based on the Anneliese Michel case to come out in the mid-2000s; Requiem, a German film, was released in 2006. It focused more on the mental health aspects of the case, making it a drama that's frequently described as "harrowing." Watch it with English subtitles on YouTube.
***
Follow The Ghost In My Machine on Twitter @GhostMachine13 and on Facebook @TheGhostInMyMachine. And don't forget to check out Dangerous Games To Play In The Dark, available now from Chronicle Books!