Previously: Kisaragi Station.
Type: UCD (Unusual Communication Device).
Period/location of origin: 2010, Otsuchi, Japan.
Appearance: Subject, known as the Otsuchi Phone Booth, kaze no denwa, and the "wind telephone," appears to be an old-fashioned, English-style telephone booth placed in a garden on a small hilltop overlooking the Pacific Ocean in Otsuchi, Japan. It has a green, peaked roof and a small lamp affixed to the outside. The walls and door are made of glass window panes.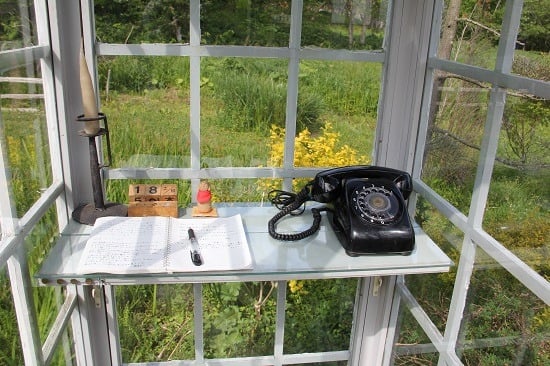 Inside, there is a small shelf on which rests a notebook, a pen, several small decorations, and a black rotary telephone. The notebook is filled with the thoughts and feelings of those who have visited subject and chosen to write about their experiences.
The telephone is not connected. It does not receive incoming calls. It does not ring.
[Like what you read? Check out Dangerous Games To Play In The Dark, available from Chronicle Books now!]
Modus operandi: Those who are grieving the death of a loved one may make a pilgrimage to subject as part of the grieving process. To use subject, one must simply enter the telephone booth, pick up the receiver, and begin speaking, addressing the lost loved one. Dialing a number may be necessary in some cases; however, this necessity is dictated by the user of subject — that is, if the user naturally dials a number upon picking up the phone, then it is understood that that particular call requires a number to complete. Users may approach subject singly, or as part of a group.
Users of subject may speak as much or as little as desired. They may speak of whatever they wish — updates on their lives; expressions of concern for their lost loved one's wellbeing; their thoughts or feelings, wishes or fears, hopes or regrets; anything. They may also say nothing at all, choosing instead simply to sit, and to listen.
They will never hear anything return through the receiver — no response to their queries, no murmurs of agreement, no small shuffles or sounds indicating movement.
But they know that, despite the silence, someone is on the other end.
Containment: None required.
Additional notes: In 2010, Itaru Sasaki acquired and installed subject in his garden in Otsuchi as a means of coping with the death of a beloved cousin. Unable to figure out how to speak about his feelings, or to whom, he spoke about them through subject instead. "Because my thoughts could not be related over a regular phone line," he has said, "I wanted them to be carried on the wind." Sasaki came to call subject, kaze no denwa — the wind telephone. "The idea of keeping up a relationship with the dead is not such a strange one in Japan," he has said. "The line between our world and their world is thin."
In 2011, an undersea megathrust earthquake with a magnitude of 9.0 struck off the coast of the Tohoku region of Japan; the earthquake subsequently triggered a tsunami. The back-to-back disasters left 18,490 people dead or missing across Japan. In Otsuchi specifically, the number is around 1,234, with 813 people having perished and another 421 remaining missing as of 2016 — about 10 percent of the town's population. Otsuchi itself was virtually obliterated by the events.
In the aftermath of the disasters, word began to spread of Saski's creation — and mourning people who had been affected by the earthquake and tsunami began arriving, leading to his opening subject up for general use. It is estimated that more than 25,000 visitors have taken solace in subject in the years since the disasters.
Recommendation: Subject may be reached from Tokyo via high-speed train to the Otsuchi station, or by car via the Tohoku expressway. Subject is located between Dai Chiwari 11 and Dai Chiwari 12. Should you visit, be respectful.
Also: Just because it doesn't ring doesn't mean no one is listening.
Resources:
There's A Phone Booth In Japan Where People Can Call The Dead.
This American Life Episode 597: One Last Thing Before I Go, segment "Really Long Distance."
The Phone Booth For Japanese Mourners.
The Phone Of The Wind: Whispers To Lost Families.
***
Follow The Ghost In My Machine on Twitter @GhostMachine13 and on Facebook @TheGhostInMyMachine. And don't forget to check out Dangerous Games To Play In The Dark, available now from Chronicle Books!
[Photo via mikinee/Wikimedia Commons, available under a CC BY-SA 4.0 Creative Commons license.]