Previously: Centralia.
For over 30 years, Dogpatch was a fictional town. The setting of Al Capp's long-running comic strip Li'l Abner, it was the platonic ideal of a hick town full of hillbilly stereotypes — despite the fact that Capp was from Connecticut and lived his whole life in the North. But in 1968, Dogpatch USA became real when an amusement park bringing the comic strip's world to life opened in Marble Falls, Arkansas. Although it would run for several decades, though, Dogpatch — a relic of its time — would eventually close. There have been several attempts to revitalize it in recent years, but the world as it once stood, populated by the Yokums, the Scraggs, the Shmoo, and the rest of Abner's friends and family, is long gone. Only its cartoonish skeletons remain.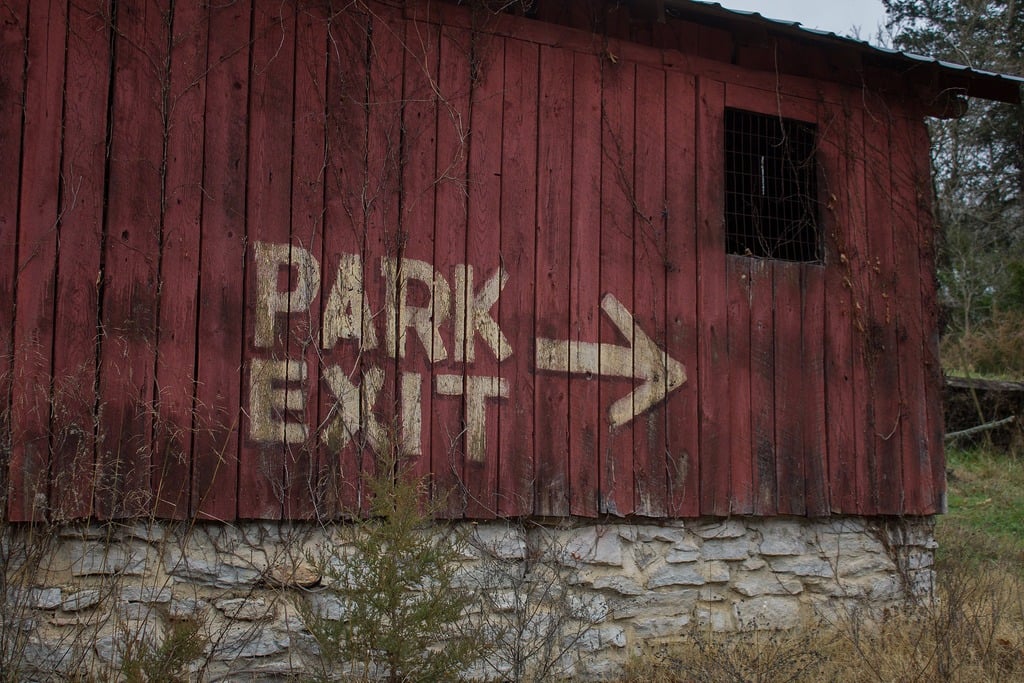 Dogpatch wasn't always Dogpatch; once upon a time, it was a trout farm. In 1966, Albert Raney, Sr. opted to sell his family's farm, and real estate agent O.J. Snow — who worked in the office Raney used to list the property — had just the thing to do with it: Turn it into an amusement park. But the beauty of the land itself wasn't enough; Snow knew that it needed something more to give it that extra oomph (particularly in a post-Disneyland landscape — when Walt Disney opened his Anaheim park in 1955, it changed everything we thought we knew about how amusement parks worked). According to writer Rodger Lyle Brown, Snow said the idea of using Li'l Abner as a theme "almost suggested itself" — and somewhat astonishingly, he was able to get Al Capp, who had previously been reluctant to license his characters, to sign off on it.
[Like what you read? Check out Dangerous Games To Play In The Dark, available from Chronicle Books now!]
Construction began in the fall of 1967 — Capp and his wife, Catherine, attended the ground-breaking ceremony on Oct. 3 — with the first phase taking place over the course of that winter and spring. It opened to the public on May 17, 1968 with attractions including a railroad, surrey rides, a working grist mill and our, a petting zoo, artisan shops and demonstrations, and — of course — a trout pond in which visitors could fish for their own trout. If they caught something, they had the option to either have the fish packed up in ice for them so they could take it home, or to let the restaurant at the park cook it and serve it to them. The nearby Mystic Caverns had been incorporated into the park and renamed Dogpatch Caverns; additionally, during the renovations performed on the caverns, another cave had been discovered and set aside for later use as Old Man Moses Cave. (It remains unknown whether Old Man Moses cave ever opened to the public; reports are conflicting.) The park operated at a profit in 1968, coming out about $100,000 at the end of the season.
Arkansas businessman Jess Odom bought a controlling interest in Dogpatch in October of 1968 and launched plans to expand. The Skunk Holler section was built and more performances added; more rides came in; the Miss Dogpatch USA pageant was implemented; a motel with a funicular system to carry patrons to and from the park was built; and construction on a sister property, a ski resort called the Marble Falls Resort and Convention Center, was begun. Throughout the late '60s and early '70s, Dogpatch USA was quite the success — but unfortunately after its first few years, that success began to dwindle, leaving the park struggling for nearly two decades.
First off was the "rural purge" of the early '70s — a moment in broadcast history in which the numerous rural-themed media that had hitherto been all the rage were abruptly cancelled. (The Beverly Hillbillies, Petticoat Junction, Lassie — all were casualties of the rural purge.) Second, the oil crisis of 1973 meant that, due to skyrocketing fuel prices, many Americans couldn't afford to travel. Then there was the mild weather of the early '70s, which kept attendance at the Marble Falls ski resort down. And in 1977, Li'l Abner finished its run when Al Capp retired. He died two years later in 1979.
Throughout the '80s, Dogpatch changed hands several times, but attendance was never what its many owners had hoped it would be. Ongoing financial troubles resulted in the park closing for good on Oct. 14, 1993.
For some time after Dogpatch's closure, Mystic Caverns remained open as a standalone attraction; however, Mystic Caverns closed somewhat suddenly in November of 2021, and remains as such today. There's no word on when, or even if, the attraction will open to the public again in the future.
Meanwhile, C.L. "Bud" Pelsor bought the property on which Dogpatch had been in 2014; his plan had been to turn it into an artist's retreat, according to Ozarks Live, but after his business partner pulled out in 2016, he was no longer able to make that dream into a reality.
But recently, something new popped up on the horizon: The property was purchased again in 2020, this time by Johnny Morris, founder of Bass Pro Shops, who plans to redevelop the former amusement park into Marble Falls Nature Park. The project aims to takes its inspiration from Dogwood Canyon Nature Park in Missouri — a site known for its working mill, restaurant, trout fishing, wildlife tours, horseback riding, and conservation education programs, according to a September 2021 report from Arkansas Online.
Maybe there's still a little bit of Dogpatch waiting for us after all.
***
Follow The Ghost In My Machine on Twitter @GhostMachine13 and on Facebook @TheGhostInMyMachine. And don't forget to check out Dangerous Games To Play In The Dark, available now from Chronicle Books!
[Photos available via CC BY 2.0 and CC BY-SA 3.0 Creative Commons licenses and the public domain; for credits and source links, see captions of each individual photo.]