Previously: Christine and Lea Papin.
Books can be bound in any number of materials: Cloth, wood, leather made from the skin of cows or other livestock, velum, you name it. Anthropodermic bibliopegy, however, is perhaps the most unusual of the bunch; it's the practice of binding books in human skin.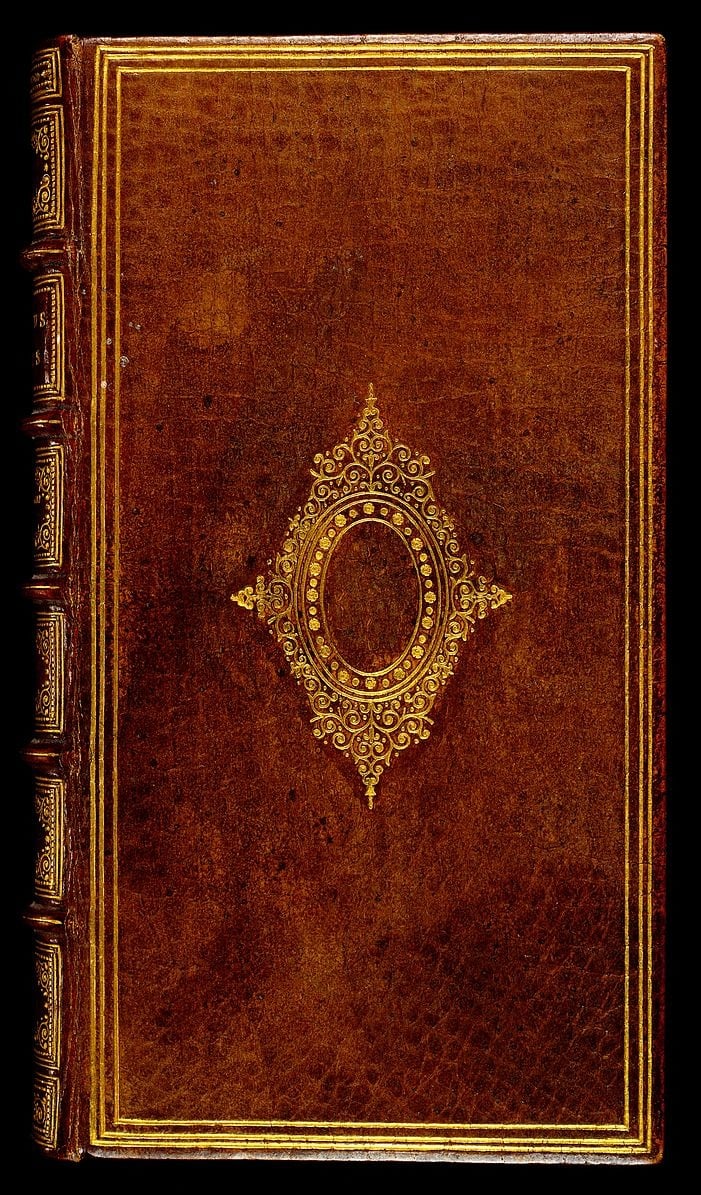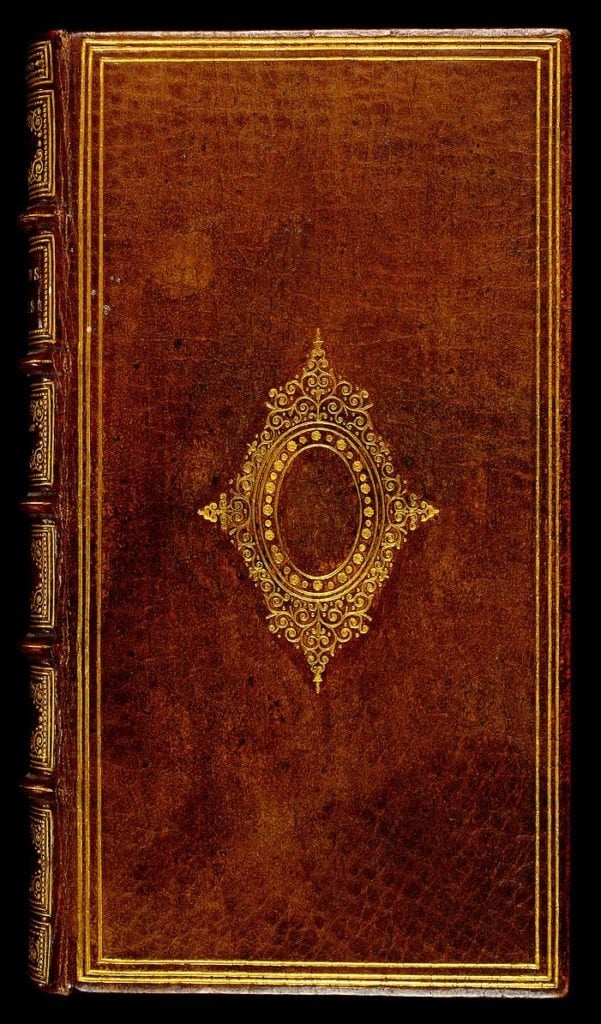 Interestingly, anthropodermic biblopegy doesn't appear to be that old a practice — only a few centuries, perhaps. One of the earliest mentions we've seen of it occurred in Merkwürdige Reisen durch Niedersachsen, Holland und Engelland (roughly in English, Strange Trips Through Lower Saxony, Holland, and England), travel writing by German scholar Zacharias Conrad von Uffenbach about his journeys from 1709 to 1711. The book was published in 1753 and included this bit about Bremen, which he visited in 1710 (translated by Lawrence S. Thompson):
[Like what you read? Check out Dangerous Games To Play In The Dark, available from Chronicle Books now!]
"We also saw a little duodecimo, Molleri manuale præparationis ad mortem. There seemed to be nothing remarkable about it, and you couldn't understand why it was here until you read in the front that it was bound in human leather. This unusual binding, the like of which I had never before seen, seemed especially well adapted to this book, dedicated to more meditation about death. You would take it for pig skin."
Most of the examples of anthropodermic biblopegy that we have date back to the 1800s; examples include Harvard University's copy of Des Destinees de l'Ame (circa 1885), two copies of Hans Holbein's The Dance of Death (one from 1816, the other from 1898) at Brown University, and An Elementary Treatise on Human Anatomy (circa 1861) at the College of Physicians of Philadelphia.
The science of identifying human skin books is tricky; in the past, we've relied on the examination of hair follicle patterns (the patterns of human hair follicles are quite different from those of calves, goats, pigs, etc.). DNA testing doesn't work as well as you might think, largely because the tanning process can destroy it, it can degrade over time, and if the book has been read by a lot of human readers, the samples can get contaminated. These days, we typically use peptide mass fingerprinting (PMF) and matrix-assisted laser desorption/ionization (MALDI). With these techniques, the collagen from a sample taken from the book is analyzed to see what kinds of proteins it has. If primate protein is identified, that's a good indication that the book is bound in human skin; monkey skin has never been used to bind books.
Further Reading:
The Anthropodermic Book Project. The Anthropodermic Book Project's goal is "to create a census for the alleged anthropodermic books of the world and test as many as possible to learn the historical truths behind the innuendo." As of May 2017, the researchers have identified 47 alleged anthropodermic books, tested 31, found 13 not to be bound in human skin, and proven 18 to actually be examples of anthropodermic of bibliopegy.
"A Book By Its Cover: The Strange History Of Books Bound In Human Skin," by Megan Rosenbloom. A thorough history of anthropodermic bibliopegy published in literary magazine Lapham's Quarterly in October of 2016. (Just in time for Halloween — yes, I see what you did there, Lapham's Quarterly.) It covers both the rumors and the facts, from the French Revolution up through the present.
Also worth noting: The fall 2016 issue of Lapham's Quarterly in which this piece was published follows a very particular theme — Flesh.
Des Destinees de l'Ame (Destinies of the Soul), by Arsene Houssaye. This book, which resides in Harvard University's Houghton Library, was confirmed by scientists to be bound in human skin in 2014. Believed to be covered with the skin of a psychiatric patient — a woman — who died of natural causes and remained unclaimed by friends or family, the book is thought to have been given by writer Houssaye to a friend, Dr. Ludovic Bouland, in the 1880s; it's Bouland who actually had it bound (see the image to the right — it's a note from Dr. Bouland on the title page). It's been part of Harvard's collections since 1934.
I haven't been able to find the text of the book available online, so you'll have to hunt it down in a library if you want to read it (and also possibly learn French if you don't already speak the language); however, you can view an image of Harvard's edition here.
"The True Practice Of Binding Books In Human Skin," by Rob Velella. A piece from the always-excellent Atlas Obscura going into more detail about the story behind Des Destinees de l'Ame. As far as we know, the woman whose skin was used to bind the book did not give her consent to do so before she did. That's honestly more disturbing to me than the idea of a book bound in human skin is in and of itself.
"Des Destinees de l'Ame," by Pam Bernard. A short poem that wonders who the woman whose skin was used to bind Houssaye's book actually was. It's also quite a haunting ghost story.
Under The Knife Episode 5: "Human Skin Books," by Dr. Lindsey Fitzharris. Dr. Fitzharris is a medical historian; if you're interested in the often gruesome methods of early surgery, she's got you covered. This video, part of her series Under The Knife, is a terrific exploration not only of what human skin books are, but why they were so valued — and why we find them so fascinating today. You can also read more about Burke's Skin Pocket Book — a book bound in the skin of graverobber William Burke following his 1829 execution in Edinburgh — at Dr. Fitzharris' site, The Chirurgeon's Apprentice.
"Let's Talk About Binding Books In Human Skin," by Simon Davis. An excellent, in-depth interview published at Vice with Dr. Fitzharris about anthropodermic bibliopegy. I'd file this one under "Everything You Ever Wanted To Know About Books Bound In Human Skin But Were Afraid To Ask."
The Dance Of Death, by Hans Holbein. Read the text of this one for free at Project Gutenberg — and courtesy of Brown University's John Hay Library. The Brown version is a scan of the 1816 edition they have — one of the ones that's actually an example of anthropodermic bibliopegy.
The Wikipedia summary of the work:
"The Danse Macabre consists of the dead or personified Death summoning representatives from all walks of life to dance along to the grave, typically with a pope, emperor, king, child, and labourer. They were produced as mementos mori, to remind people of the fragility of their lives and how vain were the glories of earthly life."
"Anthropodermic Bibliopegy: Lessons From A Different Sort Of Dermatologic Text," by Navya S. Nambudiri and Vinod E. NambudiriAn academic work on the subject published in the scientific research journal JAMA Dermatology in 2014. There's a paywall, but it's worth reading. It's also discussed at The Atlantic here.
***
Follow The Ghost In My Machine on Twitter @GhostMachine13 and on Facebook @TheGhostInMyMachine. And don't forget to check out Dangerous Games To Play In The Dark, available now from Chronicle Books!