Previously: Geauga Lake.
In 1961, Elvis Presley arrived in Hawai'i for a very specific reason: To shoot the first of three films he would film at various islands across the state. Called Blue Hawaii, it received mixed reviews upon release; however, with Elvis fever at its height, it still opened at number two by box office receipts, eventually going on to become the 10th highest grossing movie of 1961. Although a wide range of identifiable locations feature prominently in the film, one of them is, perhaps, more interesting than the rest: The Coco Palms Resort on the island of Kaua'i. The resort was still relatively new at that point, having opened a mere eight years earlier, and it would go on to have quite a storied history.
It's something of a shame, then, that it's been abandoned for so long.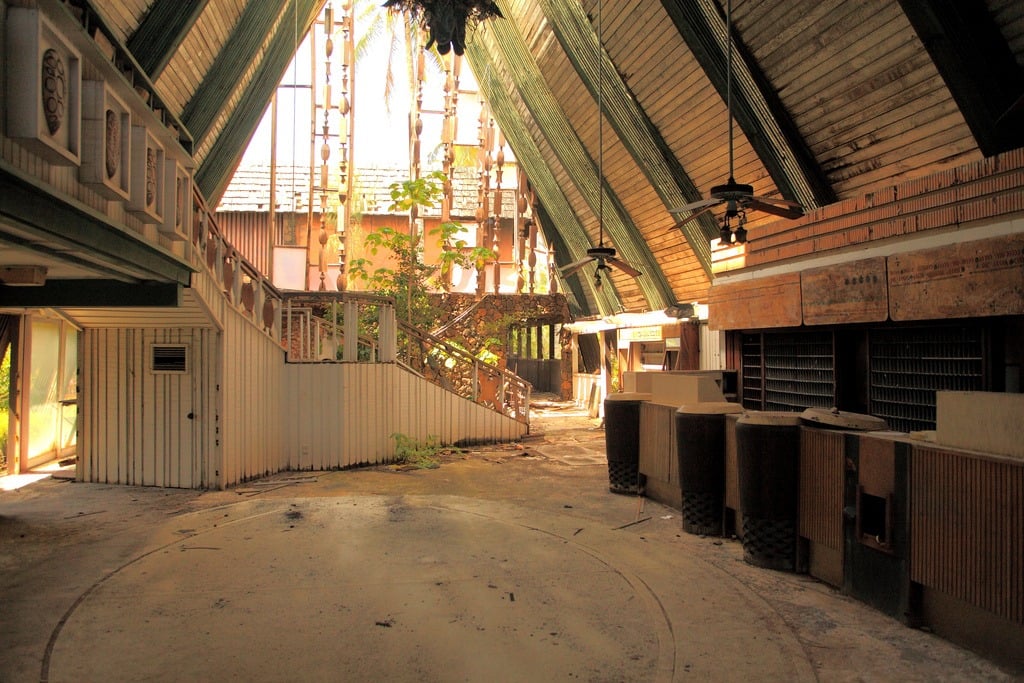 Located on what was once the home of the last reigning queen of Kaua'i, Queen Deborah Kapule, Coco Palms opened on January 25, 1953. To be fair, it had actually been around for a little longer than that; however, as a 24-room hotel run by the widow of hotelier Alfred Hills, Veda Hill, it struggled to fill its room. Lyle Guslander leased the hotel and reopened it as Coco Palms, handing off the running of the business to 43-year-old Grace Buscher. Although Buscher was not from Hawai'i and had no background in hotel management, she made the resort into a success; from the original 24 rooms, it grew to encompass 416 rooms, playing host to celebrities ranging from Bing Crosby and Frank Sinatra to the royal family of Japan. More than 500 weddings would also be performed on its grounds.
[Like what you read? Check out Dangerous Games To Play In The Dark, available from Chronicle Books now!]
But there's no avoiding one of the primary dangers of island life: Storms. In 1992, Hurricane Iniki descended upon Hawai'i. It was one of the most powerful hurricanes ever to strike the state, and the amount of damage it caused was devastating: $1.8 billion and the loss of six lives.
Coco Palms was among the casualties of Iniki, and due to bureaucratic hurdles, it was never able to rebuild. Instead, it sat abandoned for 20 years.
There's hope, though; the hotel empire Hyatt has acquired the remains of Coco Palms and embarked on an enormous renovation and rebuilding project; despite several setbacks, including a 2014 fire that required the demolition of the main lobby, many offices, and an adjoining breezeway, the resort is intended to reopen within the next few years.
I haven't yet been to Kaua'i myself; I've visited Oahu and the Big Island, but if I ever make a return trip to Hawaii, Kaua'i is where I'd like to go. The least populated out of all of the Hawaiian islands — as well as the oldest, geologically speaking — it sounds like a distillation of all my favorite parts of the Big Island: Plenty of adventures to be had, and quite as many tourists to interfere. Although the tourism industry is quite healthy on Kaua'i, as it is on most of the Hawaiian islands, maybe the reopening of Coco Palms will bring an added boost.
The target date for the reopening was originally 2017; however, in February of 2016, the project received an extension. No firm date has been finalized yet—but Coco Palms will likely rise again.
***
Follow The Ghost In My Machine on Twitter @GhostMachine13 and on Facebook @TheGhostInMyMachine. And don't forget to check out Dangerous Games To Play In The Dark, available now from Chronicle Books!
[Photos available via Creative Commons licenses; for credits and source links, see captions of each individual photo.]