Previously: Norwich State Hospital.
A video featuring footage of what was once one of Ohio's premiere attractions went viral a few weeks ago. It's gorgeous in that melancholy way that all abandoned photography is, but there's something different about this video: The footage of the park, Geauaga Lake, was shot from a drone. The nature of the footage adds a whole new point of view, both literally and figuratively, to the remains of the park; it's well worth a look, so I highly suggest giving it a watch.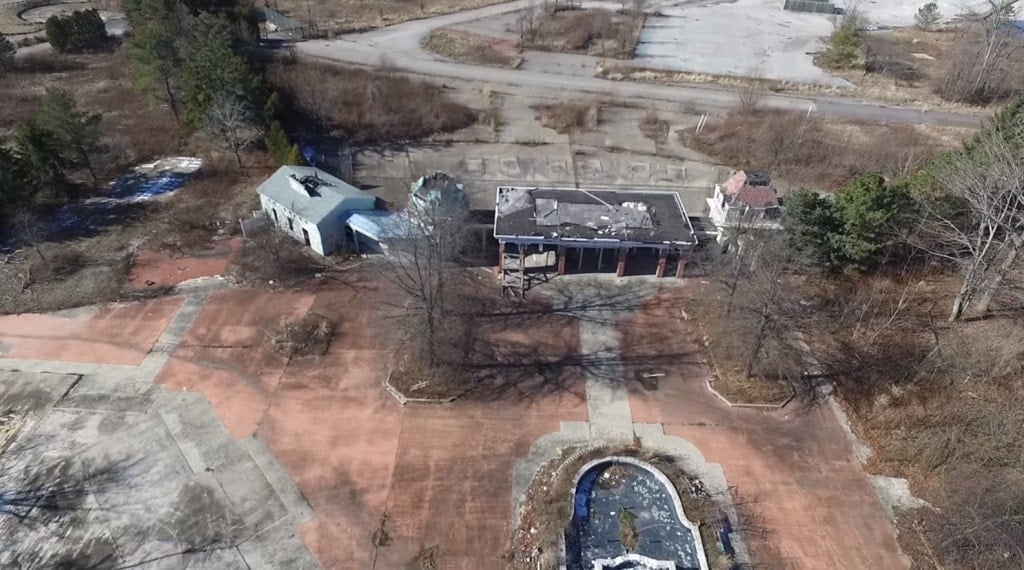 Geauaga Lake's history stretches back further than you might think. Not unlike Williams Grove in Pennsylvania, Geauaga Lake was once a popular picnic spot; between 1872 and 1887, the crowds came to it for a brief respite during the hot summer months, spending their time swimming, fishing, and relaxing on the lake's tranquil shores. The park itself had become more of an actual thing by 1887, although it wouldn't be until 1925 that it began to really hit its stride. The Big Dipper — at the time, the largest wooden roller coaster in existence at 2,800 feet long and 65 feet high — was just one of a variety of rides and amusements that found a home at the park during this era, and as it grew in size, it grew in popularity as well.
[Like what you read? Check out Dangerous Games To Play In The Dark, available from Chronicle Books now!]
It wasn't without its trials, though. A tornado hit in 1942, causing $50,000 in damages; then, additional $500,000 of damage was sustained in 1952, when a fire ripped through the park's bowling alley, theatre, dance hall, and roller rink. It operated during the early '60s as a seasonal location, but after its 1969 purchase by Funtime Incorporated, it began its transformation into the kind of destination we think of when we think of the words "amusement park" today. The arrival of SeaWorld Ohio on the other side of the lake in 1970 seemed to be a perfect complement.
More and more attractions were added to Geauaga Lake over the next couple of decades; the '90s, however, saw many more changes, largely in the form of new management. In 1995, Premier Parks purchased Funtime Incorporated — and then in 1998, Premier Parks acquired Six Flags, at which point Geauaga Lake was rebranded into Six Flags Ohio.
And here's where things start to fall apart: The park became so gargantuan that it eventually collapsed under its own size. Six Flags purchased SeaWorld Ohio in 2001, and the two parks combined to create Six Flags Worlds of Adventure. A few years later, however, the giant park was floundering, leading to its sale to Cedar Fair Entertainment in 2004. Cedar Fair, which also owned landmark Ohio amusement park Cedar Point, changed the park's name back to Geauaga Lake and set about rebranding the entire property again; the SeaWorld was left to decay for a while before being turned into a small water park. An additional water park remained, and for a few years, the two water parks and the amusement park attempted to regain some of their former glory.
But in the fall of 2007, an announcement was made that Geauaga Lake was to close, never to open again. It just wasn't sustainable. One of the water parks, Wildwater Kingdom, remains in operation, but everything else has been shut up and abandoned. Property developers have been eyeing the land ever since, but nothing has been put into motion yet.
The video seen here shows what it all looks like today.
I do love a good photo series; I think there's something to be said for the detail individual images can capture — details that you might miss otherwise. But what's so haunting about this drone footage, I think, is the sense of geography. You can see how the whole park fit together, and seeing it all gives you a feel for the enormity of the place — and how arresting it is now that it's empty and decaying.
Since I grew up on eastern seaboard far away from Geauga Lake, I never experienced it in any of its many stages of existence; and unless it's purchased and revitalized — which seems unlikely, to be honest — I likely never will. But footage like this acts as a sort of time capsule: If you look carefully beneath the layers of neglect, you can spot tiny glimmers of what it must once have been like. And sometimes, that's even more fascinating than anything else.
For a wonderfully thorough history of Geauaga Lake throughout its almost 150 years of existence, check out Theme Park Tourist's article "5 Tragic Reasons the World's Largest Theme Park Stands Abandoned in Ohio."
***
Follow The Ghost In My Machine on Twitter @GhostMachine13 and on Facebook @TheGhostInMyMachine. And don't forget to check out Dangerous Games To Play In The Dark, available now from Chronicle Books!
[Photo via DiJi Aerial Media/YouTube]