Previously: The Dead Malls of America.
If travel into the Pocono Mountains region in Monroe County, Pennsylvania, you'll find an odd sight located off of Route 447 in the town of Analomink: An abandoned resort. But this resort wasn't known for being grand or luxurious — or at least, not in the sense of "grand and luxurious" that applies to most resorts today. Gaudy and brightly colored, it was the kind of place you went when you wanted to spice things up a little bit with your partner — the kind of place with heart-shaped bath tubs and mirrors in unexpected places. It was once called the Penn Hills Resort, although it has been years since anyone has checked in or out of the place.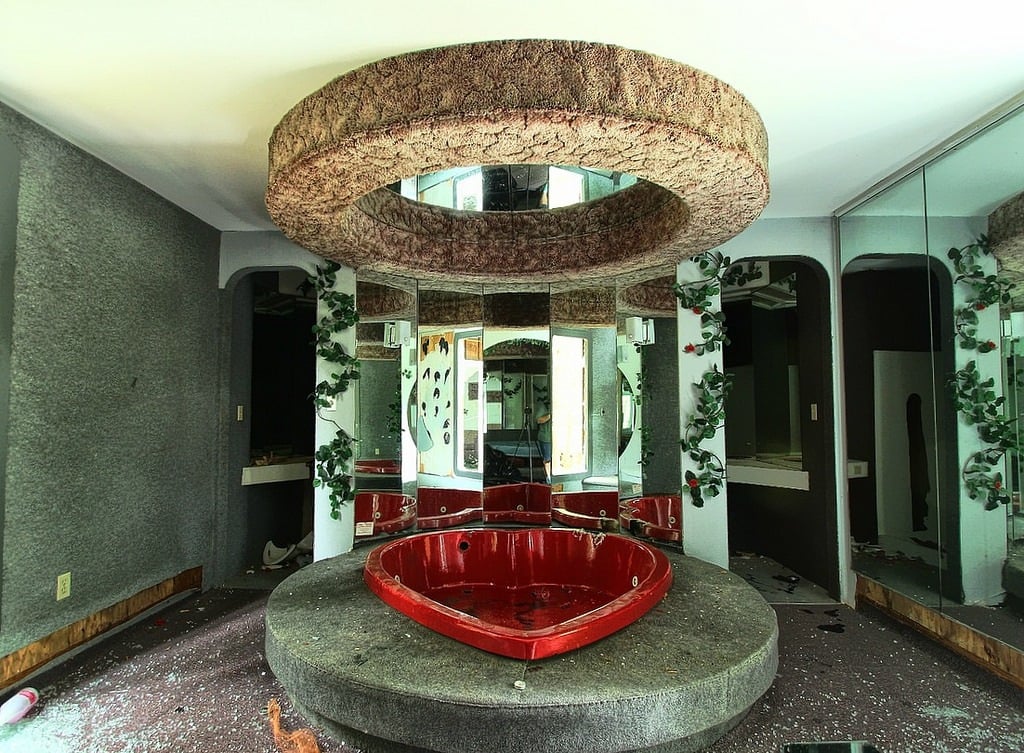 Initially opened as a simple tavern in 1944, Penn Hills was almost completely rebuilt in the 1955 after a summer of massive flooding. By the 1960s, it had grown into a sizable vacation destination, with 100 rooms spread out over 500 acres. There was a golf course for the summer and ski slopes and an ice rink for the winter; guests could shoot archery and play tennis by day, and dance the night away once the sun went down. It had a tiki lounge and a wedding bell-shaped pool, and lighting fixtures from the 1964 World's Fair. It called itself "a paradise of Pocono Pleasure" and reveled in its reputation as a place of "unbridled passion"; in addition to catering to the honeymoon set, it also played host to those partaking in the swinger lifestyle. For several decades, it was the site of much merriment, with its New Year's Eve parties in particular drawing a crowd year after year.
[Like what you read? Check out Dangerous Games To Play In The Dark, available from Chronicle Books now!]
But by the 1980s, travel had become more affordable. Why drive a few hours away and spend several hundred dollars a night when you could fly to somewhere more exotic for the same price? Penn Hills began to fall into disrepair, and by the time the resorts co-founder, Frances Poalillo, passed away in 2009 at the age of 102, even the employees noted, "The rooms are around $300 a night. You can get a better room at the Howard Johnson's for $55." The resort closed just two months later, owing Monroe County somewhere in the neighborhood of $1.25 million in back taxes. The employees never received their final paychecks.
The empty and decaying resort is now a hotbed for vandalism, torn to shreds as much as it has fallen apart on its own. Pieces of it have been auctioned off, among them the golf course, the ski resort, and a few undeveloped plots of land; but most of the buildings remain, falling more and more to the decay of time as each year goes by. It isn't haunted — but it may as well be. Only the ghost of its former self remains.
***
Follow The Ghost In My Machine on Twitter @GhostMachine13 and on Facebook @TheGhostInMyMachine. And don't forget to check out Dangerous Games To Play In The Dark, available now from Chronicle Books!
[Photos available via Creative Commons licenses or the public domain; for credits and source links, see captions of each individual photo.]