Previously: The Knox County Poorhouse.
The hospital's name has changed many times. Some call it the Weston State Hospital, as it was known beginning in 1913; others favor the name it carried in 1863, the West Virginia Hospital for the Insane; but it is perhaps most frequently referred to by its original name: The Trans-Allegheny Lunatic Asylum. Located in Weston, West Virginia, it is perhaps not as abandoned as some of the other locations we've seen here — but that doesn't preclude it being worth a look, too. On the contrary: It's well worth a moment of your time.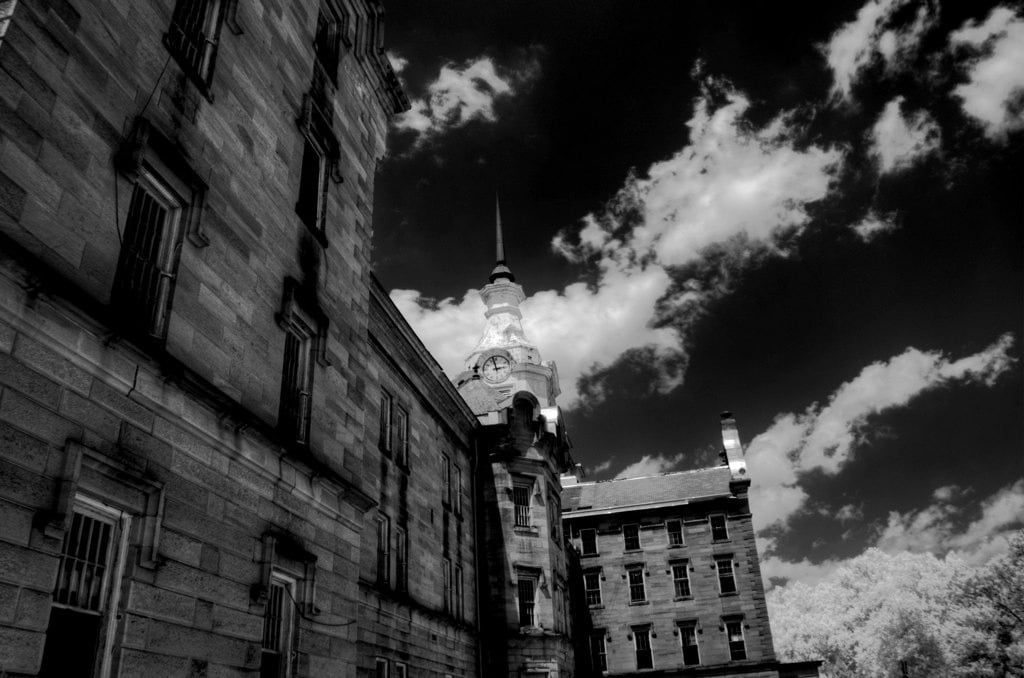 Like the Danvers State Hospital, the Trans-Allegheny Lunatic Asylum followed the Kirkbride plan. Initial construction began in 1858, although it wouldn't be deemed "completed" until 1881; in spite of the ongoing construction, however, the first patients were admitted in 1864. Similarly to many psychiatric facilities of the time, Trans-Allegheny was intended to be self-sustaining, complete with its own farm, dairy, waterworks, and cemetery.
[Like what you read? Check out Dangerous Games To Play In The Dark, available from Chronicle Books now!]
Other elements of its history, too, bear similarities with other facilities. Originally designed to hold 250 patients, it gained a problem of severe overcrowding as the went by; by 1880, it held 717, and at its peak in the 1950s, the number of patients shot up to 2,600 — more than ten times its intended capacity. The hospital suffered from sanitation issues, as well as insufficient heating, lighting, and even furniture. Although its population had shrunk somewhat by the 1980s, stories circulated of "uncontrollable" patients being locked in cages; with such stories afoot, and with such hardship within its walls, it was only a matter of time before it was shut down. In 1986, plans were put into motion to build a new psychiatric facility, with the idea being to convert the old one into a prison — but despite having been declared a national landmark in 1990, it was simply closed in 1994 and left to rot.
The Trans-Allegheny Lunatic Asylum sat vacant for many years. In 1999, the building's four floors were damaged by city and county police officers, who for some reason decided it was an excellent idea to use the property as a paintball arena; there was an outcry, of course, and three of the officers in question were dismissed over the incident. Since then, ghost hunters have occasionally televised events from within its walls; whether the old hospital really is haunted remains to be seen, but many are convinced that it is.
Things began looking up for the place in 2007, when the West Virginia Department of Health and Human Resources auctioned it off to Joe Jordan, an asbestos demolition contractor, for $1.5 million. Efforts are being made to restore the property, with the funding for the project coming from government grants, private donations, and fundraising events. The hospital is also open for both historical and ghost tours six days a week, as well as all-night ghost hunts on Saturday evenings. Find out more at its official website…
…But tread carefully. You never know what might be afoot.
***
Follow The Ghost In My Machine on Twitter @GhostMachine13 and on Facebook @TheGhostInMyMachine. And don't forget to check out Dangerous Games To Play In The Dark, available now from Chronicle Books!
[Photos available via Creative Commons licenses; for credits and source links, see captions of each individual photo.]