Previously: The Harlem Valley Psychiatric Center.
In 1978, construction began on a curious new housing development in the Sanzhi District of New Taipei City, Taiwan. Intended to be a resort marketed towards U.S. military personnel posted to East Asia, it consisted not of the typical vacation trappings and grandiose architecture; rather, it looked to the future — or at least, the future as seen in the '60s and '70s. There's a reason these pod-shaped buildings became known as the Sanzhi UFO Houses, and it had everything to do with their flying saucer-esque appearance.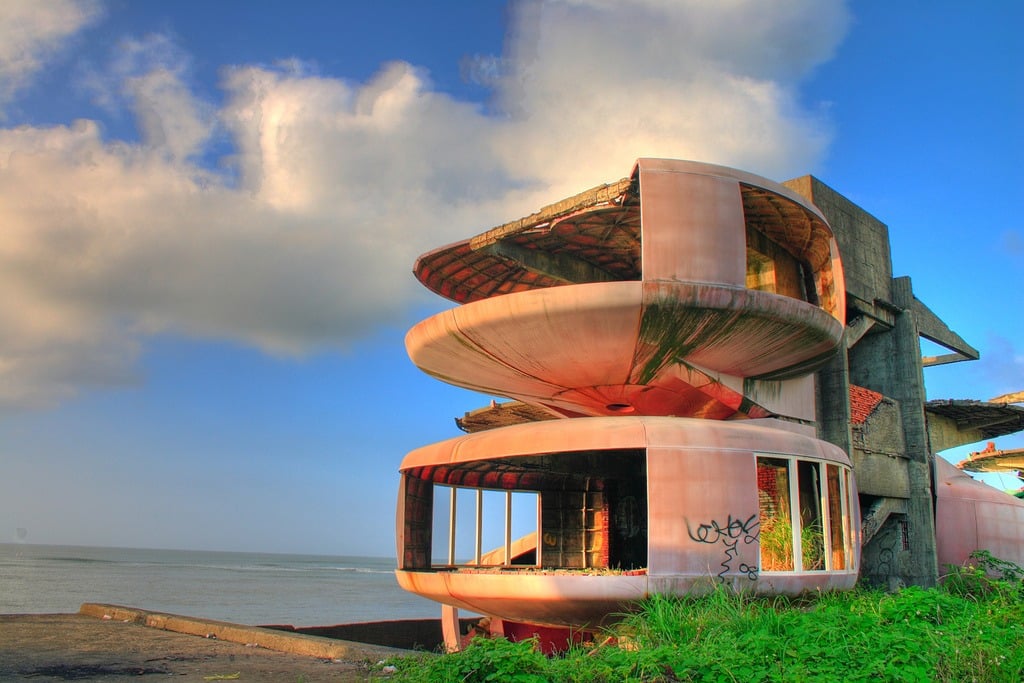 The plans were big: Colorful houses similar to those of the Futuro design, all the benefits of a seaside location, plenty of beautiful landscaping, and even a water park full of pools and slides for children. The houses themselves would be easy to expand, were the popularity of the site to grow; adding another set of pods to the top of the existing ones was all it required. By 1980, though, financial hardship, investment losses, and — perhaps most eerily — a number of deaths that occurred during construction caused the project to be abandoned. Some believe the bad luck surrounding the resort to have been caused by the poor decision to bisect a Chinese dragon sculpture located near the development's gates in order to widen the road; whether this belief is merely superstition remains to be seen.
[[Like what you read? Check out Dangerous Games To Play In The Dark, available from Chronicle Books now!]
The Sanzhi UFO Houses lay in varying states of decay for several decades; alas, though, they no longer exist today. Although an online petition fought to retain one of the buildings as a museum, demolition began on the site in December of 2008. As of 2010, the houses have all been torn down; rumor has it that another resort is planned to go up in its place, but as of now, no plans have been finalized.
At least a number of urban explorers and talented photographers managed to make their way onto the property before it was torn down. A photograph is forever — even if it's of a future that never happened.
***
Follow The Ghost In My Machine on Twitter @GhostMachine13 and on Facebook @TheGhostInMyMachine. And don't forget to check out Dangerous Games To Play In The Dark, available now from Chronicle Books!
[Photos available via Creative Commons licenses; for credits and source links, see captions of each individual photo.]