Previously: Irrwurz, The Confusion Root.
Type: Subject, known as "Pupa the haunted doll," is difficult to classify, due to the fact that it is not quite clear what, precisely, is haunting it. Subject does not quite fit the profile of an SV (Spiritual Vessel), although it does appear to exhibit some qualities characteristic of this classification (see also: the haunted Okiku doll); however, neither does it quite fit the profile of an MO (Malevolent Object), failing to display any of the more troubling activity observed in other MO subjects such as Robert, Mandy, Annabelle, or Charley. Proposal for a new classification: LD (Living Doll).
Period/location of origin: 1920s, Trieste, Italy.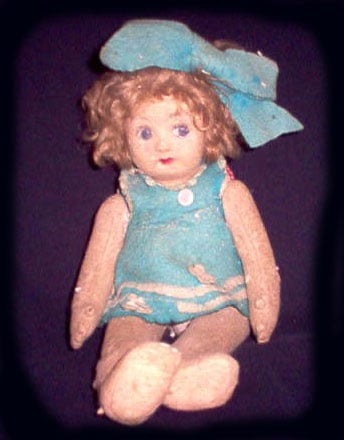 Appearance: Subject, who may, in addition to the moniker "Pupa the haunted doll," be referred as "Pupa the possessed doll," "Pupa the cursed doll," or simply "Pupa the doll," appears to be a soft doll of approximately 14 inches, constructed head to toe of felt. Its hair is a soft brown color, and is typically identified as real human hair. A large, blue bow adorns the hair. Subject wears a blue, sleeveless felt dress with white trim, for which the hair bow is a match. A white button on the dress's collar is currently present, although it has not always been part of subject's costume; the primary source of information concerning subject states that the button was sewn on by subject's owner in the early-to-mid-1940s.
[Like what you read? Check out Dangerous Games To Play In The Dark, available from Chronicle Books now!]
Subject's head and face are of particular interest. Like the rest of subject, the head is made of felt, with painted facial features. Subject's eyes are wide and blue, with slightly raised eyebrows framing them, giving it overall a mildly surprised appearance. Subject's nose is dainty, and its equally-dainty mouth what might best be described as a "rosebud mouth."
Subject was reportedly custom-made to resemble the child to which it was given. The child, who was around five or six years old at the time she acquired subject, named the doll "Pupa" — the Latin word for "doll." It is sometimes used in Italian as a pet name, with its meaning resembling "cutie" or — notably — "doll." (Note that "pupa" is not the Italian word for "doll." "Doll" in Italian is "bambola.")
Subject's precise type of doll has never been identified, although this researcher speculates that it may be a Lenci-type doll. Originally created and designed by Elena Konig Scavini and produced between the years 1918 and 2001, Lenci dolls are notable for their heat-pressed wool faces and painted facial features. The dolls' bodies are soft, made out of either more felt or from other varieties of cloth, depending on the era in which the doll was produced.
It is unlikely that subject is an authentic Lenci doll, as it is typically identified as having been made by a dollmaker in Trieste, whereas Lenci dolls were manufactured in Torino, some 550 kilometers away. Following the success of Elena Scavini's Lenci dolls, however, many other dollmakers and companies began manufacturing similar heat-pressed felt dolls, leading to a wide variety of what are referred as Lenci-type or Lenci-like dolls available on the market.
The photographs extant of the doll known as Pupa are low-resolution and do not clearly depict many of the features or characteristics that would aid in its identification as a Lenci or Lenci-type doll. However, the felt construction, combined with the similarities between subject's face and the faces of Lenci and Lenci-type dolls, suggests it may be a heat-pressed felt creation.
One other thing about the doll's head: Its position and facial expression have been known to… change when no one is looking.
Modus operandi: Subject seems to live quite an active life, without a precise modus operandi, although it has been speculated that it desires to be set free.
Subject's activity may be divided into two headings: Before the passing of subject's original owner, and after the passing of subject's original owner.
Subject's original owner was in possession of the doll from its creation in the 1920s until her death in 2005. When she was a child, the owner would frequently say that Pupa was no mere inanimate object, but actually alive, and that it had thoughts and feelings of its own. She called subject her "best friend" and "most beloved confidant," and claimed that Pupa actually spoke to her. It is unknown whether these accounts occurred in reality, or whether they were a creation of childhood fantasy. Regardless, as an adult, and later as an old woman, the owner spoke fondly of doll, and was known to regale her grandchildren with stories about subject.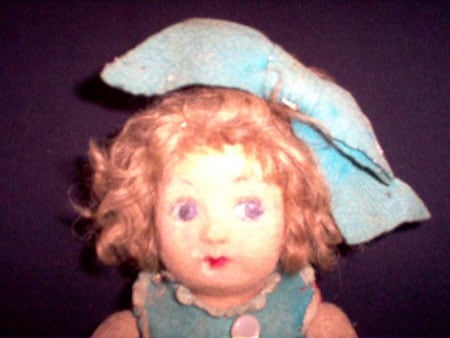 Following the owner's death in 2005, subject seems to have stayed in the family; the family subsequently made the decision to house subject in a display case for the purposes of preservation. Since placing subject in the case, the family has reportedly stated they suspect subject of moving on its own, changing position while no one is looking: Subject may, for instance, cross its legs, or place its hand against the glass of the display case. Occasionally, subject may reportedly be heard actually tapping on the glass walls of the case, although no one has ever observed subject in the act. Subject may also move other objects around the display case when human eyes are turned away.
Subject's activities, although mischievous, are ultimately benign and have frequently been described as "pranks." The family, however, has stated that subject became quite active following its longtime owner's passing, and may wish to be released from the display case.
One independent investigator claims to have captured subject changing position on camera. Using a small video camera left running while trained on subject for several hours, the investigator asserts that "Pupa's head seems to move at times as well as change directions," with "her arms and legs [doing] the same." The investigator does admit that the changes happen "very slowly," but maintains that "the effects can be measured" all the same. According to this investigator's report, subject's facial expression also has been observed to change, with "her painted on eyes [seeming] to open wider," or even "[following] you around the room."
Reports that subject has actually broken items in the display case, or, in one instance, written a threatening message on the glass — "Pupa hates this" — are unsubstantiated. They may be embellishments added as extra flavor in the many retellings of subject now floating around the internet.
Containment: As of 2007, subject was in the possession of the family of its lifelong owner and contained inside a glass display case. There have been no updates about subject's whereabouts since then. Hopefully, subject is still there.
Additional notes: Little is known of the Pupa doll's full history beyond the basics: Namely, that subject was made in Trieste, Italy — a port city in the northeast of the country, just a few kilometers away from both Slovenia and Croatia — specially for subject's original owner in the 1920s; that subject was designed to resemble said owner; that subject's life path has seen it travel from Italy to the United States, from the United States back to Italy, from Italy across a wide swathe of Europe at large, and then finally back to the United States, where it has resided ever since; and that subject was in the possession of its original owner all the way until 2005. The broad outline is all we have.
The family in possession of subject following the owner's passing have chosen to remain anonymous. They have never stepped forth to identify themselves or speak publicly about subject.
Most importantly, though, is this: Although subject's story has been passed around the internet and retold in both English and Italian a number of times since roughly 2014, virtually everything contained within these retellings — including all of the extant photographs of subject — may be traced back to a single first-person report written by the independent investigator previously referred to (see: Modus operandi), which was originally published by the now-defunct website Haunted America Tours (hauntedamericatours.com) circa 2007.
Please note that this report's status as the main — indeed, as the only — primary source documenting subject and its story has not hitherto been apparent, due to a) the lack of source citations in nearly all subsequent accounts of subject (including a number of largely plagiarized reproductions excerpted directly from the report); b) the failure by the few accounts that do cite the correct source to identify the source as a first-person investigation, and more recently, c) the fact that the Haunted America Tours website is no longer live and the report therefore not accessible by the usual means.
Which is to say: It took a lot of digging, the judicious use of archival tools, and some careful parsing of the original report to determine that this piece is, in fact, the primary source for both all that is known about subject, and all known photographs of subject.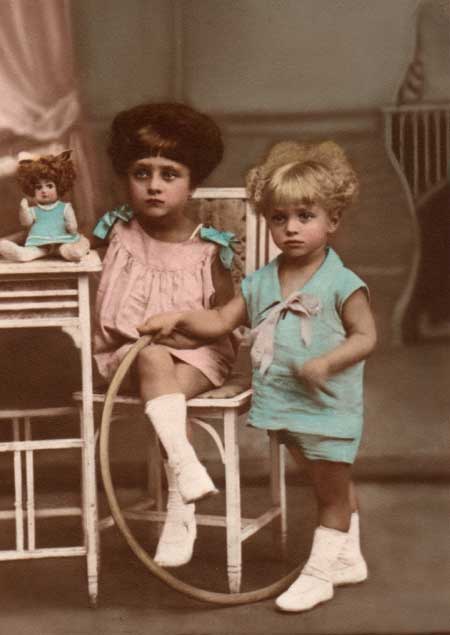 For the curious, the report, although no longer accessible live, has been preserved via the Wayback Machine. The precise date of the report's publication is unknown, as Haunted America Tours did not provide publication dates for its pieces; however, earliest date on which the page containing the report was archived using the Wayback Machine is April 10, 2007.
The report published by Haunted America Tours is credited to one Terri Lynn Vignes, who identifies herself as a longtime investigator of allegedly haunted dolls. Sometime prior to the writing of this report, she gained direct access to subject and conducted an extensive investigation of it.
Although Vignes notes that she has, over the years, acquired such dolls by various means ranging from eBay and thrift stores to having people bring them to her specifically for her to study, she does not identify precisely how she came into contact with Pupa; however, it seems likely that either she reached out to the family who was then in possession of Pupa, or the family reached out to her. The information about subject, its history, and its unusual activity contained within Vignes' report is framed in such a way as to suggest that it came from interviews or other direct communication with the family.
Notably, the embellishments mentioned previously — those claiming that subject has broken or damaged items and written threatening messages on the case in which it is held — are not present in Vignes' report. According to one retelling of the Pupa tale, these details were found in a now-deleted Facebook post from an also-deleted Facebook page that seems to have specialized in fantastical tales of questionable veracity.
The handful of photographs that are typically circulated along with retellings of subject's story are largely still images Vignes extracted from her video recording of subject. She published these images along with her report at Haunted America Tours. Vignes also published the one known historical image of subject: A photograph of Pupa seated on a table, with the doll's child-owner posed in a chair next to it and the owner's young brother standing nearby. The photograph is largely sepia-toned, but with some colors visible — namely, the blue of subject's dress and the pink and blue shades of the children's outfits. The photograph was presumably colorized sometime later.
Vignes identifies the photo as having been taken in 1928 in Italy, although does not identify her source. It seems likely that the family provided it to her, although there remains no way to verify whether or not this was the case.
Interestingly, Vignes also did not come to any conclusions about, precisely, gives Pupa life. Is the doll possessed by its previous owner? Is it possessed by whoever supplied the real, human hair used in its construction? Is it possessed by… something else?
Vignes didn't say. She didn't even theorize. And as no one else has conducted any other first-person investigations of subject, no one else has any way of knowing, either.
There does not appear to be any further information about Terri Lynn Vignes currently available. Internet searches for the full name yield no results, and no contact information for her was provided in the original report. As such, it is worth noting that, although Terri Lynn Vignes' report may be cited as the source for all available information about subject, there is currently no way to verify anything within the report itself.
The Haunted America Tours website itself was originally registered in 2004, according to its WHOIS information. Its earliest Wayback Machine archive dates are also circa 2004. The site was live until roughly March of 2022; the homepage's last operational archive date is March 8, 2022, with its last WHOIS update having occurred on March 9, 2022. The website domain registration does not expire until March of 2024, per WHOIS; visitors to the URL of this writing are greeted by a message noting that the domain has been parked.
Divorced from its original source, the information available about subject has, over time, morphed. It is now no longer fact.
It is now legend.
Recommendation: Subject is safely contained… as far as we know.
It's been a long time since 2007, though.
It's possible that in the intervening years, subject did finally manage to escape.
Subject does not appear to be malicious… but you never know.
Best steer clear if you see it.
Resources:
Haunted Doll: More Tales From The Haunted Toy Chest at Haunted America Tours. (Archived from the original.)
Pupa The Possessed Doll Of Trieste at Emadion.it. (Available in English and Italian.)
Oggetti Maledetti: La Bambola Pupa at IlParanormale.it. (In Italian.)
Pupa La Bambola Posseduta Di Trieste at BrividiHorror.it. (In Italian.)
Pupa The Haunted Doll at The Paranormal Guide.
Pupa The Doll at Obscurban Legend.
10 Freaky Dolls You Don't Want To Play With at Listverse.
Lenci Dolls at WorthPoint.
How To Identify An Authentic Lenci Doll at HobbyLark.
Identifying Lenci Dolls at Atelier Mandaline.
***
Follow The Ghost In My Machine on Twitter @GhostMachine13 and on Facebook @TheGhostInMyMachine. And for more games, don't forget to check out Dangerous Games To Play In The Dark, available now from Chronicle Books!