Previously: "Helen."
Happy New Year, Gentle Readers! Let's kick the year off with a 2ch classic: "Resort Job," widely considered to be the single most important Japanese creepypasta to familiarize yourself with if you're at all interested in this variety of online horror. Originally posted to 2ch under the title "リゾートバイト" in 2010, it tells the story of a trio of university students who take jobs at a secluded ryokan, or traditional inn, for the summer — only to find that things at this particular ryokan are not all that they seem.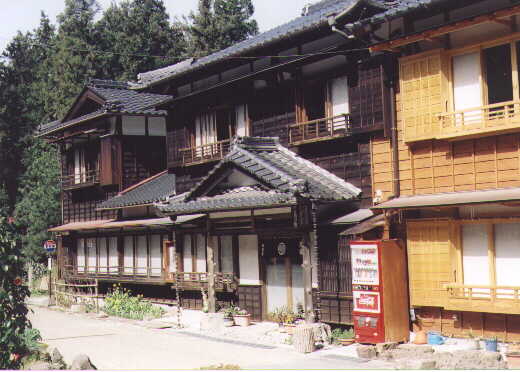 The story is, as is often the case with 2ch-based horror, positioned as something that actually happened; however, as is also typically the case with 2-ch based horror, it's fiction — the kind that asks you to suspend your disbelief for the enjoyment of the tale.
[Like what you read? Check out Dangerous Games To Play In The Dark, available from Chronicle Books now!]
This one is also a doozy; it's so long, it's often described as "feature length," so know before you get into it that reading it is an investment of your time. Okaruto's English translation of it has been divided up into a whopping 16 parts, so for simplicity's sake, I'll link you to the index of all of them they helpfully supply. Think of it as the chapter listing for a novel or novella.
Tara Devlin of Kowabana.net has also recorded an entire reading of her own translation of it, so if you'd rather listen to "Resort Job" than read it, you can find her version at her YouTube channel. And for good measure, you can also see it in the original Japanese here.
***
First, I should tell you that this is a very long story. It's nothing major, so I wouldn't suggest reading it unless you're bored to death.
Now that you have been warned, I will start. This happened when I was a junior in college.
Summer was fast approaching, and four friends and I decided to plan a trip to the beach. During the planning stages, one of my friends brought up the idea of getting temporary jobs there. I didn't really have any plans myself, so I said I was up for it. Two of my friends had some sort of seminar to attend, so getting a job wasn't an option for them. In the end, three of us decided to look for jobs, and the other two would come visit and stay at the hotel we were working at.
And with that decided, we split up and started the job hunt.
…
We called out from the front door, and a woman came out to welcome us. She smiled, and I became tenser.
The hotel had four guest rooms, a dining hall, and two staff member rooms for a total of seven rooms. We were first shown to the dining hall. After a few moments, a young girl brought us some barley tea. She told us to call her Misaki-chan and said that she grew up in the area. So there was her and the woman who welcomed us, the proprietress Makiko-san. She was stout and had a great laugh. She was pretty awesome. If she were younger, she'd be my type. Other than us five, there was Makiko's husband, Ryuichi, bringing the number of workers at the hotel to six.
We briefly introduced ourselves, and Makiko spoke. "The customers' rooms are down here. The hall ends in a T, and there are rooms on either side. If you go to the left, your room will be at the end of the hall. I'll explain everything better later, but for now let's take care of your luggage."
Suddenly one of my friends thought of something to ask. (I'll call them Takumi and Shoji.)
"Aren't there rooms on the second floor?," Takumi asked.
Makiko laughed. "There's a second floor, but we don't use it."
The three of us wondered if it was just because it wasn't tourist season yet but didn't really find it that strange. We figured that they'd probably open it up soon.
We brought our things to our room. The view from the windows was peaceful. The job may turn out to be a pain, but being able to spend the summer in a place like this would be great. I was expecting a summer of adventure.
And just like that, our jobs began.
Or, see the story chapter index for more.
***
Follow The Ghost In My Machine on Twitter @GhostMachine13 and on Facebook @TheGhostInMyMachine. And for more games, don't forget to check out Dangerous Games To Play In The Dark, available now from Chronicle Books!
[Photo via NH53/Flickr, available under a CC BY 2.0 Creative Commons license.]