Previously: The St. Louis Ghost Train.
Type: PE (Preternatural Entity).
Period/location of origin: Unknown; however, documentation of subject occurred in May of 1973 near Lake Common in the vicinity of Sandown, Isle of Wight, UK. This is subject's only known appearance.
Appearance: Subject, known as "Sam the Sandown Clown," appears to be a humanoid figure of approximately seven feet in height. He has no neck to speak of; rather, his head seems to sit directly upon his shoulders. His face features "triangular markings for eyes, a brown square of a nose, and motionless yellow lips," according to the only known eye-witness report of subject; it is unknown whether these features are actual facial features, or whether they are elements positioned on a mask or helmet of some sort. His cheeks and ears have been described as "paper-white," while his hair has been identified as both a "fringe of red" falling onto his forehead and "sparse brown" atop his head proper. His arms and legs resemble "wooden slats" more than anything else.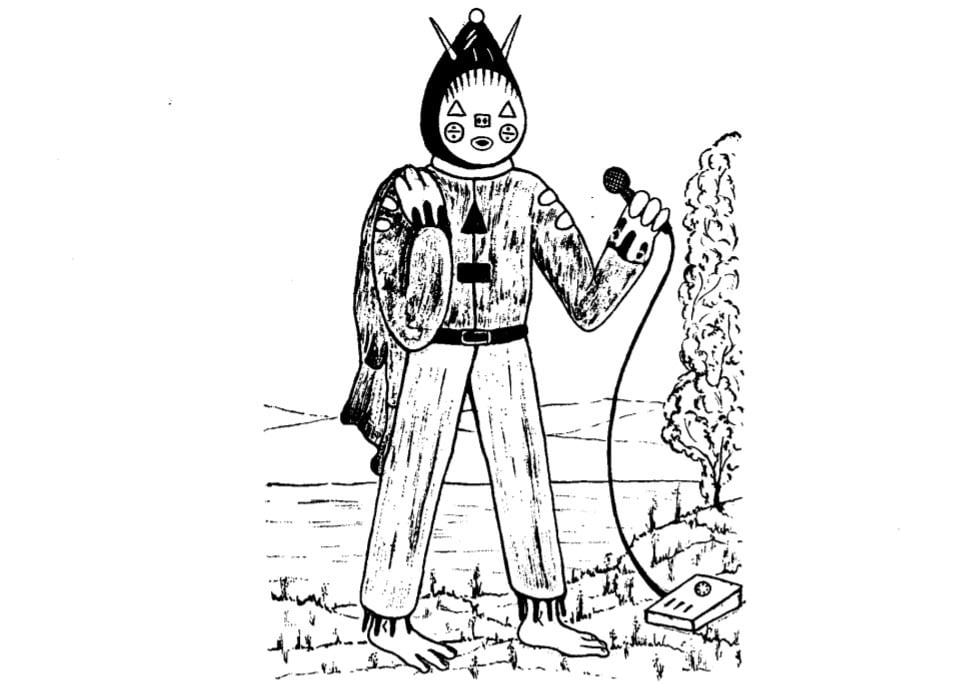 Subject wears a green tunic with a red collar, white trousers, and a pointed, yellow hat. The hat is adorned with a black knob directly on top, and a series of what appear to be wooden antennae at the sides. It also seems to lock into place at the collar of the tunic, suggesting it may be more of a hood than a hat. He wears blue gloves and may carry with him a "black-knobbed microphone with a white flex attached," or a book or notebook of some kind.
[Like what you read? Check out Dangerous Games To Play In The Dark, available from Chronicle Books now!]
Subject is not necessarily a clown, despite what his moniker may suggest. Given that subject has only been observed once by a pair of small children, the "clown" portion of the description likely arose due to the children having no other frame of reference for the strange-to-their-eyes being's appearance. The most widely accepted explanation for what subject truly is lives somewhere in the realm of extra-terrestrial — although due to lack of data, this remains conjecture only.
Modus operandi: Subject does not necessarily have a modus operandi, per se — or, more accurately, it cannot be determined whether he has one, as he has only been observed once. As there is not sufficient data available to describe a modus operandi, this report will instead endeavor to describe what occurred the one and only time subject was observed.
On a Tuesday afternoon in May of 1973, at around four o'clock, two targets — young children: a girl identified by the name "Fay," age seven, and an unnamed boy approximately the same age — heard a strange sound while they were playing near Lake Common, between the Shanklin and Sandown Golf Club and the airport now currently known as Isle of Wight/Sandown Airport. The sound, described as a "weird wailing noises," reportedly resembled an ambulance siren. The two targets followed the sound, seeking to discover its source, but found when they reached a small meadow that the sound had ceased. They continued exploring, arriving at a wooden footbridge crossing a brook, at which point they reportedly spotted a hand wearing a blue glove emerge from underneath the bridge.
The humanoid figure previously described — the owner of the hand, aka subject — followed, reportedly carrying a book as it made its way out from under the bridge. After (seemingly accidentally) dropping the book and dipping into the water to retrieve it, subject then approached a windowless hut made of some kind of metal, vanishing inside.
The targets continued along their way for approximately 50 yards, at which point both subject and the wailing noise reappeared. Subject carried the previously-described microphone device' once he spoke into it, the wailing noise halted. He reportedly asked the targets, "Hello, are you still there?" As the targets drew nearer, they learned that subject could also speak without the aid of the microphone, although his lips remained largely stationary and his speech somewhat unclear.
Subject also carried a notebook and a writing implement of some sort, which he also used to communicate with the targets; however, he did not write his sentences with the words arranged in order. Rather, his words were non-sequential; he indicated the order in which they should be read by pointing the words individually, one by one. Using this method, Target Fay deduced subject's introduction: "Hello and I am all colours, Sam," he wrote.
The targets asked subject whether he was a man, to which he laughed replied, "No." They then asked if was a ghost; the response this time was, "Well, not really, but I am in an odd sort of way." When asked, "What are you, then?", he replied only, "You know."
Subject then invited targets to enter his metal hut, which he said he had made himself, through a flap. Inside, the hut had two floors, walls covered in a blue and green print, an electric heater, and furniture made of wood. He spoke with the targets for approximately 30 minutes, sharing information such as his diet (berries) and what he drank (water from the river, which he was able to clean somehow in order make potable). He also appeared to "eat" a berry, although in a way that the targets found unusual: First, he put the berry in his ear; then, he moved his head in such a way as to cause the berry to disappear from his ear and surface in one of his eyes; and then, with another head movement, he transported the berry to his mouth.
After approximately half an hour, subject bid farewell to targets, who exited the hut and ran to the nearby golf club to tell the nearest adult what they had seen. The adult did not believe their story. Target Fay also later reported that she had seen workmen nearby repairing a post of some sort during her and her companion's encounter with subject—but that the workmen did not appear able to see subject themselves.
Subject has not been observed or documented since.
Containment: Unknown. Likely unrequired, as subject does not appear to be hostile in any way.
Additional notes: Virtually all of what is known about subject was relayed through a report published by the British UFO Research Association, or BUFORA, in 1978. The January/February issue of the BUFORA Journal that year included a report presented by editor Norman Oliver titled "Ghost Or Spaceman '73?", in which the experiences of a "Mr. Y" and his daughter were recounted. The daughter is Target Fay, although it is worth noting that "Fay" is — as is "Mr. Y" — a pseudonym employed at Mr. Y's request for anonymity.
According to the BUFORA report, Target Fay told her father about her and her companion's encounter with subject on June 2, 1973 — a Saturday, and further identified by the report as roughly three weeks following the incident itself. This, combined with the fact that the initial encountered reportedly occurred on a Tuesday, suggests May 15, 1973 — 18 days prior — as the date in question. However, the previous Tuesday — May 8, 25 days prior to June 2 — also remains a possibility.
Although Mr. Y initially found his daughter's report difficult to believe, he ultimately arrived at quite a curious conclusion: "I get the impression that Fay was somehow taken into a bubble of alien reality created by this strange personage," he told the BUFORA Journal.
Notably, Mr. Y had previously had not one, but two encounters with something unusual himself. On October 20, 1970 — just a handful of years earlier — he reportedly witnessed a UFO while driving from Shanklin to Ryde, a journey of about 13 to 16 kilometers, depending on the route. Then, while perched on a cliff at Compton Bay on March 1, 1972, he saw what he described as two yellow points of light "peering up at me" from just below the ocean's surface "like the eyes of some horrible sea monster."
Whether or not Mr. Y's encounters are at all related to his daughter's has not been determined.
Isle of Wight/Sandown Airport originally opened in 1935 as Lea Farm Airport. Following the Second World War, it was reopened as the Isle of Wight Airport and sometimes known as Sandown Airport. At the time of subject's documentation, the airport was either on the verge of closing or had already closed due to declining use. (An exact year is not usually specified regarding the airport's closing; it is typically simply identified as having occurred in the early 1970s.) The facility was then sold in 1976 to new owners, who reopened it and continued to operate it for some time. The airport was again sold in 2013 to Jonathan Owen and Tony Fowler, who undertook a substantial revitalization project, reducing the landing fees, installing a fuel supply, and expanding the number of hangars available, among other improvements. The Isle of Wight Aviation Museum is currently housed in Hangar 2.
Lake Common and the nearby Blackpan Common, both of which were used as grazing land in the Middle Ages, were absorbed by the Shanklin and Sandown Golf Club sometime in the decades following subject's appearance. Both commons are now part of the golf club's courses.
Several theories exist regarding what, precisely, subject may be (beyond his classification status in this Encyclopaedia, that is). As previously noted, he is frequently regarded as extra-terrestrial, alien, or otherwise related to UFOs — hence the report containing most of the information regarding him appearing in a UFO journal. However, other possible theories include, but are not limited to the following: Subject is a ghost; subject is a shared hallucination or result of a folie à deux; subject is a cryptid; subject is a prank pulled by two bored children; and/or subject is a human who merely posed as something… else.
Recommendation: Although you are unlikely to see or encounter subject, subject will likely not harm you if you do.
Still, though — it may be best if you refrain following subject into any huts or indoor locations, metal or otherwise.
What if you accidentally make lift-off while you're there?
Resources:
"Ghost or Spaceman '73?" in the BUFORA Journal, Vol. 6, No. 5, January/February 1978.
Sam the Sandown Clown: Alien, Man in Black, or Folie à Deux? at Curious Archive.
The Sandown Clown at the Obscurban Legend Wiki.
Astonishing Legends, episode 183: "Sam the Sandown Clown."
Sam the Sandown Ghost Clown at Cryptopia.
Map depicting the location of Lake Common, Isle of Wight.
Shanklin and Sandown Golf Club History.
Isle of Wight/Sandown Airport History.
Historic Environment Action Plan: Newchurch Environs and Sandown Bay by the Isle of Wight County Archaeology and Historic Environment Service, October 2008.
***
Follow The Ghost In My Machine on Twitter @GhostMachine13 and on Facebook @TheGhostInMyMachine. And for more games, don't forget to check out Dangerous Games To Play In The Dark, available now from Chronicle Books!