Previously: The Woman Of The Rain Painting.
Type: PE (Preternatural Entity).
Period/location of origin: Unknown. Subject, known as the "Harlequin" entity, was notably documented in 1981 in southeastern Wisconsin, although it has not been determined whether subject actually originates at that time or in that location. According to one researcher, subject may date back to many thousands of years ago, although this possibility is more a theory than anything else.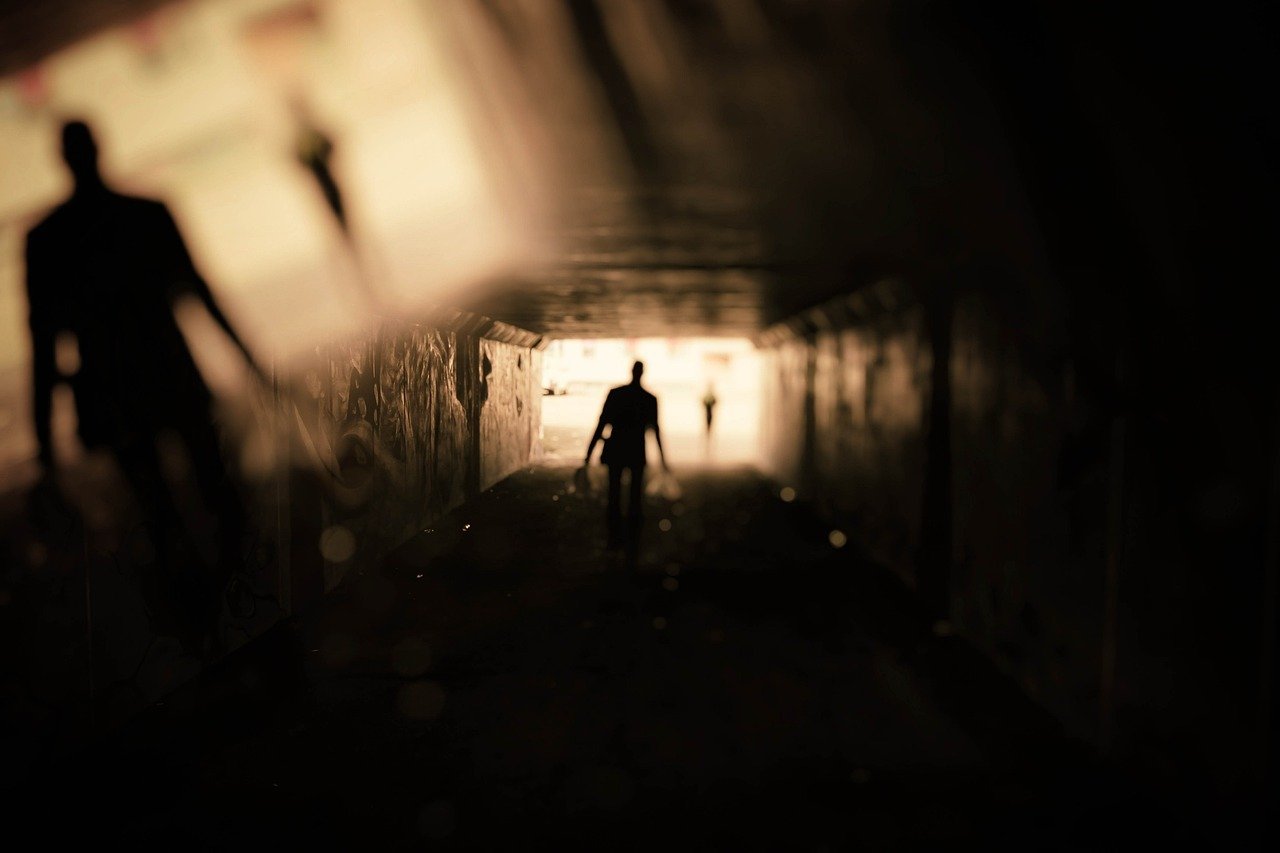 Appearance: Subject appears to be tall, thin, androgynous, and humanoid, with long limbs and pale or white skin. It is largely characterized by its eyes, typically described as "wide-open" and "too large to be human," and its mouth, usually specified to be "open" and "round." As a whole, its face appears to be "in a perpetual state of shock."
Its name is drawn from its attire: It is often dressed in a manner which targets have described as "motley and strange." (Whether or not it is dressed in actual motley has not been determined.)
[Like what you read? Check out Dangerous Games To Play In The Dark, available from Chronicle Books now!]
However, subject may attempt to disguise itself, changing its attire accordingly. Targets have also witnessed it wearing clothing resembling that of a teenage girl; a "winter coat with ruffles sewn into it," "reddish-pink pants" with the legs rolled up to the knee, a "black winter cap," and "penny loafers with no socks" — the overall appearance being that of "a bad theatre actor"; a white ballet costume; and a "short ruffled skirt," again resembling ballet attire, along with a red, purple, and black velvet vest or bustier, long gloves, and tights. It often wears a wig — usually blonde, although occasionally its hair is described as "dark" and "unkempt."
One target described subject's fingers as though they had blades or knives extending out from them; however, this appearance notably occurred within a dream.
Subject also has a distinctive style of movement — one that appears strange and stilted, herky-jerky and accompanied by a "penguin-like gait," per one target.
Modus operandi: It is unknown by what method(s) subject selects targets; however, targets are often — though not always — children.
When targets are young, subject will visit at night, typically arriving after the lights have gone out and target is meant to be asleep. Subject does not announce its presence, but simply appears within target's bedroom. The smell of summer rain may accompany subject upon its arrival.
Once subject has arrived, subject will communicate with target in some way. Targets often recall vague recollections of subject telling them stories, although whether or not subject actually speaks — aloud, that is — has not been determined.
Targets have generally described subject as going out of its way to calm them or ensure that they are not afraid of it — except in one case: One target, who encountered subject not in the waking world, but in a dream — the target who is known to have described subject as having knives or blades for fingers — described witnesses subject dance about his home, traveling from room to room and harming his family as it went. In this account, subject reportedly used its finger-blades to slice open target's family's faces; as it danced from room to room, it also tapped the blades together, producing a haunting, jangling noise.
Adults present in the home during young targets' encounters with subject may sense something about subject, but will typically be unable to see subject — or may simply choose not to believe that subject exists. Activity experienced by adults in these situations may include, but is not limited to: Hearing footsteps in vacant rooms or spaces; detecting voices or laughter in vacant rooms or spaces; having repeated unsettling dreams centered around home invasion; etc,
Subject may continue to follow targets identified while young throughout their lifetimes, even after they have left childhood and entered adulthood. In these instances, subject may reappear periodically throughout targets' lives at unexpected times and in unexpected places: Walking in the middle of a deserted road; sauntering down the sidewalk of a busy town center; knocking on the door of their home; etc. If encountered in this fashion, subject may attempt to approach targets; however, targets, now older and wiser, typically vacate the premises before subject reaches them.
It is worth noting that some adults have encountered subject without having been targeted as young children. In these cases, the encounter may be a mistake on subject's part; subject may, for instance, visit a residence at which an already-identified target once lived, but no longer does, knocking on the door or even gaining entry to the residence in search of the former target. Adults encountering subject in this fashion have typically escaped unscathed, if somewhat rattled.
Subject's ultimate goal remains unknown, although it has been theorized that it may be a seasoned child abductor. (See: Additional notes.)
Containment: Unknown.
Additional notes: What is known of subject has been documented almost entirely by one researcher: Jason Offutt, who has been assembling reports and instances of subject's appearance at least since 2009 in a variety of outlets. Offutt's many examinations of subject have often centered around a target identified as Dan Mitchell, who first encountered subject at the age of five in 1981 at his family's home in Wisconsin. Much of what is known about subject was assembled via Offutt's interviews with Mitchell; because of the interviews, lines have been drawn from other reports to Mitchell's reported experiences, thus bringing forth a fuller picture of subject.
It is unknown precisely what subject may be or from which belief system or mythology it may hail. Possibilities include, but are not limited to: A demon or fallen angel, as depicted in Christian theology; fae or Tuatha Dé Danann, as in Irish mythology; the Erlkönig, or Erl-King, as described in the German poet Goethe's work of the same name; a figure from Norse or Scandinavian mythology, possibly even Loki; and/or something extraterrestrial. According to at least one target — Dan Mitchell, the Wisconsinite with whom most modern reports began — subject has even referred to itself as the "tooth fairy" when asked.
Subject has, on at least one occasion, been connected to the phenomenon of the phantom clown scare. This connection is somewhat thin, but perhaps worth noting all the same.
Similarly, subject has periodically been mentioned in conjunction with the entity known as the "Hat Man," despite the fact that the Hat Man is more commonly associated with the subject identified in this Encyclopaedia as the "Shadow People."
Researchers and experts Offutt has interviewed or consulted during his investigation into subject have also offered various theories of their own. For instance, Brad Steiger, author of the 2010 book Real Monsters, Gruesome Critters, And Beasts From The Darkside told Offutt that subject may be a "supernatural abductor of children" who is much older than current reports might suggest. "We're talking 1,600 years or something and the Harlequin is coming back," he said, per a piece Offutt published at Mysterious Universe in 2011. "This is just a name for all the other entities we've talked about for so long."
No definitive conclusions about the nature of subject's classification have yet been drawn.
Recommendation: Subject's current status or whereabouts are unknown.
But, should a child in your life begin telling you of a clown-like creature visiting them at night — a creature who may or may not refer to itself as the "tooth fairy" — don't assume the child is making it all up.
You'd do well to listen to them.
Because although subject may not necessarily be malevolent…
…It might not be benign, either.
Resources:
Jason Offutt's column at the Examiner:
Accounts of Harlequin documented at From The Shadows:
The Mysterious Harlequin series at Mysterious Universe:
Episodes on the EERIE X podcast (formerly EERIE Radio):
Shadow People Series: Hat Man at HubPages. (See comments.)
[Photo via jwvein/Pixabay]