Previously: The Missing Girl In The Odessa Catacombs.
The house located at 1114 Fountain Drive in Atlanta, Georgia is small and cozy. Built in 1945, it's made of brick and has three bedrooms. Current records state that there are seven rooms total — but in 1987, there were six. And one evening in September of that year, nearly all of those rooms, plus the halls and the basement, suddenly, inexplicably became covered… in blood. Human blood. So much of it that the house — for a time, at least — was known by an exceedingly evocative moniker: The Blood House at Fountain Drive.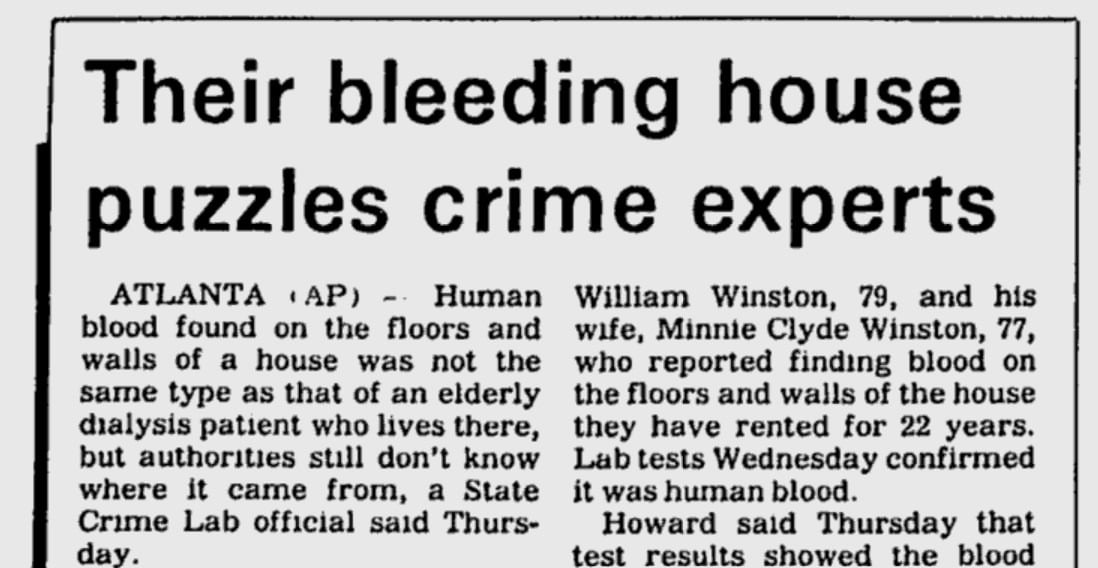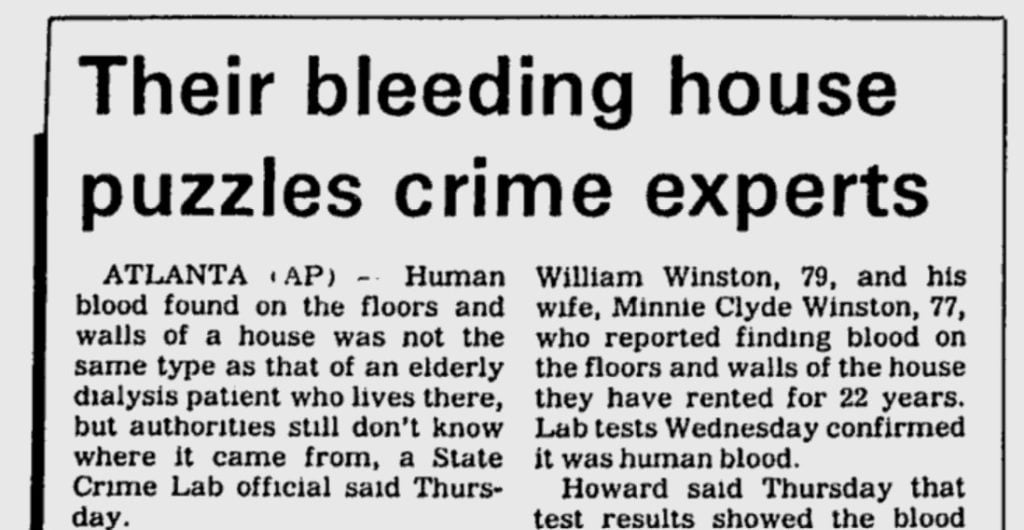 Here's the weirdest part: There was no identifiable source for the blood. It wasn't the result of a gory crime, or of a terrible accident, or anything of the sort. And to this day, the cause of the Blood House at Fountain Drive's messy problem has never been fully explained.
The Night The Walls Bled
In the fall of 1987, 1114 Fountain Drive was occupied by William and Minnie Clyde Winston, who had lived there for more than two decades. Neither of them was, as the saying goes, a spring chicken; William was 79 years old, and Minnie 77. They had raised three children, all adults by the time of the incident. William — or Willie, as he was more commonly known — was in poor health, with Minnie providing much of his caregiving; his kidneys were bad, and he underwent dialysis regularly.
On the evening of Sept. 8 — a Tuesday — Minnie had stepped into the bath for a long soak, much in need of some time to relax and unwind. But when she emerged from the tub at around 11:30pm, she felt something… wet underfoot. Not water; it was slicker than that, and stickier. When she looked down, she saw it was red, and seemingly spraying through the bathroom's tiled floor "like a sprinkler," as she later described it to the press.
[Like what you read? Check out Dangerous Games To Play In The Dark, available from Chronicle Books now!]
But that wasn't all. Upon further investigation, Minnie and Willie found that the red substance wasn't limited to the bathroom. It was, it seemed everywhere — in the hallways, in the kitchen, in the living room, in one of the bedrooms, in the basement, and in the house's crawlspace. It was on the floors and on the walls.
And it looked — horrifyingly — like blood. Blood for which there was no source: No crime had been committed in the house, and no body or remains were present within it.
The house itself appeared to be bleeding.
The couple called 911, who dispatched both police and EMTs to the house. But the EMTs could find nothing to treat; neither of the Winstons was injured, so the substance — assuming it was what it looked like — couldn't have come from either of them. Said Willie, according to a Sept. 10 report from the Associated Press, "I'm not bleeding. My wife's not bleeding. Nobody else was here."
That was the other odd thing: The fact that nobody else was present. Not only was there no clear source for the substance in the house, there was no explanation for how it had gotten there. The Winstons said they had locked their doors and set their security alarm at 9:30pm that night, at which time the house was clean; between then and when Minnie made the discovery two hours later, the alarm hadn't been tripped, nor was there any evidence that an intruder had gained entry. Wherever the mess had come from, it was unlikely that it had been put there by someone else.
Samples of the substance were taken and sent off to the State Crime Lab.
The results came back quickly: It was blood.
And: It was human in origin.
No Body, No Crime?
Before you ask: No, it wasn't a result of Willie Winston's dialysis equipment malfunctioning. Indeed, the lab tests also confirmed Willie's insistence that the blood was neither his nor his wife's. The results identified the blood type of the stuff found on the walls and floors of 1114 Fountain Drive as Type O — but both Winstons had Type A blood. Reports don't specify whether any of the samples were positive or negative, but the difference in letter type along is conclusive: The blood in the house not only wasn't the Winstons', it could not possibly have been the Winstons'.
The police were baffled — not just because of the blood itself, which was weird enough, but because they couldn't even figure out whether there was a crime for them to be investigating in the first place. "It's an extremely strange situation," said Detective Steve Cartwright, who was an investigator on the case, to the Associated Press; Cartwright was among the team sent to the residence on the night of the strange event. "I've been on the force 10 years, and I've never seen anything like this."
But, as a spokesperson for the police also told the AP, "It's not going to be a, you know, 'the house that bleeds'" kind of case. Houses, after all, don't bleed.
Right?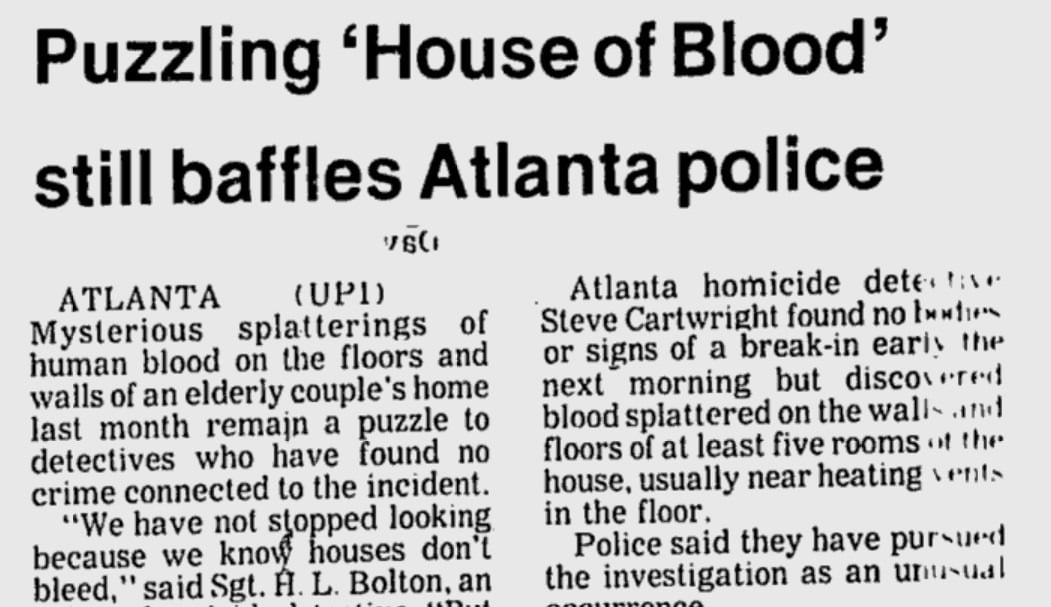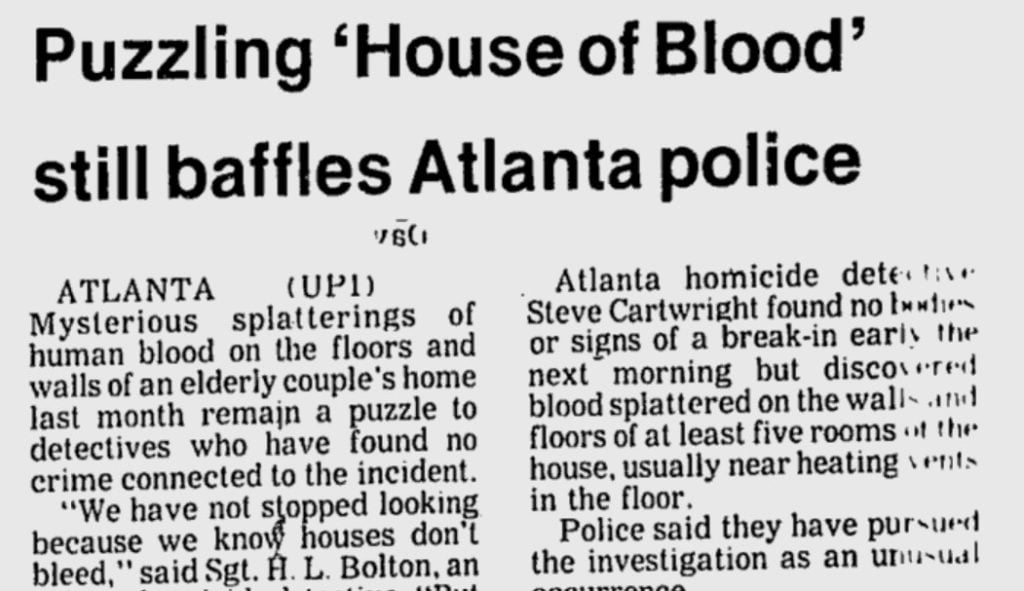 Either way, there did not appear to be consensus among those working on the investigation. State Crime Lab director Larry Howard told the AP, "It could be a homicide, it could be a hoax"; however, a spokesperson — a different one than the one who had made the "house that bleeds" comment — also said that officers "were not assuming it was a hoax," per the AP's Sept. 10 report. If that were the case, she said, "I'm sure they wouldn't still be investigating it."
And yet, on Sept. 12, the New York Times quoted Police Lieutenant Horace Walker as saying, "We have no leads at this time. We will continue a routine investigation and if we find that no crime was committed, we're through with it. As we see it now, there has been no crime." Continued Walker, "Someone could have done this as a hoax. It concerns me that we don't have any answers."
In that same New York Times report, Larry Howard again stated that he believed the incident unlikely to be indicative of a murder. Blood specialists on the scene, said Howard, "are not impressed… that it is a homicide" — and nor was he himself.
Chaos, But No Conclusion
A media circus followed in the days after the initial incident — one which upset the Winstons greatly. The Winstons are quoted frequently in news coverage from the time, expressing their frustration with the constant phone calls and looky-loos stalking their home. "I still don't know where the blood came from, and I'm tired of all these people asking me all these questions. If anybody comes here today, I'm not going to open my door," Minnie Winston told reporters on Sept. 10. "The phone rang all night, people asking me questions," she continued. "I'm fed up with all of this."
A long read on the case by Danny Cherry Jr. based on interviews, official records, and rare documents published at Truly Adventurous paints a more immediate scene: The Winstons shouting from within their besieged home, "There's no blood in this house, now get away from here!" and "I don't want nothing more to do with it! Just leave us alone!"
At least one self-described parapsychologist, William George Rolle, Jr., descended upon the couple unannounced with a reporter in tow. The pair was turned away. Reported UPI on Sept. 10, "Rolle, who wrote a 1972 book called Poltergeist that is not connected to the movie by the same name, said he will keep trying for permission to enter the three-bedroom house occupied by the elderly couple for the past 22 years."
Pro tip: Don't be that guy.
Over a month and a half later, police were still no closer to figuring out what had happened. In the Oct. 24, 1987 edition of the Afro American, Atlanta homicide detective Sgt. H. L. Bolton is quoted as saying, "We have not stopped looking because we know houses don't bleed. But we haven't determined that a crime was committed, and that is our primary concern."
And, soon, they just… gave up. With no evidence a crime had actually been committed, there was no reason for the police to continue investigating. The case is still marked unsolved.
The Theories
With no body, it seems evident that the blood wasn't the result of a homicide. So where did it come from? Two primary theories exist, although neither has ever been satisfactorily proven.
Many think it was a hoax; indeed, that seems to be where at least one member of the police who worked on the case seems to have landed. In 1994, the Georgia Skeptics' newsletter for the winter season featured an examination of the case by a team made up of Rebecca Long, Larry Johnson, Rick Moen, and noted skeptic Joe Nickell. For their investigation, they spoke directly with Horace Walker, who told the group that "family problems apparently existed which gave either the Winstons or their children a possible motive for perpetrating such a hoax." Theories floated in the newsletter include Willie Winston having "conceivably had access to human blood" due to being a dialysis patient, and hoaxing the bleeding house "in order to get more attention from their children"; additionally, Walker told the group that one of the Winstons' children "worked in a hospital and also had access to human blood," and therefore "could have hoaxed the blood in order to have their parents legally declared incompetent for financial reasons."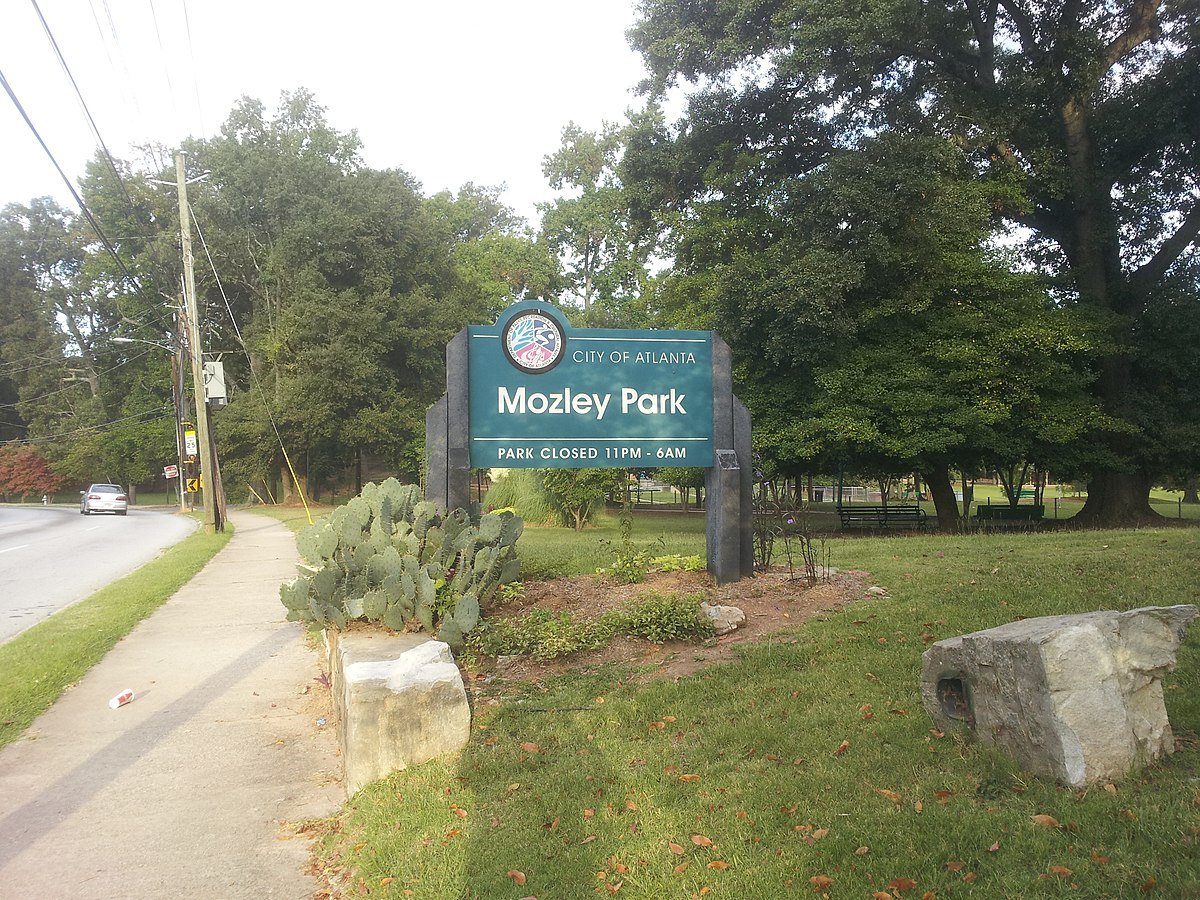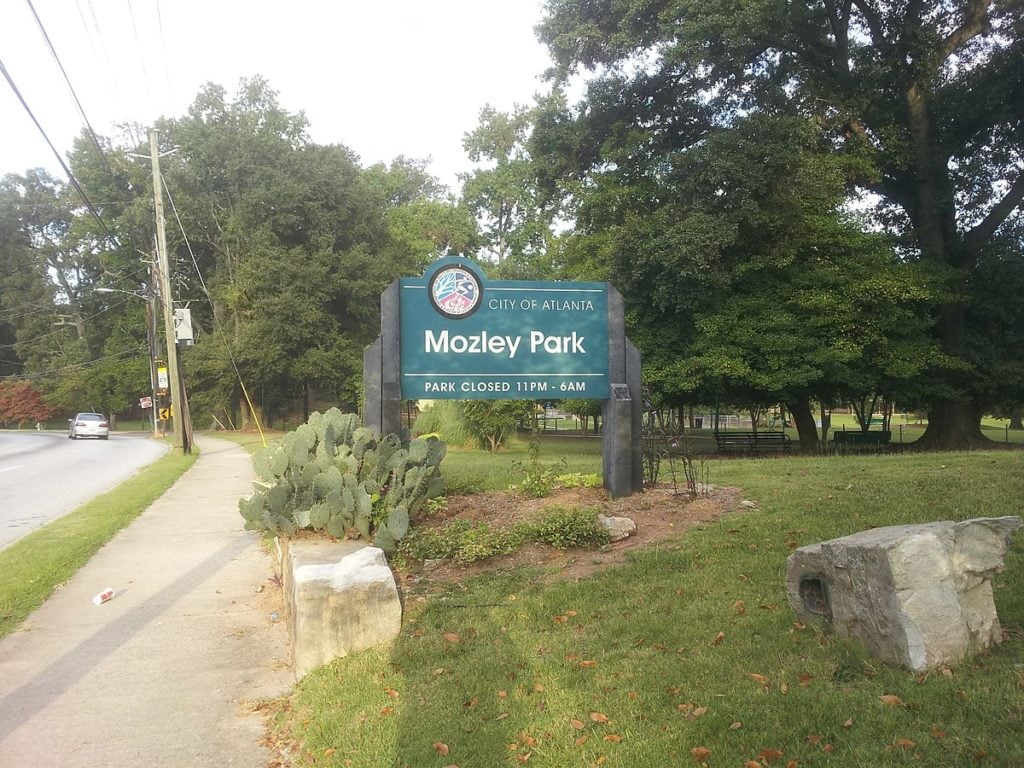 For what it's worth, I'm unclear how being a dialysis patient would give you access to someone else's blood; remember, the blood in the house was Type O, while both Winstons were Type A. Also, the proposed motives for both theories are supposition only, so take them with a very large grain of salt.
Then again, though, the other theory is also based primarily on supposition: The idea that the inexplicable blood might be supernatural or paranormal in nature. That one self-proclaimed parapsychologist who hounded the Winstons certainly seemed to think it was; so, too, have others who have examined the case over the years, despite there not having been any previous indication of supernatural or paranormal events occurring in the house. As Curt Rowlett, who lived in Atlanta at the time of the event and spoke to Minnie Winston about it roughly six months afterwards, put it in his book Labyrinth 13, "After all things are considered, a paranormal event seems to be as likely an explanation as any other that has been purposed to date."
Moving On
Later, both Winstons responded quite differently when asked about the incident. It was rust and mud, they said on one occasion; it was red dye that had leached out from a rug, they said on another; it was contaminated water from leaky pipes, they said yet later. That's the line they maintained, because, as Rowlett put it, "Mrs. Winston emphasized quite strongly to me that if the substance had actually been blood that she would not be willing to stay in the house anymore."
It had been their home for 22 years.
They would not be forced out of it.
Even if the tests said, conclusively, that it was real, actual blood.
Willie Winston died just two years after the night the walls of their home bled red. Minnie, however, lived until the astonishing old age of 104; she passed away in 2015.
No further incidents of this sort have been reported at 1114 Fountain Drive.
***
Follow The Ghost In My Machine on Twitter @GhostMachine13 and on Facebook @TheGhostInMyMachine. And don't forget to check out Dangerous Games To Play In The Dark, available now from Chronicle Books!
[Photos via screenshot/Google News Archive (1, 2); Wikimedia Commons]