Previously: The Sandman Game.
Note: Please don't copy/paste, republish, or narrate this post on other websites, video platforms, etc. without permission.
Here's a somewhat perplexing Japanese summoning ritual I dug up recently: Attic (Chizuko), or what I've come to think of, alternately, as the Attic Game or Summoning Chizuko. It was reportedly first posted to 2ch in 2007, although the two earliest records of it I've actually been able to find myself are dated February and March 2008. It's the kind of game you play purely for the thrill of it, or for bragging rights — the ability to say you played it and survived. There's no prize. There's not even really a point to the whole thing. But if you like to tempt fate… well, the Attic Game might be right up your alley.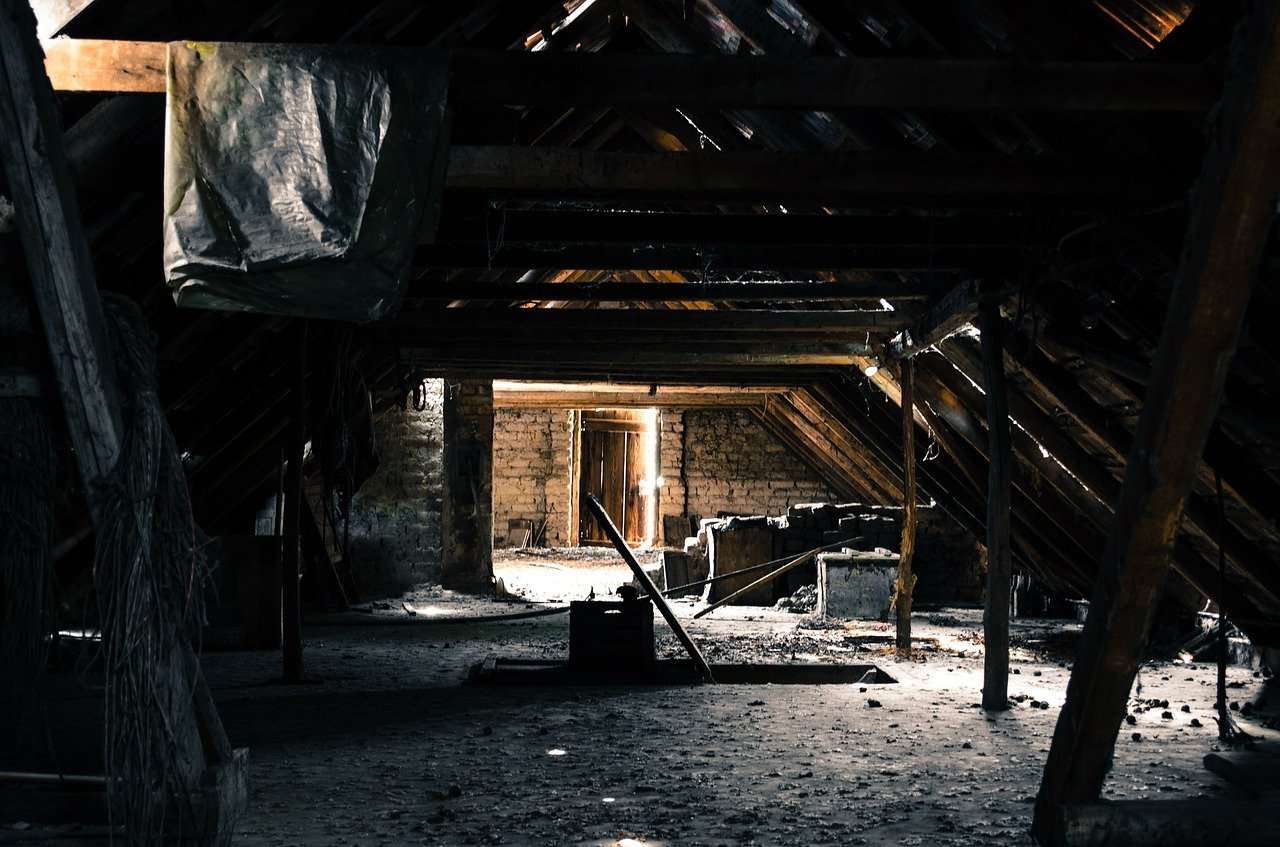 I describe this one as perplexing because, like a lot of Japanese ritual games that emerged on 2ch in the mid-to-late 2000s, the Attic Game is pretty bare bones. It doesn't state who Chizuko Matsuyama is, first off; not does it specify what the point of summoning her might be, or what happens when she arrives or even how to send her back to wherever she came from after the conclusion of the ritual. (Update: It seems that Chizuko is the subject of an urban legend in Japan; it's said that she was murdered, but her remains, which were left in the space above a ceiling, were never discovered. As such, she's now an onryō or vengeful spirit — and summoning her is essentially inviting her to kill you or spirit you away. Not recommended!)
Indeed, the final lines in the March 2008 2ch post (scroll down to post number 22) translate roughly to, "The way to end is unknown. I don't even know what will happen," while the earlier February post states, "I don't know how to end what will happen. Those who execute it should keep in mind that there is no way to end it."
The game just… stops, the way the Elevator Game did in its early incarnations, the way Summoning The Red Man does, and so on and so forth.
[Like what you read? Check out Dangerous Games To Play In The Dark, available from Chronicle Books now!]
But, as I've noted before, that's not necessarily lazy storytelling. There's method to the madness, so to speak: The lack of available information implies that not many people who have been successful in their attempts to summon Chizuko have survived the encounter.
As such:
Play at your own risk.
Players:
Requirements:
Two paper dolls. The dolls must be human-shaped, each with a head, arms, torso, and legs.
A pen or marker, ideally with either red or black ink.
A cup of water.
A table, desk, or other elevated surface.
Candles and matches or a lighter, a flashlight, or another dim source of illumination. (Optional, but recommended.)
An attic or above-ceiling space, and access to it. (See: Additional Notes.)
Instructions:
Before You Begin:
Wait until dark.
Assemble your requirements in a quiet room near your chosen attic: Set up the table or desk if necessary, gather or make the paper dolls, collect the pen or marker, retrieve the cup of water, and make whatever arrangements are necessary for you to access the attic (find and set up a ladder, etc.). If using the candles or flashlight, gather and prepare them along with your other supplies.
Travel throughout the building, space, or area in which you have chosen to play and dim or turn out all the lights. You may light your way with a candle or flashlight if you wish.

NOTE: This step is optional, but recommended for best results.

If you have chosen to enact Step 3, return to the quiet room and turn out the lights within it. You may continue to light your way with a candle or flashlight if you wish.
Preparing The Dolls:
On one paper doll, use the pen or marker to write your full name — first, middle if you have one, and last.
On the second paper doll, use the pen or marker to write the name Chizuko Matsuyama, or 松山智津子.
Place the paper doll bearing your own name, the cup of water, and the pen or marker on the table or desk.
Take the paper doll bearing Chizuko's name and bring it to the attic. Leave the paper doll in the attic, alone. Then exit the attic, making sure to close the door or access hatch behind you.
Repeating The Summons:
Return to the quiet room.
Repeat aloud the following phrase: "I came to pick up Chizuko."
Repeat it again: "I came to pick up Chizuko."
Again: "I came to pick up Chizuko."
Repeat it until She comes — as many times as it takes.
Just… be sure that you really want her to visit.
Because once She arrives…
…She may not want to leave.
Additional Notes:
This ritual is best played in a single-family house equipped with either a full attic or a smaller attic crawlspace or storage area. The attic may be accessible in any number of ways — a door with stairs, a pull-down ladder, a hatch with a stepladder set up beneath it, simply lifting a ceiling tile, etc. — as long as it is relatively easy and safe for players to reach.
Bystanders may be permitted to participate, although only one principal should write their name on a paper doll. Bystanders should repeat the phrase "I came to pick up Chizuko" along with the principal during Repeat The Summons, if present.
You may create or acquire the two paper dolls however you like. The only requirements are that they be made of a paper product, and that they resemble human beings.
Turning out the lights and subsequently lighting your way throughout the game with candles or a flashlight as detailed in Steps 3 and 4 of Before You Begin is optional. If you choose NOT to play in this fashion, skip directly from Step 2 of Before You Begin to Step 1 of Preparing The Dolls. If you DO choose to play in this fashion, proceed as written.
The Chizuko paper doll MUST be left in an attic or similar type of space — that is, an area ABOVE the main spaces of the house.
Do NOT leave it on a floor or level that is regularly used by the house's inhabitants.
Do NOT substitute a non-attic storage space for the attic.
Do NOT substitute a basement for the attic.
Do NOT play this game if you do not have access to an attic-type space.
Regarding The Conclusion Of The Game:
Sources do not specify precisely how players can or should clean up following the conclusion of the game, whether or not success has been achieved. It is not known whether the Chizuko paper doll should remain in the attic, or whether it should be retrieved. It is not known whether either paper doll — or both of them — should be kept safe afterwards, or whether they should be destroyed and/or disposed of. There is, therefore, no recommended method for concluding the game.
Players must decide for themselves what they believe the best course of action may be, despite the risk of being wrong.
It is not known what happens if players choose correctly.
It is not known what happens if players choose incorrectly.
Players must choose, regardless.
Regarding Other Unknowns:
It is not known precisely who Chizuko Matsuyama is.
No reports have yet been discovered detailing what happens if/when She arrives. The reason(s) for this lack of information is also not known, though it is possible that those who have successfully summoned Her have… not been in a position to describe the results of their "success."
It is not known why anyone might want to summon Her in the first place.
And, most troublingly, it is not known how She may be sent away again after her visit — or if it is even possible to send Her away.
If you choose to summon Her…
…you'd best be prepared to take responsibility for your actions.
***
Please don't copy, republish, or narrate this post on other sites without permission (TikTokkers, that includes you). Linking to it or sharing the URL is fine (and encouraged!), as is writing your own unique version of the game based on your own research, but copying and pasting, republishing, or otherwise reproducing the text of this piece in its entirety or near-entirety on other websites without permission, or summarizing it without credit and passing off the work and research as your own, isn't.
***
Follow The Ghost In My Machine on Twitter @GhostMachine13 and on Facebook @TheGhostInMyMachine. And for more games, don't forget to check out Dangerous Games To Play In The Dark, available now from Chronicle Books!
[Photo via Kincse_j/Pixabay]