Previously: Salt Magic Ritual.
Note: Please don't copy/paste or republish the text of this post on other websites without permission.
The first time I encountered the Russian summoning game Gnome Gnome Come (Гном Гном прийти) was on the r/ThreeKings subreddit (which, although banned at the end of October 2020, was reinstated on Dec. 30, 2020 under new mods) — but I was surprised to find when I looked into it further that, yes, it actually is a Russian game that's been around for a while (as opposed to something that was likely made up and positioned as Russian as a means of adding realism to an otherwise fictional creation — like, for example, what I suspect is the case with the Nesting Doll Game). What's more, it's not just bopping around message boards and the like (although it certainly does have a presence there); it's actually been documented in the Lobachevsky State University of Nizhny Novgorod's online folklore archive, with collected stories dating back as far as 1998.
In fact, it turns out there are multiple kinds of gnomes one can summon, according to Russian tradition; they all grant wishes, but some are capable of granting greater wishes than others. Accordingly, these gnomes are more difficult to summon or less likely to appear than their lesser brethren. For example, Gnome Sweet Tooth (Гном Сладкоежка) is apparently quite easy to summon, although the wishes it's capable of granting are of a lesser magnitude than others you might try to call. The Dwarf of Desires (Гномик Желаний) is next in line; then, after that, there's the Money Gnome (ДенежноГо Гнома). Some sources even indicate that it's possible to summon the Sugar Gnome (Сахарный Гном) who, it seems, is different than Gnome Sweet Tooth, owing to the fact that the ritual itself is quite different — or the Vulgar or Obscene Gnome (Матный Гномик), who basically just shows up and swears a lot.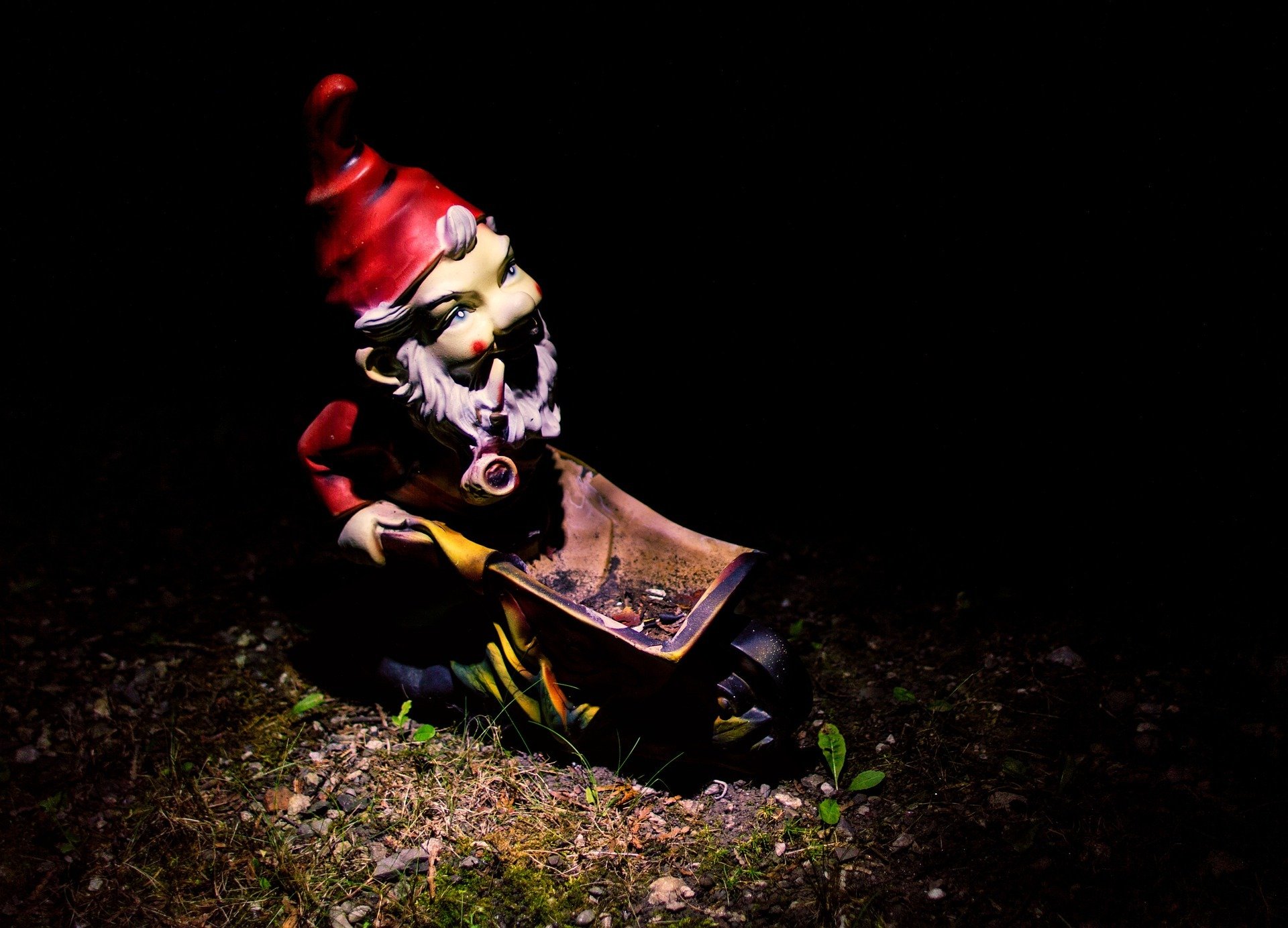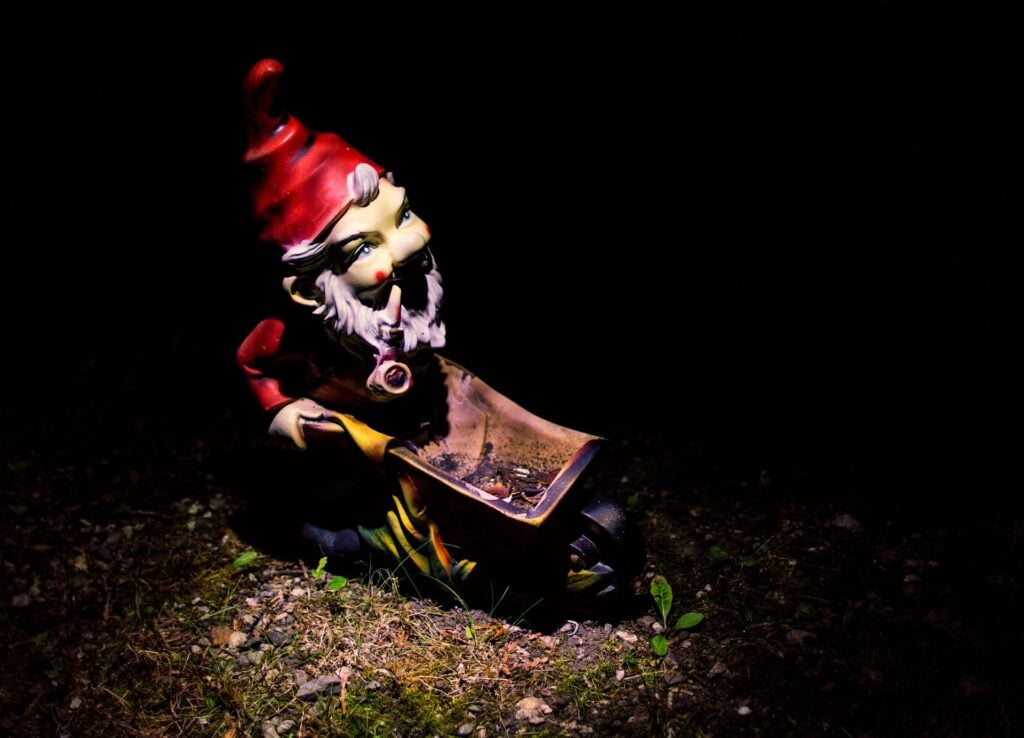 What's interesting to me is that the version of Gnome Gnome Come described by Redditor u/DwayneSmith in the r/ThreeKings post… doesn't appear to be the same one as the ritual described in any of the Russian sources I've found. There are elements they all have in common — the use of chocolate or sweets, for example — but the whole paper cone thing seems only to be present in the Reddit version. Additionally, the Reddit ritual doesn't mention anything about wish-fulfilment; it seems you just summon the gnome for the sake of summoning it.
[Like what you read? Check out Dangerous Games To Play In The Dark, available from Chronicle Books now!]
The version of the game I've put together here is based mostly on the Russian sources I've dug up, rather than the Reddit version. In addition to being the version I encountered most frequently in my research, it also seems specifically to be the one geared towards summoning the Dwarf of Desire, as one source called it. It seems to be a little more benign overall than many of the other rituals we've examined here at TGIMM — but, as always, it never hurts to be careful.
Play at your own risk.
Players:
Three or more principals.
Requirements:
A table or two chairs. (Chairs are preferable; see Additional Notes.)
A spool of strong thread, string, or twine.
A ruler or measuring tape.
Scissors.
Individually-wrapped sweets or candies — one for each participant.
Wishes or desires — one for each participant.
A dark, quiet room.
Instructions:
Making The Preparations:
Begin at any time.
First, prepare your chosen game room: Draw the curtains or otherwise block the windows; remove anything white and/or featuring religious iconography from the space (this includes clothing or jewelry worn by participants, as well as furnishings, home décor, etc.); and, if necessary, position the two chairs or the table within the room.
Assemble all players and supplies within the room. Remove any other people or pets from the room who is NOT participating in the game.
Once all extraneous items, people, etc. have been removed from the room, close the door. Ensure that you will not be disturbed for the duration of the game.
Wishing Your Wishes:
Tie one end of the thread, string, or twine to one of the chair's or table's legs.
One by one, have each participant take a single, wrapped candy and tie it securely to the thread. Using the ruler, ensure that there is an equal amount of space between each candy. (A few inches of space is sufficient.) Each participant must tie their OWN candy to the thread; do not allow any single player to tie more than one piece of candy to the thread.
As you tie your candy to the thread, silently make your wish. Do NOT speak your wish out loud. After you tie your candy and make your wish, hold that wish in your mind.
Remember which candy is yours. Do not forget.
When all candies have been tied and all wishes have been made, use the scissors to cut the thread from the spool. Leave a tail of at least six inches before you snip the thread.
If using two chairs, tie the recently-snipped end of the thread to a leg on second chair. If using a table, tie it to the leg opposite the one to which you tied the original end.

NOTE: Once you have begun tying the candies to the thread, do NOT allow it or the candies to touch the floor. When you tie the end off to the second chair or table leg, make sure the thread is taut enough to prevent the candies from dragging on the ground.

Have all players turn their backs to the chairs or table. No participant should be watching the thread or the candies.
If you are the player nearest the light switch, turn out the lights.
Together, have all players chant aloud, three times, the phrase, "гном гном прийти" (pronounced as "gnom gnom priyti") — that is, "Gnome gnome come."

NOTE: You MUST speak this phrase in the original Russian. Do not attempt it in any other language.

Now: Wait.
Do not move.
Do not make any noise.
And do not — do NOT — turn around.
Receiving Your Visitor:
Listen carefully. Do not turn around.
Do you hear a rustling noise? The crinkle of candy wrappers, perhaps?
Good. Your visitor has arrived.
Do not turn around.
Keep listening.
As long as there is noise behind you, remain where you are. Do not move. Do not make any noise yourself.
Do not turn around.
Listen again.
When the noise behind you ceases — where there is no more rustling, no more crinkling of candy wrappers — your visitor has departed.
You may now turn on the lights and turn back around.
Examine the thread:

If your candy has been unwrapped, bitten into, or eaten entirely:

Congratulations! Your visitor has chosen to grant your wish. Pay attention in the days to come; your wish will be fulfilled shortly.

If your candy remains untouched:

Unfortunately, your visitor has chosen not to grant your wish. You may try again another time, although it is recommended that you examine how you conducted the ritual this time 'round and make any necessary adjustments to improve the chances of success.

You may now untie the thread and dispose of it and any remaining candy.
Additional Notes:
Chairs offer a greater degree of flexibility when it comes to this game's setup, due to the fact that where you place them determines the length and tautness of the thread. A table is also permissible, but should you choose to use one instead of a pair of chairs, you will be limited by the fact that the distance between the table's legs is fixed, rather than mutable.
Any number of players is permissible, as long as there are at least three. For best results, play with an odd number of players.
No spectators may be present in the room while the game is in session. However, you need not empty the entire building of non-players before you begin.
Sources vary as to the variety of candy that will receive best results. According to some, chocolate should be used; according to others, however, the candy you yourself like the most will have the greatest chance of success. If you play this game once with the candy satisfying one of these conditions, but find it results in failure, consider trying again another time using the other candy condition.
Some sources recommend all players making the same wish, as opposed to each player making an individual wish. According to these sources, the greatest number of players have the greatest of having their wish granted if your visitor need only grant one wish upon arrival. Should you choose to share a wish amongst all players, it is recommended that it be a broad enough wish to apply to as many players' circumstances as possible — for example, a general wish for success at work, as opposed to a wish for a specific project at one particular player's place of employment to end in success.
If, after a few minutes, you do not hear a rustling or crinkling sound after turning out the lights and chanting the chant, the ritual has failed. If this occurs, turn on the lights, clear up your supplies, and exit the room. You may try again another time.
You may play this game as many times as you like, although it is not recommended you play it too frequently. Don't get greedy; your visitor only has so much patience.
DO NOT record, film, photograph, or otherwise document your visitor in ANY WAY while they are in the room. At best, they will choose not to appear. At worst, see: A Note On Comportment.
Variations On A Theme:
Several variations on this ritual may be attempted, based on what the players hope to accomplish with the summoning.
For a greater chance of success, but limited to wishes of a lesser magnitude:
Instead of tying candies to a string, use a pen, marker, or other writing implement to draw a house on a piece of paper. The house in this drawing must include a chimney, an open door, one window, and a fence around a spacious yard. Do not include any people or animals in your drawing. Then, have each player unwrap their candy, write their wish on the inside of the wrapper, and wrap the candy back up again. All players should then place their candy on the piece of paper within the house's yard. Turn off the light, close your eyes, and chant "гном гном прийти" three times aloud, in unison. Wait and listen for the rustling of a crinkling candy wrapper. When the rustling ceases, you may open your eyes and turn on the light. Any player whose candy has been unwrapped, bitten into, or eaten entirely will receive their wish within the next few days.
To give your visitor a tasty treat and receive treats in return:
Choose a room in which to play that has a chandelier or other, similar lighting fixture affixed to the ceiling. Tie a thread to the chandelier, making sure the thread is long enough almost to reach the floor. Tie a wrapped candy or bar of chocolate to the end of the thread; then, place a small mirror on the floor directly beneath the candy with the reflective side facing up. Position one player by the light switch and seat the rest of the players in a circle around the mirror. Once everyone is in position, the player by the light switch should turn off the lights and join the circle. Then, have one player snip the thread with a pair of scissors so that the candy falls onto the mirror. Chant together three times in unison, "гном гном прийти." Then, wait and listen for the tell-tale rustling of a candy wrapper. When the rustling ceases, you may turn the lights back on. If the ritual has been successful, your visitor will have left more sweets for you in exchange for the one you left for them.
To simply summon your visitor and receive proof of their visit:
Take a piece of paper and twirl it into a cone shape. Fasten it with a piece of tape. Then, place a piece of chocolate on the floor and stand the cone up on top of it, hiding the chocolate from view. Turn out the lights. Have all players sit in a circle around the cone, then cover themselves up entirely with a large blanket. (You should all be huddled together under the blanket with the cone in the center.) Close your eyes — all of you — and chant together three times in unison, "гном гном прийти." Sit. Wait. Count roughly 60 seconds. Then, remove the blanket from your heads and hit the cone with your hand sharply to knock it forcefully as far away from you as possible. Turn on the lights and examine the chocolate. If you were successful, you will see small teeth marks on it.
To trick your visitor into fulfilling your wish:
Tie a piece of string to the faucet of the sink in a bathroom; then tie a piece of chocolate to the end of the string. Next to the sink, place a glass of water and a wash cloth or rag. Turn off the lights and chant aloud, three times, "гном гном прийти." Now, wait. If you are successful, your visitor will come, eat the candy, undress, and have a bath in the glass of water, using the washcloth as a towel. While your visitor is bathing, you must take and hide their clothes. When your visitor realizes their clothes are missing, they will ask you about your wish. Tell it to them and they will grant it; then return their clothes to them.
NOTE: This variation is not recommended; see: A Note On Comportment.
A Note On Comportment:
Do NOT disrespect your visitor in any way.
If you make them angry enough, you may end up paying for your transgression dearly — with, for example, a… piece of yourself.
Consider yourself warned.
A little respect goes a long way.
***
Please don't copy or republish this post on other sites. Linking to it or sharing the URL is fine (and encouraged!), as is writing your own unique version of the game, but copying/pasting, republishing, or otherwise reproducing the text of this piece in its entirety or near-entirety on other websites without permission isn't.
***
Follow The Ghost In My Machine on Twitter @GhostMachine13 and on Facebook @TheGhostInMyMachine. And don't forget to check out Dangerous Games To Play In The Dark, available now from Chronicle Books!
[Photo via Humusak/Pixabay]