Previously: Celles, France.
The water park's name was a mouthful even for German speakers: When it opened in 1985, it was called Berliner Luft- und Badeparadies — the Berlin Air and Bathing Paradise. But this unwieldy moniker was less commonly used than its abbreviation; indeed, it's possible that the shortened version came first, with the longer version shoehorned in. After all, the name most people actually used was too good to pass up: After all, what better name could there be for a German water park than "Blub?" Located in Britz — an area located in the Neukölln district of Berlin — Blub entertained water-loving visitors for nearly 20 years; alas, though, after a long, slow decline, the indoor-outdoor water park finally gave up the ghost in the early 2000s. Now, all that remains are the memories — and, of course, some truly spectacular photos of the "paradise's" decaying remains.
[Like what you read? Check out Dangerous Games To Play In The Dark, available from Chronicle Books now!]
Blub opened its doors on February 14, 1985 — Valentine's Day, for those keeping track. Mastermind by Harald Frisch, who would go on to become one of the founding members of the European Waterpark Association (EWA) in 1989, the watery paradise cost 44 million marks to build, according to an article in Der Spiegel published about two years after Blub's opening. (If I've done my math right, that was equivalent to about $13.3 million USD at the time, or around $31.1 million today, adjusting for inflation. My calculations might be wrong, though — numbers are not my strong point — so if they are… uh… sorry.)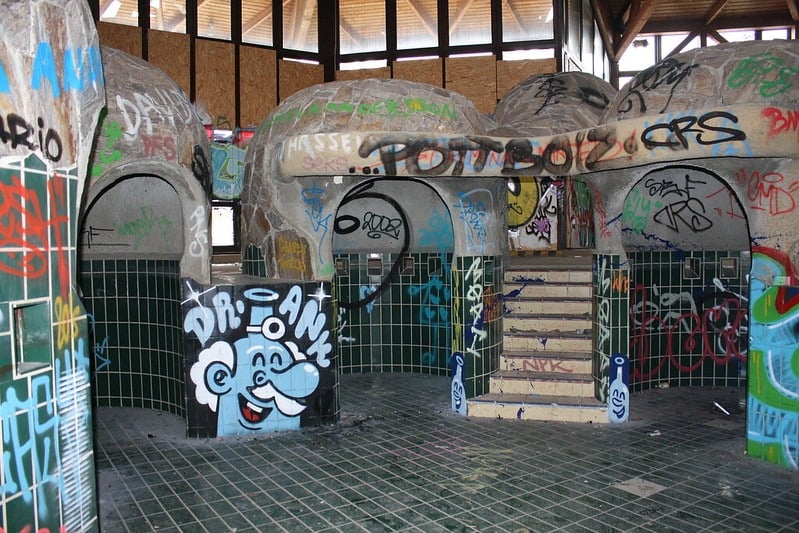 At the time that Blub was built, it was part of West Berlin; Neukölln was right along the border of the Berlin Wall, which had been constructed beginning in 1961 and would remain standing until November of 1989. (The reunification of Berlin occurred about a year later, in October of 1990.) Neukölln suffered after the Wall went up — as National Geographic put it in 2014, the raising of the Wall coincided with "the bottom [falling] out of the local economy," bringing widespread poverty to the district. In the 1980s, however, Britz underwent something of a renaissance: Along with the construction of Blub, the Schloss Britz manor house also received major renovations after being declared a historic monument and opened to the public for the very first time.
And, both with its price tag and its general atmosphere, Blub ultimately could only be built in West Berlin — the capitalist part of Berlin aligned with the Federal Republic of Germany. The austerity of East Berlin, which was aligned with the socialist German Democratic Republic, would have had no place for something as frivolous as Blub behind its side of the Wall.
By all accounts, Blub was quite spectacular when it opened. Reported Der Spiegel (via Google Translate) in 1987, the "high, bright hall made of wood and glass" featuring "a bold roof construction" housed, under three domes, an "entire pool landscape." Among Blub's offerings were an eight-lane competition swimming pool, a "fun pool with surf area," a diving pool, a paddling pool, and a "non-swimmer pool." Other sources, meanwhile, have described Blub as having a salt water pool, an outdoor pool, three hot tubs, and an indoor-outdoor pool. The indoor-outdoor pool also contained five "water grottoes" — human-made caves which boasted such features as geysers, rain, or darkness.
There was also a wave pool; every 30 to 40 minutes, a foghorn would sound, indicating that for the next 10 minutes, the pool would be besieged by waves, geysers, and waterfalls. A "white water canal" offered addition thrills, as did several water slides — a 120-meter glass slide, and the "Crazy River," which put riders seated up inner tubes through a series of rapids, eddies, curves, jumps, and whirlpools. The white water canal and the two slides fed into the main indoor-outdoor pool.
Meanwhile, per Der Spiegel, a "beach and bathing landscape" constructed with stone from the Carpathian Mountains, boulders from what is now the Schorfheide-Chorin Biosphere Reserve, and a huge variety of natural plants provided a comfortable place to relax if you felt like taking a break from the water — which, by the way, was always kept at a wonderfully warm temperature of between 29 and 36 degrees Celsius (about 85 to 97 degrees Fahrenheit). The air temperature was also maintained at about 29 degrees Celsius/85 degrees Fahrenheit.
But that wasn't all. Blub also had a "promenade" full of bars, shops, and a "bikini restaurant" (whatever that means); beach and deck chairs lined the promenade, as well, if you wanted to take a rest or do some people watching. Fitness options included body-building, "jazzgymnastik" (which I understand to be something akin to jazzercise), and both regular and water-based aerobics. A sauna garden offered a steam bath, a bio sauna, a eucalyptus sauna, a "velosauna," and a "blockhaussauna," each set to varying temperatures.And, on Friday nights, Berlin pop groups would give the occasional performance.
But although Blub saw incredible crowds in its early years, the attendance numbers dropped dramatically as time went on: According to the Berliner Zeitung, crowds of 600,000 visitors per year at Blub's height had dwindled to only a little more than half that by the early 2000s. Why the drop? Poor maintenance of the facilities, largely, with a helping of cleanliness issues on the side.
The nail in the coffin, though, was undoubtedly the rats.
In December of 2012, city health officials shut Blub down, citing a terrible and extremely apparent rat infestation. Harald Frisch told Der Tagesspiegel at the time that the infestation was "not the result of a lack of maintenance of hygiene measures"; rather, it was suggested that the blame belonged to the nearby Teltow Canal, which may have provided the rodents with access via the "external swimming channel." Regardless, the situation was dire; Der Tagesspiegel reported that reasons for the closure included "rat droppings in the baby pool, floating rats in the outdoor pool," and "rat feces and fresh bird droppings in the self-service restaurant" — which, honestly, speaks pretty clearly to the scope of the problem.
Furthermore, despite Frisch's claims to the contrary, Blub had been suffering from maintenance and cleanliness complaints for years. Der Tagesspiegel detailed a few of them — "germs in the sauna and whirlpool," "hygiene problems in the kitchen" and "grubby changing rooms" — in the outlet's December 2002 report; meanwhile, a Blub patron who had been visiting the water park for years had previously told the Berlin Zeitung in June 2002, "It gets worse every year. The showers stink; a metal staircase rusts outdoors; and the tanning salon is so dirty that you would have to clean it for an hour before you could use it." As the Berlin Zeitung's headline put it: Das Paradies vergammelt — paradise is rotten.
Frisch had departed Blub's management in 1999, but came back at the time of the closure to see if he could put together a plan that would help the water park reopen — what he called a "reactivation concept," per the Berlin Zeitung, including an updated concept putting the focus more on wellness and health and less on family fun and numerous improvements to the facilities themselves.
However, at the time, the financing "[was] not yet available," according to Frisch — and, unfortunately, it never would become available. Although Blub did reopen about a week after its initial closure, the water park ultimately filed for bankruptcy in 2003 and closed for good in 2005. The sauna garden continued to function independently until 2012, but ultimately that shut down, too.
And for years, Blub, formerly a site of much merriment, sat empty, alone, and decaying — and occasionally aflame, too. Several fires over the years caused even more damage to the already-ruined water park.
People continued to visit, of course. They weren't supposed to be there, but they came anyway. A security guard named Ulf determined who was allowed in and who wasn't, according to German news outlet Welt; with a close-cropped haircut and clad in camouflage gear and heavy boots, Ulf was intimidating in appearance, but apparently a "gracious bouncer": Said Ulf to Welt in 2015 (via Google Translate), "Mostly tourists come here. Australian, Spanish, French. They behave properly, take photos, and disappear again. Why should I get upset about them?"
Throughout the early and mid-2010s, plan after to plan was presented as to what to do with the remains of the site: It should become a hotel — no, a holiday resort — no, green space — but each plan stalled. One may have actually seen some follow-through; in 2018, a number of German news outlets reported that the land formerly housing Blub was slated to become home to 450 apartments by 2020. However, it's not clear (to me, at least) whether or not these apartments were completed; it's not even clear whether Blub has yet been demolished or not.
Regardless, Blub's original creator will never see what is to become of his water paradise: Harald Frisch passed away at the age of 82 on Feb. 14, 2020 — 35 years to the day of Blub's grand opening.
***
Follow The Ghost In My Machine on Twitter @GhostMachine13 and on Facebook @TheGhostInMyMachine. And don't forget to check out Dangerous Games To Play In The Dark, available now from Chronicle Books!
[All photos available via Flickr via a CC BY-SA 2.0 Creative Commons license; for credits and source links, see captions of each individual photo.]