Previously: The Virginia Renaissance Faire.
When most people think of Orlando, Florida, they usually think of two things: Disney World and Universal Studios. But as impressive as those two behemoths are, there's more to Orlando's entertainment scene than just that — and more to it than SeaWorld, Medieval Times, the Wet 'n Wild water park (RIP), and all the other big-name attractions that have opened up their doors in the city over the years, at that. One in particular was unique among the many, many offerings: Mystery Fun House, an Orlando mainstay for nearly a quarter of a century. I say "was" because it's been closed for almost 20 years now; even so, though, it lingers in the Orlando theme park landscape. I mean that literally as well as figuratively, by the way — folks who visited have fond memories of the place, of course, but if you look out back, you might still be able to spot a moldering wizard head hanging out on the grass.
[Like what you read? Check out Dangerous Games To Play In The Dark, available from Chronicle Books now!]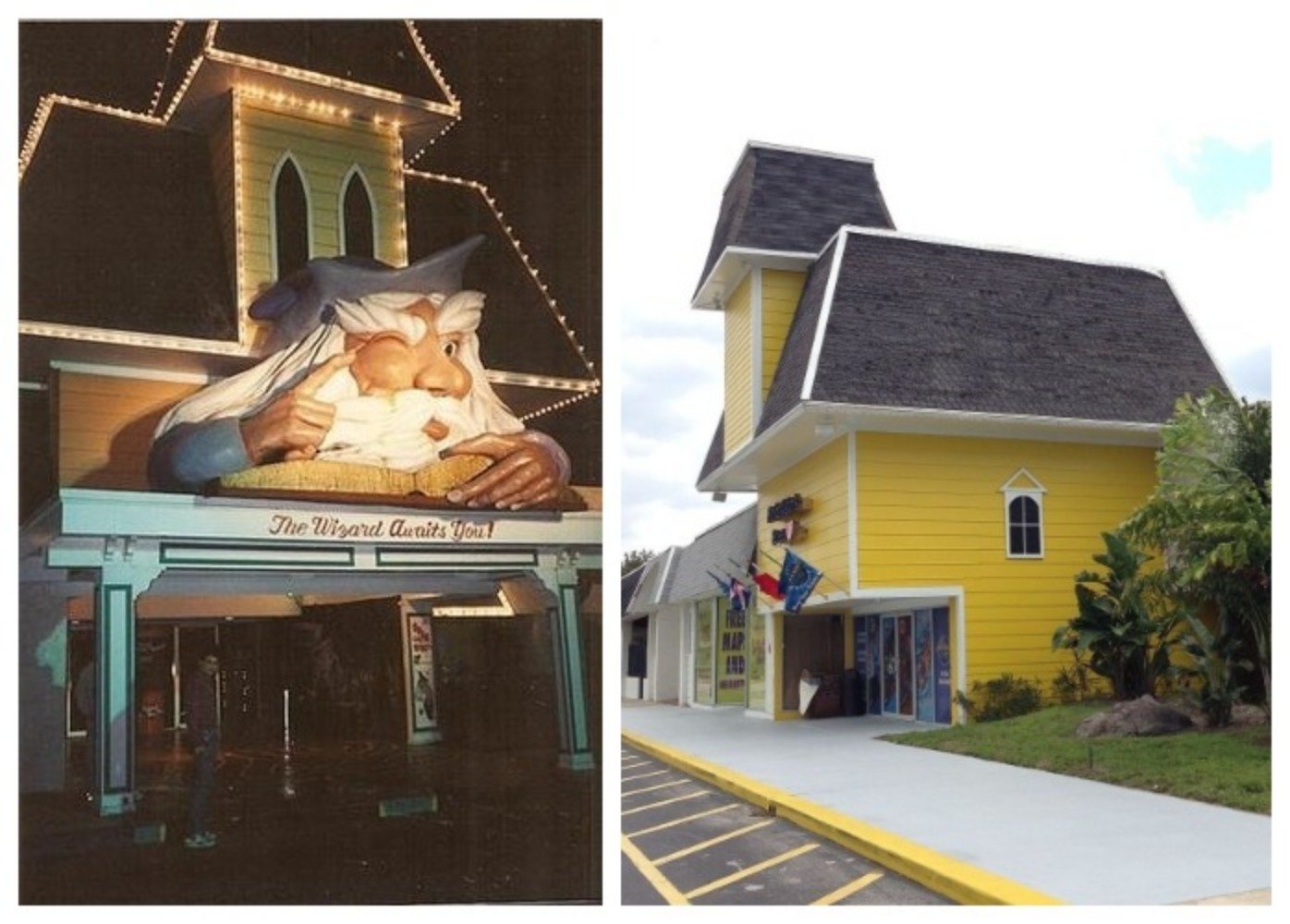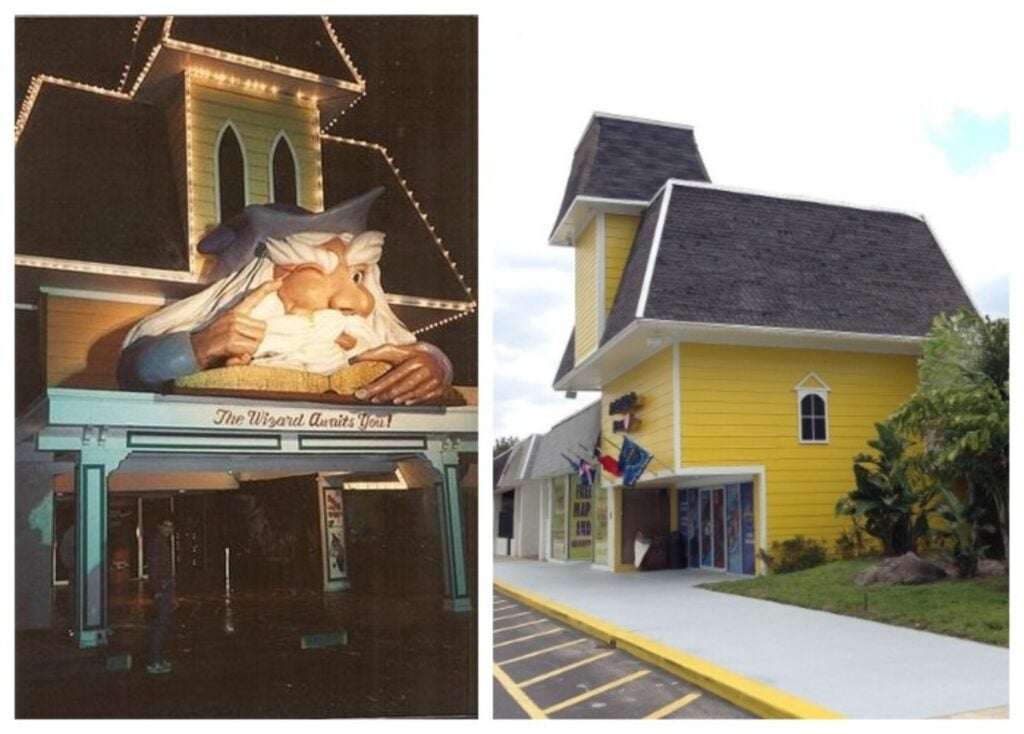 The building that Mystery Fun House would later call home was originally constructed in 1972. Earlier, two real estate companies — Major Realty Corporation and Gulf Oil Real Estate — had teamed up on a project initially called the Major Center and later renamed the Florida Center. The project was intended to be a "self-sufficient, complete community": It would have had commercial, residential, and industrial areas, providing housing 50,000 people, jobs for 35,000 people, and 10,000 hotel and motel rooms for tourists spread out across
2,700 acres of land in Southwest Orlando, according to documentation from Gulf Oil Real Estate. Before building on the center itself commenced, though, a small building went up just a mile away from its planned location on Major Drive — a preview center for the project (and also for SeaWorld, interestingly enough), which opened in 1973.
But the Florida Center was not to be. Due to the economic recession caused by the 1973-1974 stock market crash, the project was scrapped, leaving the community itself unbuilt and its preview center vacant. The 2,700 acres of land on which the Florida Center would have stood later went to MCA/Universal; it now houses Universal Studios Florida. (Land clearing for the park's construction began in 1982, with the park itself opening in 1990.) The preview center, meanwhile, went to a group of developers including David Siegel (yes, that David Siegel), who gave the building its second life: On March 28, 1976, the former preview center reopened as Mystery Fun House, a "Victorian Mansion where visitors can expect the unexpected," according to a press release from the time.
What this description translated to was a maze of rooms — initially 10, but later as many as 15 — each with a different gimmick or puzzle through which visitors had to muddle before they could continue on. Some of these rooms were reminiscent of carnival-style mainstays, like a hall of mirrors; others, meanwhile, were a bit more unusual — like the "Moonscape," which featured a floor and wall made of foam intended to simulate walking on the moon. Mystery Fun House wasn't exactly a traditional fun house; nor, however, was it a haunted maze of the sort that Universal Studios would become known for with its annual Halloween Horror Nights event. There are enough similarities between them all, though, that Mystery Fun House might best be described as a cross between those two types of attractions. (Indeed, some bloggers have even reviewed Halloween Horror Nights through the lens of comparing it to Mystery Fun House.)
Rooms changed from time to time — for example, what began as the "Parlor of Palms" room later became the "Transformation Room," and the "Chamber of Horrors" still later — and new, additional attractions arrived periodically: The Starbase Omega laser tag arena debuted in 1988; an arcade and an 18-hole mini-golf course had been added by 1991; and the Mystery Fun House Magic Shop let visitors take some Mystery Fun House-style secrets home with them. All in all, the complex occupied 53,000 square feet in its later years — more than enough to keep you entertained for an afternoon.
And compared with many of the other attractions in the area, Mystery Fun House was markedly more affordable. The year it opened, for example, admission to Mystery Fun House for adults was $2, or about $9 in 2018 accounting for inflation, while for kids ages four to 12, it was $1, or about $4.50. Disney World, in comparison, had a general admission cost of $6 in 1976 — about $25 in today's money — with each ride or attraction requiring an additional ticket to experience. Sure, Mystery Fun House may have had considerably fewer attractions than Disney World — but it was also a lot less expensive visit. And you didn't have to worry about heavy Florida rains interfering with your fun.
But alas, like many of the more offbeat tourist attractions that once crisscrossed the United States, Mystery Fun House's good times eventually came to an end. In October of 2000, David Siegel told the Orlando Sentinel that it was "likely" the attraction would be shutting down soon; then, on Feb. 18, 2001, it closed its doors for the last time.
No major events happened to spur the closing; it was just… time. Siegel noted the autumn before it closed that the attraction simply wasn't doing quite as well anymore. "It's still a great little attraction, but it's just not justifying being on a valuable piece of real estate," he told the Orlando Sentinel in 2000. And as Maria Triscari, then executive director of the International Drive Resort Area Chamber of Commerce, observed to the Sentinel just a few months later, the entertainment landscape in the area had just become too difficult for Mystery Fun House to keep up with. "It's always sad when an attraction closes and especially when it's one of the original attractions in the area," she said. "There's a lot of nostalgia associated with it, but it's certainly more competitive out there than it used to be."
The building is still standing, though. An attempt was made at selling it shortly after Mystery Fun House shut down, but I'm not sure any offers ever came to fruition; however, it is still in use. For a period, it acted as an employee training location for Westgate Resorts, the timeshare company David Siegel founded in 1982; more recently, it's been sort of a tourist/visitor's center, as seen in the photos snapped by Expedition Theme Park on a visit to the property in September of 2018 seen above. (Definitely check out Expedition Theme Park's video on Mystery Fun House, by the way — it's excellent.)
Many of the old props and pieces of the attractions have lain around for some time, slowly decaying due to weather and age. At this point, weather is probably the bigger issue; the property was hit hard by Hurricane Irma in 2017. The building suffered some damage, and Starbase Omega arena — which was really just a fancy tent in the first place — was obliterated.
There have been rumors floating around since about 2013 of the attraction being rebuilt or rebooted; those who remain hopeful cite the building's return to its familiar, bright yellow hue as a possible indication that a revamped Mystery Fun House is on the way. Personally, I think it's doubtful — the time for these kinds of attractions does seem to have passed — but, hey, hope springs eternal. In the meantime, at least those who loved the place have their memories — and the rest of us have the internet.
***
Follow The Ghost In My Machine on Twitter @GhostMachine13 and on Facebook @TheGhostInMyMachine. And don't forget to check out Dangerous Games To Play In The Dark, available now from Chronicle Books!
[Photo via Scottnj1966 (1, 2)/Wikimedia Commons, available under a CC BY-SA 3.0 Creative Commons license.]