Previously: The Casino Constanta.
It's one of Germany's most famous wrecks: Spreepark, the abandoned amusement park near Berlin on the banks of the Spree river. With a history spanning nearly 50 years, its meteoric rise and fall sounds like something out of the wildest of heist movies — but it's all true. It's all fact.
Of course, exactly what the cause of these facts may have been varies depending on who you talk to — but the story is fascinating all the same.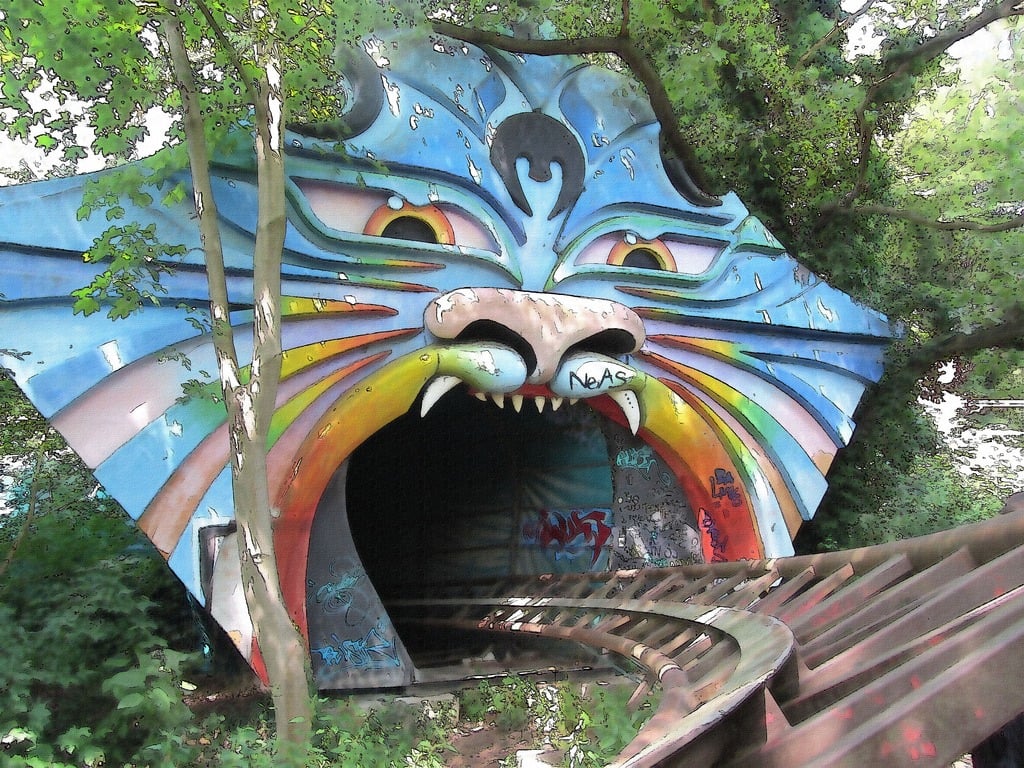 Spreepark wasn't always called Spreepark; when it first opened in 1969, it was under the name Kulturpark Plänterwald — in English, roughly, Culture Park of Plänterwald. A project of the East German government during the era of Communism and the Berlin Wall, which had gone up in 1961, the park was the only destination of its kind in the GDR; spread out over 30 hectares, or about 74 acres, it hosted one and a half million visitors per year at its peak. Its Ferris wheel — the park's most notable landmark — was even upgraded in October of 1989 in honor of the GDR's 40th anniversary, adding more cabins and increasing the structure's height.
[Like what you read? Check out Dangerous Games To Play In The Dark, available from Chronicle Books now!]  
Then, a month later, the Berlin Wall fell.
With reunification, Kulturpark Plänterwald was no longer the only amusement park available for citizens of what had once been East Germany; others, like Europa-Park, were on the menu now as well. Attendance dwindled, diminishing to as little as two-thirds what it had once been, leading to the park's eventual closure.
No longer a government project, Kulturpark Plänterwald was put up for sale. In 1991, it was purchased by Norbert and Pia Witte, who undertook the renovation and rebranding of the park. It became Spreepark, named for the nearby river Spree. For a short time, it appeared as if the park was restored to its former glory, with attendance numbers once again tallying in the millions.
Here's where the story gets… murky.
The park eventually closed, of course — we wouldn't be here, reading about it under a feature titled "Abandoned" if it hadn't — but how it got to that point varies depending on who you talk to. Some articles about the history of Spreepark are more sympathetic to the Wittes than others. The family had long run various amusement destinations in Germany; they were a "Schaustelle" or "showbiz" family who were either were unfairly taken for a ride by the government, or who fell as a consequence of their own shady dealings. There's evidence for both stories; I suspect a combination of both is closest to the truth.
According to a piece published at Exberliner in 2013, what killed the park was the city government's unilateral decision to get rid of 3,000 parking spaces — "officially to conserve the surrounding Plänterwald forest," notes the piece, implying that there may have been other motives beyond this "official" one. "As a consequence, attendance dropped sharply," the piece states. "Despite the Wittes' best efforts, Spreepark had to close in January 2002."
That's certainly Norbert Witte's side of the story; in a 2013 interview with Spiegel Online, the online component of long-running German weekly Der Spiegel, Witte said that if he had any idea the forest around the ark was a nature conservation area, "we wouldn't have ever invested here." He added, "They [the government] deprived us of the foundation of the business."
And it's true that the restrictive parking limitations had an effect on the number of visitors the park could accommodate at any given time. However, as Spiegel Online's Gesa Mayr noted, "the other side has also produced a long list of accusations," among them that Witte "never realized his original concept but was always quick to pin the blame on others… that he has ben late with his rent payments, that h hasn't rehabilitated the 'Eierhäuschen,' a historically listed tourist locale on the grounds, and that hazardous waste has been found." (According to Mayr, Witte "rejects responsibility for almost all such accusations," claiming that he has continually attempted to "revitalize the park — but that, for some reason, his plans have always failed.")
Philip Oltermann at The Guardian also drew attention to what he called Witte's "chequered history" in 2015: In 1981, wrote Olterman, "the biggest fairground accident in German postwar history had taken place on one of [Witte's] rides, when a carousel crashed into a crane in Hamburg." Specifically, this accident involved the loop-de-loop ride called the Catapult and the "Skylab" carousel; according to a 2009 article from Spiegel Online, Wittee was "attempting to repair" the Catapult when the crane he was using "collided with" the Skylab. (Said Witte, "Being responsible for that accident — that was the worst feeling in my life.")
In any event, Spreepark declared bankruptcy in 2001. According to The Guardian, the park's debts were up to €15 million (about $17.5 million USD); additionally, a number of rides were "badly in need of repair." The Witte family moved to Lima, Peru in 2002, taking several of Spreepark's rides with them — but when one of those rides, the "Flying Carpet" carousel, was preparing to be returned to Germany "to be repaired," it was discovered that 167 kilograms, or about 368 pounds, of pure cocaine had been hidden in the ride's steel mast. Pia, who is now Witte's ex-wife, told Spiegel Online in 2009 she believed her then-husband had become desperate for cash flow. "My husband and drugs? He used to complain when the kids smoked," she said. "He must have had no other choice." Witte and his son, Marcel, were arrested on Nov. 5 and 6, 2003; in 2004, the elder Witte was sentenced to seven years in prison in Germany, of which he served four, while the younger was sentenced to 20 years in Peru.
And that, as you might have guessed, was the end of Spreepark as we knew it.
Witte took up residence in a caravan on the grounds of what had once been Spreepark following his release from jail; for some time, his daughter Sabrina gave occasional tours of the property. The 2011 film Hanna, starring Saoirse Ronan, also famously used the decaying remains of the park as a shooting location.
According to Quarz, the Berlin government bought the lease to Spreepark's land in March of 2014 and ordered the clearance of the rusting remains — Ferris wheel, roller coasters, and all. Just five months later, however, the park caught fire, burning much of what was still there to the ground. Four men were arrested in August of 2014, three of whom admitted starting the fires, reported The Local.
I'm unclear what the status of the property is today. Reports of urban explorers who attempted to make it onto the grounds at various points throughout the 2010s have demonstrated that security has tightened up, making it virtually impossible to see. (Here's your reminder that trespassing is illegal and you probably shouldn't do it.) Last I heard, the plans were to make it into "a nature and recreational park" with a "minimalist concept," as opposed to a "classic amusement park," according to the Berliner-Zietung; it's not open yet, though, despite the fact that the GrunBerlin Gruppe website on the project states that it was supposed to begin welcoming guests in the spring of 2018. It does appear that some groups are able to run tours, although I'm not sure whether these tours are officially sanctioned or not.
The park is no longer what it was. Its remains aren't, either. But a picture, as they say, is worth a thousand words — so here's to the playland once known as Spreepark.
***
Follow The Ghost In My Machine on Twitter @GhostMachine13 and on Facebook @TheGhostInMyMachine. And don't forget to check out Dangerous Games To Play In The Dark, available now from Chronicle Books!
[Photos available under CC BY 2.0, CC BY-SA 2.0, CC BY-SA 3.0, and CC BY-SA 4.0 Creative Commons licenses via Flickr; for credits and source links, see captions of each individual photo.]