Previously: The Dupont Underground.
About two hours east of Bucharest, Romania, there's a seaside city called Constanta. It's old — really old. In fact, it's Romania's oldest continuously inhabited city, in addition to being the country's largest port. It's not just an industrial center, however; on the shores of the Black Sea is a boardwalk, and at the end of the boardwalk, there's a building: The Casino Constanta. But the casino is no longer operational; it hasn't been for many years. Despite its long and storied history — indeed, it's recognized as a historic monument by the Romanian Ministry of Culture and National Patrimony — it has sat, hulking and abandoned, for decades. As of March of 2018, it has been considered one of Europe's most endangered heritage sites — and unless a massive rehabilitation project is undertaken soon, it's likely to collapse entirely.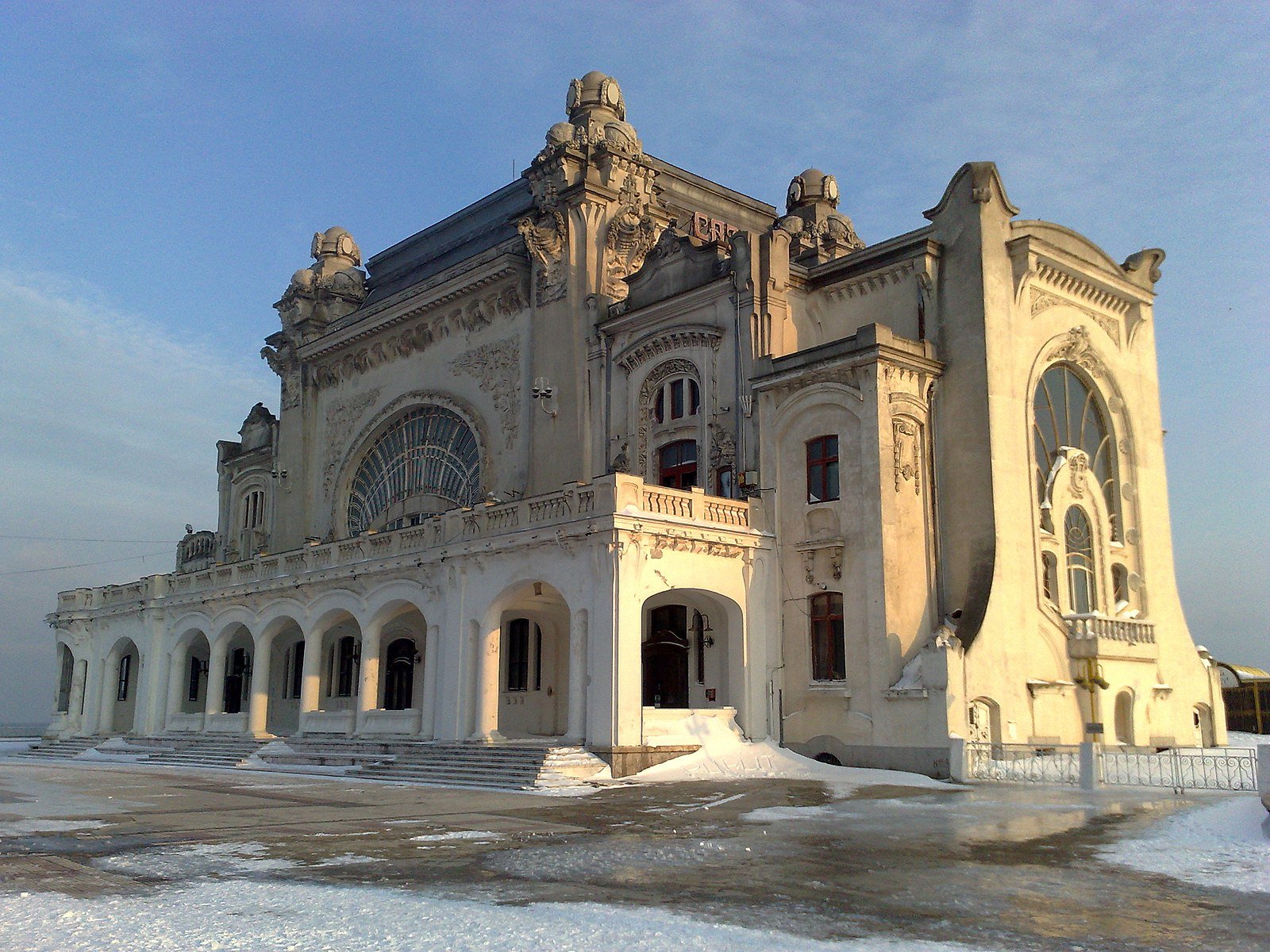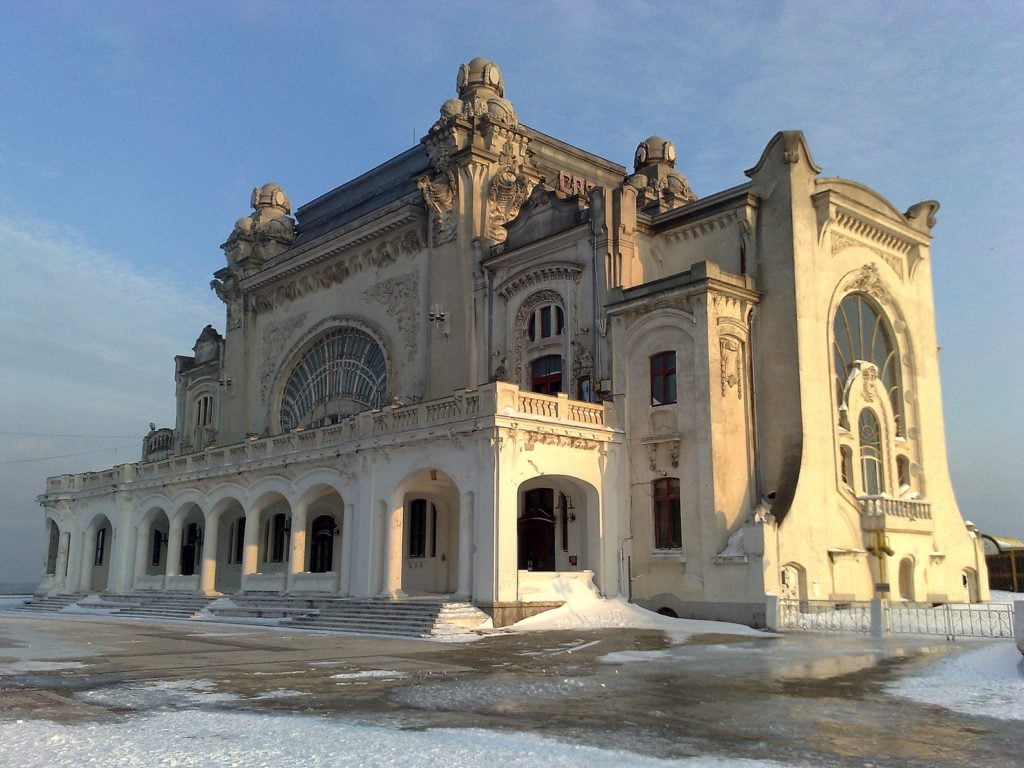 The casino that lies moldering away on Constanta's boardwalk now isn't the first to have occupied that space. Two previous structures — both of which were also casinos — were built on that same spot in the decades leading up to the Casino Constanta's 1910 opening. The first, called the Cazin Kursaal, began construction in 1880 following the Russo-Turkish War and the Romanian War of Independence; it contained a dance hall, two gaming rooms, and two reading rooms, as well as a terrace on the seashore that hosted concerts and dancing during the summer months. In 1891, however, a storm obliterated the building, leading to the commission of the second casino, which opened it doors in 1893. Just 10 years later, however, local politicians determined that Constanta deserved to have a fine modern casino modeled after those for which the French Riviera had become famous; accordingly, plans were put into motion to build yet a third structure — one opulent and elegant, one which would make Constanta a destination for travelers and holiday-makers.
[Like what you read? Check out Dangerous Games To Play In The Dark, available from Chronicle Books now!]
The project, however, took some time to get off the ground. The Romanian government initially awarded it to architect Daniel Renard, who conceived it as an Art Nouveau style building; shortly after the foundation for the structure was laid, though, a change in the political party in power resulted in Renard being ousted and replaced by architect Petre Antonescu. Antonescu's vision of the project was completely different than Renard's, consisting of a "theatre-like" building designed in the Neo-Romanian style — but again, not long after the foundation for Antonescu's casino was laid, yet another change in the government saw his removal from the project and Renard's restoration to it. In 1907, Renard resumed his original plan; a third foundation was laid; and this time, it stayed.
And oh, what a jewel it was! With a total price tag soaring to the millions — nearly seven times the original estimate — it practically dripped with marble. The two game rooms occupied the main level, playing host to games like baccarat and roulette; a ballroom, two reading rooms, and a new incarnation of the first Cazin Kursall's waterfront terrace rounded out the floor. Meanwhile, a grand staircase ascended to a balcony overlook and a theatre. Hardwood furniture, beautiful chandeliers, extravagant carpets, and opulent décor bathed the place in luxury.
Of course, it had its naysayers; some considered it to be Too Much, "a monument erected in honor of incompetence and bad taste," according to one local news report. But that didn't stop it from becoming a place for the stylish and wealthy to meet, to rub shoulders, to gamble — to see and be seen.
But it wasn't to last. During the First World War, the casino was repurposed as a hospital, while during the second, it was taken over by German troops and used alternately as a hospital and barracks. It was bombed in both wars, and by the end of the 1940s, it was a literal shell of its former self. During the Communist era, it operated as a bar and restaurant, although no gambling occurred on the premises due to the regime's strict anti-gambling laws.
Over time, the Casino Constanta fell further and further into disrepair, until finally, it was deemed to expensive to upkeep. The last major renovations were carried out in the late '80s, and in 1990, the casino was closed for good. Several attempts have been made to renovate it in the years since, but each time, the plans have fallen through. Perhaps there's hope, though: In February of 2018, the local government began conducting an online poll concerning how the property should be renovated. The results aren't yet known — but maybe there's another act to come for this once-spectacular building.
Maybe it stands to become the jewel of the Black Sea once more.
***
Follow The Ghost In My Machine on Twitter @GhostMachine13 and on Facebook @TheGhostInMyMachine. And don't forget to check out Dangerous Games To Play In The Dark, available now from Chronicle Books!
[Photos available under CC BY 2.0, CC BY-SA 2.0, CC BY-SA 3.0, and CC BY-SA 4.0 Creative Commons licenses via Flickr and Wikimedia Commons; for credits and source links, see captions of each individual photo.]