Previously: The Kelly-Hopkinsville Encounter.
(CW: Suicide, terrible things happening to animals, child abuse.)
The Wikipedia page for Overtoun Bridge in Scotland begins innocuously enough. "Overtoun Bridge is a category B-listed structure over the Overtoun Burn on the approach road to Overtoun House, near Dumbarton in West Dunbartonshire, Scotland," it reads. "It was completed in 1895 to a design by the civil engineer H. E. Milner."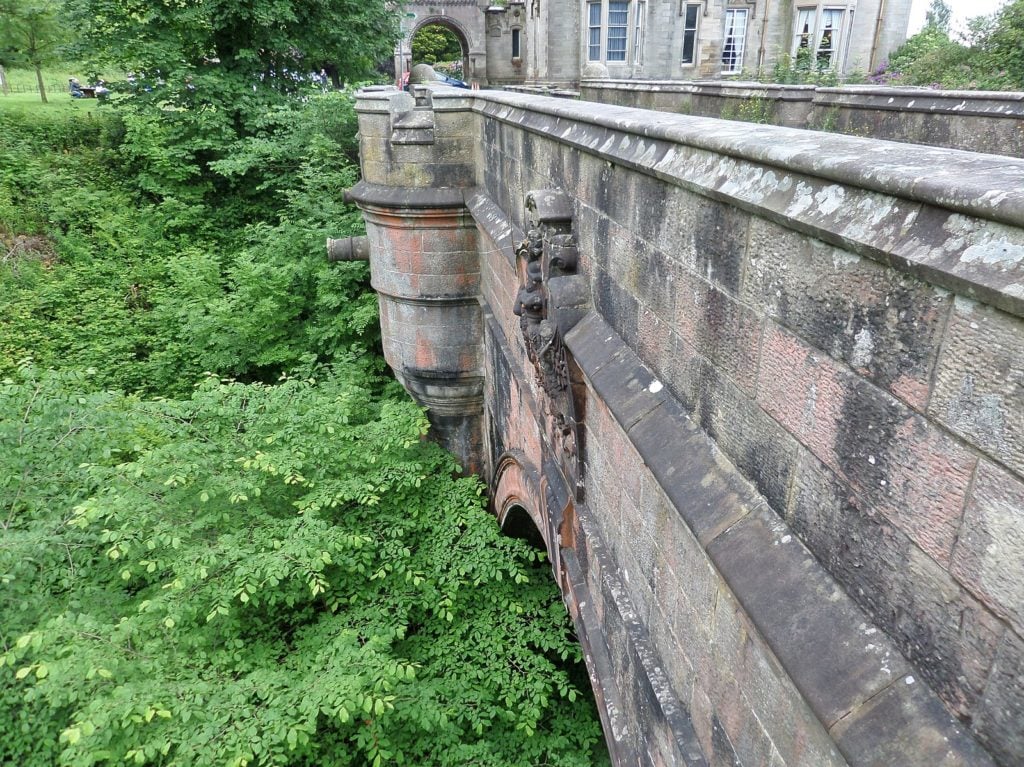 Then it takes a turn for the bizarre: "Overtoun Bridge has attracted international media attention because of the number of dogs who have reportedly leapt from it, often dying upon landing on the rocks 50 feet (15 m) below; the bridge has also been the site of human murder and attempted suicide."
As the saying goes, that escalated quickly.
[Like what you read? Check out Dangerous Games To Play In The Dark, available from Chronicle Books now!]
John Campbell White, 1st Baron Overtoun, inherited both Overtoun House and the estate on which it sits in 1891. The bridge was built on the grounds a few years later; it allows passage over the river known as the Overtoun Burn. The design consists of three arches, and it's made of granite. It's really quite beautiful…
…Except for the fact that dogs keep jumping off it to their deaths, and no one is really sure why. It's incredibly eerie, and also incredibly sad.
For the curious, Overtoun House is currently occupied by missionaries Bob and Melissa Hill; they began leasing it in 2001 and subsequently turned it into what they call the "Christian Centre for Hope and Healing." There's also a tea room there; additionally, it appears that the site can be used as a wedding venue. Overtoun House looks like this, viewed from atop the bridge:
Here's more info about the bridge, Overtoun House, and some other… uh… related concerns.
Further Reading:
"The Dog Suicide Bridge" on Atlas Obscura. Atlas Obscura's entry on Overtoun Bridge. If you're thinking of visiting the bridge, here's the basic info you need to know.
"The Doggy Bridge of Sighs" by Zoe Williams. In an article for The Guardian published in 2006, journalist Zoe Williams examined what's going on with the bridge and why it might be happening. A brief but thorough read.
"Scotland Bridge Leads Dogs To Their Death" on Unexplained Files. In this segment from the Science Channel show Unexplained Files, animal behaviorist Dr. David Sands offers a possible explanation for why dogs might be compelled to leap off Overtoun Bridge; it has to do with the fact that dogs have really terrible eyesight and might not realize what's on the other side of the bridge's edge. But is there more to it than that? Maybe — because we also can't ignore the fact that dogs are often driven by their sense of smell. If you're having trouble with the Science Channel's website, the video can also be found on YouTube here.
Overtoun, dir. Samuel Horta. Interest piqued by the Unexplained Files segment? Check out this 45-minute documentary, which was Kickstarted in 2013 and is currently viewable on YouTube. Dr. Sands makes another appearance, as do a variety of local residents, historians, and more; the whole thing delves deeply into the history of the Overtoun estate, the urban legends associated with it, what's actually been happening to the dogs on the bridge, and the current state and occupants of Overtoun House. The film's IMDb page is here, and the archived Kickstarter campaign is here.
Thinking Sideways: "The Dog Suicide Bridge." A number of podcasts have covered Overtoun Bridge; I happen to quite like Thinking Sideways, so that's the one I'm featuring here. What I like about these folks is that they focus most of their energy on analyzing the different theories surrounding various unexplained phenomena — which is very much what I'm interested in myself.
Skeptoid: "The Suicide Dogs Of Overtoun Bridge" by Brian Dunning. Skeptoid's research into the incidents on Overtoun Bridge run counter to the commonly cited "facts": There appear to be only six documented cases of dogs jumping from the bridge, not 50; indeed, public record doesn't reveal much at all about what might be going on here. Food for thought.
"The Suicide Forest And Overtoun Bridge: What Makes Them So Deadly?" at Mysterious Universe. This piece from Mysterious Universe draws connections between Overtoun Bridge and Aokigahara Forest in Japan — a forest known for being a place people go when they want to die. It's worth remembering that dogs don't really die by intentional suicide in the same way that people can (Zoe Williams' piece in The Guardian addresses this fact); however, as Mysterious Universe points out, the similarities between these two locations is just the tiniest bit uncanny.
"Overtoun Bridge" on the Creepypasta Wikia. A creepypasta based on the bridge, this story is… not great (I'm unclear about why the story is set in Illinois in the United States when Overtoun Bridge is in Scotland, for example), but interesting insofar as it demonstrates how real life phenomena can inspire fictional spins and variations. It looks to be about four years old; according to its edit history, it was uploaded to the Creepypasta Wikia by user Lawvah on Sept. 9. 2013.
SCP-2163 "Overtoun Bridge." A better fictional story based on the bridge is this proposed SCP item. It doesn't appear to have ever made it out of the draft phase; however, it's still worth a look. User hogglethebear first presented the draft in August of 2015. For the curious, SCP-916 — which the draft states as being used to investigate the subject — is also known as "Man's Best Friend," which appears to be an "exceptionally friendly" golden retriever with "exceptional longevity."
The Overtoun Bridge Mystery on r/UnresolvedMysteries. A thread from one of my favorite subreddits. It's short — only about 46 comments overall — but there's a lot of interesting stuff in there, particularly from folks who actually live in the area in which the bridge is located. This comment and this one are particularly notable.
"Vietnamese Boy Found In Dumbarton 'Escaped Human Traffickers'" on the BBC. A horrifying occurrence near Overtoun House: In January of 2017, a 16-year-old boy was found on a footpath in the area. He's thought to have been a victim of human trafficking. (This, by the way, is the story referred to by that second comment in the r/UnresolvedMysteries thread linked above. It's not clear whether Overtoun House is really as sketchy as that commenter believes, but for what it's worth, here's the "About" page that links Overtoun House's current occupants to Global International, and a news story about the abuse that allegedly occurred at the Father's Hands Children's Home in Haiti.)
"Father Who Threw 'Devil' Baby From Bridge Sent To Carstairs" in The Scotland Herald. Another horrifying real life, confirmed thing that happened on Overtoun Bridge: In 1995, a man became convinced that his newborn son was marked by the devil and threw him off the bridge. He tried to jump himself immediately afterwards, but was prevented from doing so by his wife. A jury determined him to be insane at the time of the killing; he was subsequently sent to the State Hospital at Carstairs.
***
Follow The Ghost In My Machine on Twitter @GhostMachine13 and on Facebook @TheGhostInMyMachine. And don't forget to check out Dangerous Games To Play In The Dark, available now from Chronicle Books!