Previously: "Search And Rescue."
As far as I know, this story doesn't have an official name. It's usually just called "Humper-Monkey's Ghost Story" due to the facts that A) it was written by someone going by the handle Humper-Monkey, and B) it's, well, a ghost story. If you're interested in the Cold War, that's the backdrop for this one, so you'll probably want to check it out.
Like Slenderman, "Humper-Monkey's Ghost Story" originated on the Something Awful forums. Humper-Monkey posted it in a thread centing around military stories — but while part of Slenderman's original appeal was in its brevity, "Humper-Monkey's Ghost Story" was in many ways the exact opposite: It's not really a story; it's more like a novel. So, uh… set aside some time for it. You're going to need it.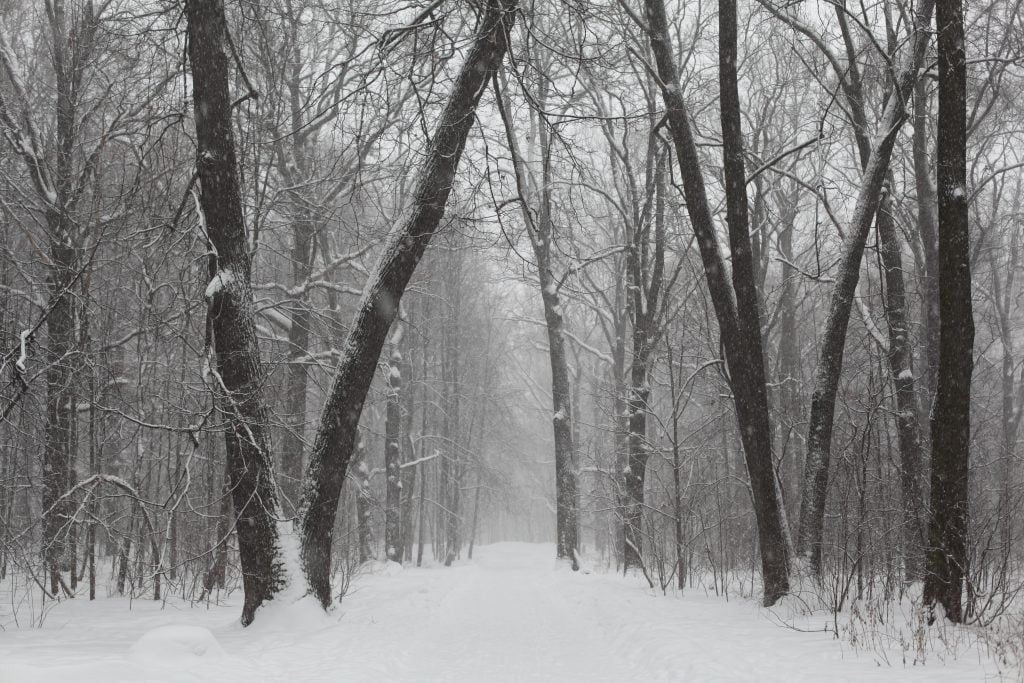 [Like what you read? Check out Dangerous Games To Play In The Dark, available from Chronicle Books now!]
Although an upgraded membership is required to view the original thread on SA, the story has been uploaded in its entirety to the Creepypasta Wikia; check out the first bit below, then click on over for more. And don't forget to check out 50 Foot Ant's stories while you're at it… but then again, maybe we should save that for another time.
Chapter 1
I stepped off the bus into three fucking feet of snow. I was the only one on the bus, and the driver had laughed viciously when he slammed the door to the bus and roared off in a cloud of diesel fumes.
The building I was looking at was old, white, and covered with snow. It looked vaguely familiar, and there was a path carved through the snow, which went from three feet where I was standing, to over my head.
Holy Christ, what did I get myself into?
BOOM BOOM BOOM! Three rapid-fire explosions shook the trees and caused flakes of snow to drift down from their nearly-bare branches. I looked around, but no sign of where it came from. Sighing, I grabbed my duffle out of the snow and headed through the carved snow channel to the building. While I was walking, there was another set of explosions. That would explain why all the snow was on the ground but the branches of the trees were bare.
Inside the building wasn't much warmer, but at least Class-As were warm. I had on my nice, shiny E-2 rank, awarded for excellence during training at AIT, and was all giddy and proud of myself.
It took a while of wandering around, but I found a woman, who offered to call my unit and have them send someone down to get me. She told them I'll be in the cantina in the building, and then showed me where it was. She commented on my wedding ring, telling me that post housing is at a premium, and the nearest town is a little over four miles from post.
Great, I'm in Sleepy fucking Hollow. No biggee, I joined up to avoid a nightly ass-pounding in jail. Not to say I wasn't going to join anyway, it's just I ended up in the custody of the US Army a bit earlier than planned.
So I was sitting there eating nachos and drinking soda when the guy showed up. He looked shit-ass miserable, wearing Mickey-Mouse boots, a fucking parka, and cold weather trousers.
"You Monkey?" he asked, moving over to the radiator and standing over it.
"Yes. You from the unit?"
"Yup. Finish your nachos," he told me. He then went over and ordered a beer. He sat down across from me, cracked open the beer, took a long pull off of it and then belched.
"Who'd you piss off to end up here?" he asked me.
"Nobody. I was actually assigned here after AIT. Everyone else going to Germany had orders for 21st Replacement, I had orders for here," I told him. "Why? What's so bad except the snow?"
"Counting you and me, the unit total now sits at eighteen people," he grunted. "You had to piss off someone."
"Eighteen? As in ten plus eight?" The thought boggled my mind.
"Yeah. The other two hundred are supposed to be along in the next few months. You think that's fucked up, wait till you see our barracks." He finished off the beer, snagged a couple of my last nachos, then stood up and buttoned his parka.
"Let's go, kid." I caught his rank when he grabbed his cold weather cap off the table. E-4, but he looked about nine thousand years old. I silently followed him outside and into a Chevy Blazer, which he fired up, and we pulled out in the streets.
***
Support The Ghost In My Machine on Patreon for behind-the-scenes access and bonus content. You can also follow on Twitter @GhostMachine13 and on Facebook @TheGhostInMyMachine.
[Photo via Pixabay/Pexels]