Previously: "Suicidemouse.avi."
"Bedtime," penned by Michael Whitehouse (aka Ghastly Tales), taps into something deep and primal to which a good many of us can likely relate: A fear of the dark. Because, of course, fear of the dark isn't just about being afraid of an absence of light; it's what might be hiding out there in the shadows, beyond where we can see, that concerns us. It's the fear of the unknown.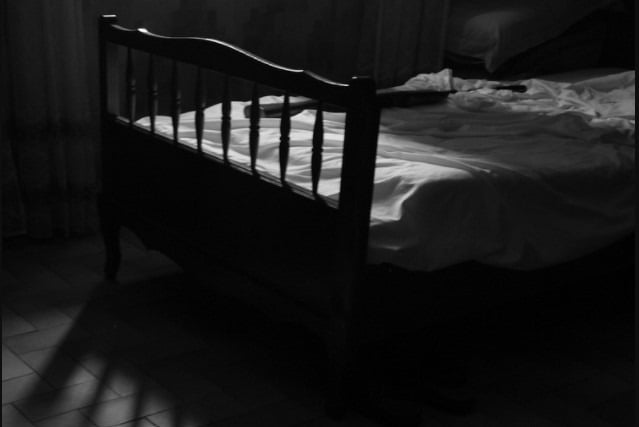 And for what it's worth, this fear is actually an evolutionary advantage. It prevents us from rushing out into danger — which, during pre-modern eras, kept us alive. Being out in the dark was a literal life or death situation.
[Like what you read? Check out Dangerous Games To Play In The Dark, available from Chronicle Books now!]
The trouble is that these days, the dark isn't always the same danger it once was. When you're all tucked up in your warm, cozy home at night, it can be hard to justify a fear of the dark; after all, your doors are locked, and there's no one else inside but your family. And so we brush aside fears of the dark — particularly when they come from children. "Kids don't know how to rationalize it," we tell ourselves. "They have overactive imaginations. That's all."
And sometimes that's true: Lying in their beds in the dark at night, kids have nothing to distract them, so their brains make up all sorts of wild and outlandish things.
But sometimes… it's best to listen to children when they tell you that there's something under their bed or lurking in their closet.
They're not always wrong.
"Bedtime" is part of a five-part series, by the way, so make sure you click through at the source to read the whole saga.
Bedtime is supposed to be a happy event for a tired child; for me it was terrifying. While some children might complain about being put to bed before they have finished watching a film or playing their favourite video game, when I was a child, night time was something to truly fear. Somewhere in the back of my mind it still is.
As someone who is trained in the sciences, I cannot prove that what happened to me was objectively real, but I can swear that what I experienced was genuine horror. A fear which in my life, I'm glad to say, has never been equalled. I will relate it to you all now as best I can, make of it what you will, but I'll be glad to just get it off of my chest.
I can't remember exactly when it started, but my apprehension towards falling asleep seemed to correspond with my being moved into a room of my own. I was 8 years old at the time and until then I had shared a room, quite happily, with my older brother. As is perfectly understandable for a boy 5 years my senior, my brother eventually wished for a room of his own and as a result, I was given the room at the back of the house.
***
Follow The Ghost In My Machine on Twitter @GhostMachine13 and on Facebook @TheGhostInMyMachine. And don't forget to check out Dangerous Games To Play In The Dark, available now from Chronicle Books!
[Photo via Laurent Calatayud/Flickr]