Previously: The Whaley House.
In the affluent Long Island suburb of Huntington, New York, there lies an area known as West Hills. The home of poet Walt Whitman, it contains a large nature preserve — and running through that nature preserve, there is a road. It's called Mount Misery Road, and it definitely lives up to its name — if the tales attached to it, that is, are to be believed. Nearby Sweet Hollow Road does nothing to dispel the spookiness that sits heavily around the area; indeed, despite its idyllic-sounding name, Sweet Hollow Road is just as haunted as Mount Misery. By what are they both haunted? Ghosts, perhaps; stories, certainly. Either way, though, you'll want to keep your eyes on the road should you find yourself in either of these locations.
Mount Misery Road has no street sign — just its name painted in white on a tree at the spot where it begins — and it has no street lamps. There are no telephone poles or cables, or even any sign beyond the asphalt that paves it that it isn't simply a vision from the past. It's twisted and narrow, and like Clinton Road in West Milford, New Jersey, it's easy to see why it inspires so many strange stories. We have to make sense of the accidents caused by such treacherous roads somehow.
[Like what you read? Check out Dangerous Games To Play In The Dark, available from Chronicle Books now!]
The northern driveable portion is roughly half a mile; once you hit the forest, though, you'll have to go on foot. The Mount Misery Road trail meets up with the Walt Whitman trail after about a third of a mile; from there, you can either head west on Walt Whitman for another half mile, then take Round Swamp Road and Hilltop Drive to reach the southern driveable portion — or you can attempt to soldier on through to where Mount Misery Road continues just south of the Northern State Parkway, although you'll likely be on your own out there in the wilderness if you do so. All told, Mount Misery Road is only about a mile and a half long — but what an eventful mile and a half it is.
You'll have an easier time of it, though, if you head down Sweet Hollow Road instead; running parallel to Mount Misery, Sweet Hollow and its stories are all tied up with its sister road's tales of horror and woe. At about three miles in length starting at the West Jericho Turnpike and ending when it intersects with Route 110, Sweet Hollow is roughly twice as long as Mount Misery — and it has the added bonus of winding straight through the West Hills Nature Preserve. There's no need to go off road… unless you're feeling adventurous, that is.
The stories that cling to Mount Misery and Sweet Hollow Roads are many, the most elaborate of which tells of a psychiatric hospital first built in the woods surrounding the road in the 19th century. Rumor has it that the hospital burned to the ground — possibly due to a fire started by a patient, but possibly due to some other unknown accident — with all its occupants perishing in the blaze. Some ten or fifteen years later, though — the timeline varies depending on who's telling the story — it was rebuilt, although strange phenomenon supposedly plagued the new hospital: At night, the smell of burning buildings and the screams of the unfortunates who lost their lives made sure that no one forgot what had happened on those grounds. And five months later? The new hospital burned down, as well. This time the ruins were left well alone, although the land nearby was used for housing. There are reportedly still some houses hidden deep in the woods, although they are few and very far between. Sometimes, people say, the patient who started the original fire may still be seen, clad in a hospital robe and dancing by the side of the road.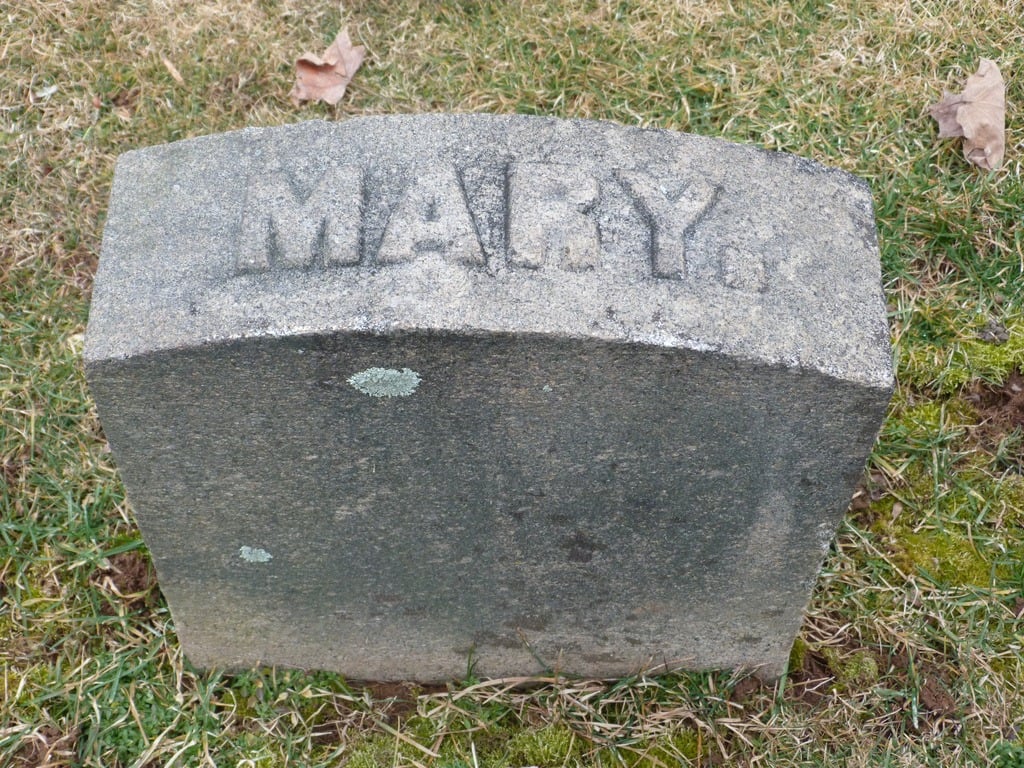 Like much of Long Island, Sweet Hollow Road has its own Mary's Grave legend. Who Mary was and why she remains so unrestful changes from tale to tale, from storyteller to storyteller, and indeed, from location to location; the Sweet Hollow version, however, pegs her as either a woman or a child who was murdered alongside the road. She may have been killed by a jealous boyfriend; she may have been the victim of an accident; she may even have been accused of witchcraft centuries ago and summarily sentenced to death. Whomever she may be, though, she is said to be a watchful ghost, hoping to protect others from suffering her same fate. She might be spotted along the road itself, or she might be seen somewhere within the cemetery just south of the Northern State Parkway overpass.
But Mary isn't the only spirit said to occupy the Northern State overpass on Sweet Hollow Road; a handful of other stories center around it, as well. One, which allegedly took place sometime in the '70s, tells of a woman who was struck and killed by a passing car when she got out to change a flat tire under the overpass. In echo of the old urban legends featuring ghosts who sometimes push cars to safety, it's said that if you park your car there facing Route 110, put your car in neutral, and wait, the slain woman will push your car uphill until you're clear of the overpass. Another claims a group of teenagers hung themselves under the bridge in a suicide pact; if you park nearby and flash your lights, you'll see their silhouettes hanging from bridge. And yet another tells of a child who was killed by the overpass — another hit-and-run — and who sometimes is still seen sitting on the bridge.
Other ghostly figures supposedly hang out on Mount Misery and Sweet Hollow Roads, too. A police officer may pull you over and begin asking questions; pay close attention if he turns around, though. He may be missing the back of his skull, the victim of a shotgun blast that ended his life some time ago. When it rains, you may see a man walking along the side of the road; if you stop to pick him up, he may disappear, a classic vanishing hitchhiker. Sometimes, though, you might see a different man strolling down the road: An unsavory-looking figure swinging a basket in his hands. If you look in the basket, you'll find a collection of heads — minus their bodies — supposedly sliced off the shoulders of people who have disappeared in the area.
It is not recommended that you stop for this man, or that look in his basket.
And then there's Sally Sits Up. Like so many of the souls who allegedly haunt Mount Misery and Sweet Hollow Roads, she's said to have been the victim of an auto accident; however, unlike the others, she wasn't hit while walking along the road. Sally was at the wheel herself when she lost control of her vehicle and hit a tree. If you drive along Mount Misery Road at night, your headlights might flash pass that tree — and if they do, you might see a shadowy figure sit up. Is it a trick of the light? Perhaps — but it's eerie all the same.
It's worth noting that there's no record of a number of the incidents that gave rise to these tales. No reports detailing a teenage death pact exist in town records; the same is true of the ghostly police officer. Many of them take their cues from urban legends, and are likely just local retellings of those classic tales. But even so, Mount Misery Road and Sweet Hollow Road aren't the sorts of places you want to find yourself alone, or at night, or in inclement weather. Because even though they might just be stories… well, stories have a certain kind of power all their own.
Drive carefully.
Resources:
Weird US Roads Less Traveled: Mount Misery and Sweet Hollow Road.
LIPI: Mount Misery and Sweet Hollow Road.
Paranormal Stories: Mount Misery.
Mount Misery and Sweet Hollow Road, Suffolk County, New York.
***
Follow The Ghost In My Machine on Twitter @GhostMachine13 and on Facebook @TheGhostInMyMachine. And don't forget to check out Dangerous Games To Play In The Dark, available now from Chronicle Books!