Previously: "NoEnd House."
I realized recently while perusing one of AskReddit's numerous "What's the creepiest urban legend you know?" threads that while I was sure I had read "Smile Dog" at some point, it had been so long since I had that I couldn't quite remember the details of the story. I knew it was one of the granddaddies of creepypasta, and I knew that it was one of the original "haunted image file" tales — but I couldn't have retold the story if you'd asked me to. Subsequently, I wandered on over to the Creepypasta Wikia and gave it a refresher — and you know what? It's good. It's cited so frequently that I'd actually forgotten how good it is.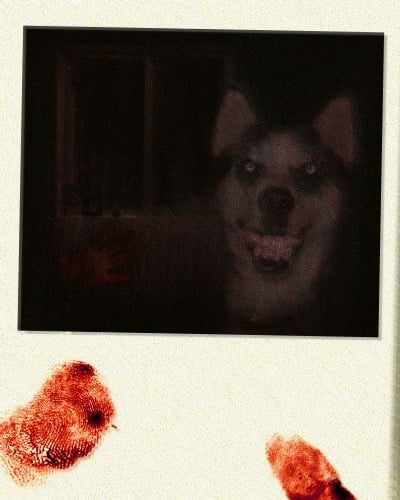 Want to know the really creepy thing? We don't actually know where "Smile Dog," or "Smile.jpg," as it's sometimes known, came from. As far as Know Your Meme has been able to figure out, it originated on 4chan's /x/ paranormal board in 2008; we're also pretty sure that the Polaroid seen up top here is the first known image to be associated with the tale. But as to who created either the original story or that first photograph? No idea. Hmmmm.
[Like what you read? Check out Dangerous Games To Play In The Dark, available from Chronicle Books now!]
I first met in person with Mary E. in the summer of 2007. I had arranged with her husband of fifteen years, Terence, to see her for an interview. Mary had initially agreed, since I was not a newsman but rather an amateur writer gathering information for a few early college assignments and, if all went according to plan, some pieces of fiction. We scheduled the interview for a particular weekend when I was in Chicago on unrelated business, but at the last moment Mary changed her mind and locked herself in the couple's bedroom, refusing to meet with me. For half an hour I sat with Terence as we camped outside the bedroom door, I listening and taking notes while he attempted fruitlessly to calm his wife.
The things Mary said made little sense but fit with the pattern I was expecting: though I could not see her, I could tell from her voice that she was crying, and more often than not her objections to speaking with me centered around an incoherent diatribe on her dreams — her nightmares. Terence apologized profusely when we ceased the exercise, and I did my best to take it in stride; recall that I wasn't a reporter in search of a story, but merely a curious young man in search of information. Besides, I thought at the time, I could perhaps find another, similar case if I put my mind and resources to it.
Mary E. was the sysop for a small Chicago-based Bulletin Board System in 1992 when she first encountered smile.jpg and her life changed forever. She and Terence had been married for only five months. Mary was one of an estimated 400 people who saw the image when it was posted as a hyperlink on the BBS, though she is the only one who has spoken openly about the experience. The rest have remained anonymous, or are perhaps dead.
In 2005, when I was only in tenth grade, smile.jpg was first brought to my attention by my burgeoning interest in web-based phenomena; Mary was the most often cited victim of what is sometimes referred to as "Smile.dog", the being smile.jpg is reputed to display. What caught my interest (other than the obvious macabre elements of the cyber-legend and my proclivity toward such things) was the sheer lack of information, usually to the point that people don't believe it even exists other than as a rumor or hoax.
It is unique because, though the entire phenomenon centers on a picture file, that file is nowhere to be found on the internet; certainly many photomanipulated simulacra litter the web, showing up with the most frequency on sites such as the imageboard 4chan, particularly the /x/-focused paranormal subboard. It is suspected these are fakes because they do not have the effect the true smile.jpg is believed to have, namely sudden onset temporal lobe epilepsy and acute anxiety.
This purported reaction in the viewer is one of the reasons the phantom-like smile.jpg is regarded with such disdain, since it is patently absurd, though depending on whom you ask the reluctance to acknowledge smile.jpg's existence might be just as much out of fear as it is out of disbelief.
***
Follow The Ghost In My Machine on Twitter @GhostMachine13 and on Facebook @TheGhostInMyMachine. And don't forget to check out Dangerous Games To Play In The Dark, available now from Chronicle Books!