Previously: "Anomaly."
Creepypasta loves science gone wrong. And like another classic pasta of this subgenre, "The Russian Sleep Experiment," "Kagome Kagome" isn't the best-written piece of fiction out there, and it loses a little bit of its plausibility towards the end. There's still something about it, though. Maybe it's that it has at least some basis in fact: An awful lot of unethical human experimentation was done by Germany and Japan during the Second World War, (although let's not forget that the U.S. is guilty of its own fair share of it, as well), much of which is so horrifying that it doesn't need to be fictionalized to freak you out.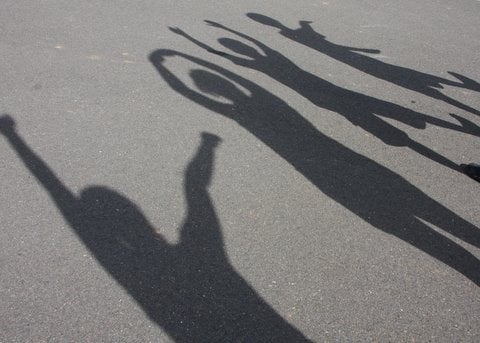 For the curious, Kagome Kagome is a Japanese children's game similar to Ring Around the Rosie and London Bridge Is Falling Down. The lyrics of the song that accompanies it can be roughly translated as follows: "Kagome kagome, the bird in the cage, when, when will you come out? In the evening of the dawn, the crane and turtle slipped. Who stands right behind you now?"
[Like what you read? Check out Dangerous Games To Play In The Dark, available from Chronicle Books now!]
If you go to Hiroshima, go around the woods and you may find some dirt trails there. If you travel down them, you will see beautiful forests, but if you travel down one that has had signs of trucks going through, you will feel cold, and you will see that a lot of trees are cut down. But don't wander from the path, or you'll likely get lost in those vast woods.
If you pay attention, you will notice that the tree stumps look like kneeling people, missing heads.
If you continue, the air will get cold, naturally because you're climbing uphill, right? Of course, eventually you will reach a clearing, with an old stone building in the center, vines covering the place.
Go inside, if you want to play.
***
Follow The Ghost In My Machine on Twitter @GhostMachine13 and on Facebook @TheGhostInMyMachine. And don't forget to check out Dangerous Games To Play In The Dark, available now from Chronicle Books!