Previously: The Three Wishes Ritual.
Note: Please don't copy/paste, republish, or narrate this post on other websites, video platforms, etc. without permission.
Today, a combination summoning/information-gathering ritual game: The Clock And Candles Game, or, as I've sometimes seen it rendered, Necromancy Using An Analog Clock. Relatively simple to play, it requires only minimal supplies… but don't be fooled. "Simple," as always, doesn't mean "safe."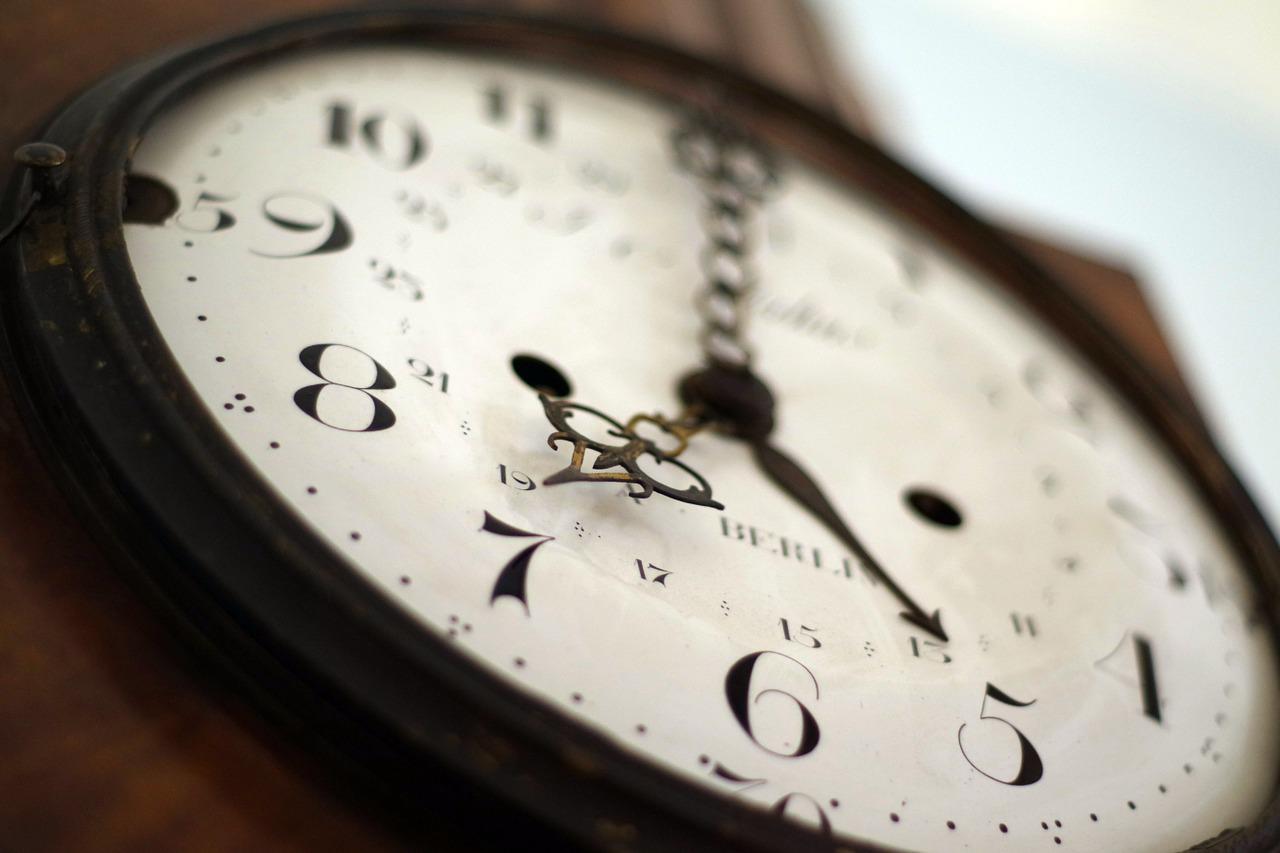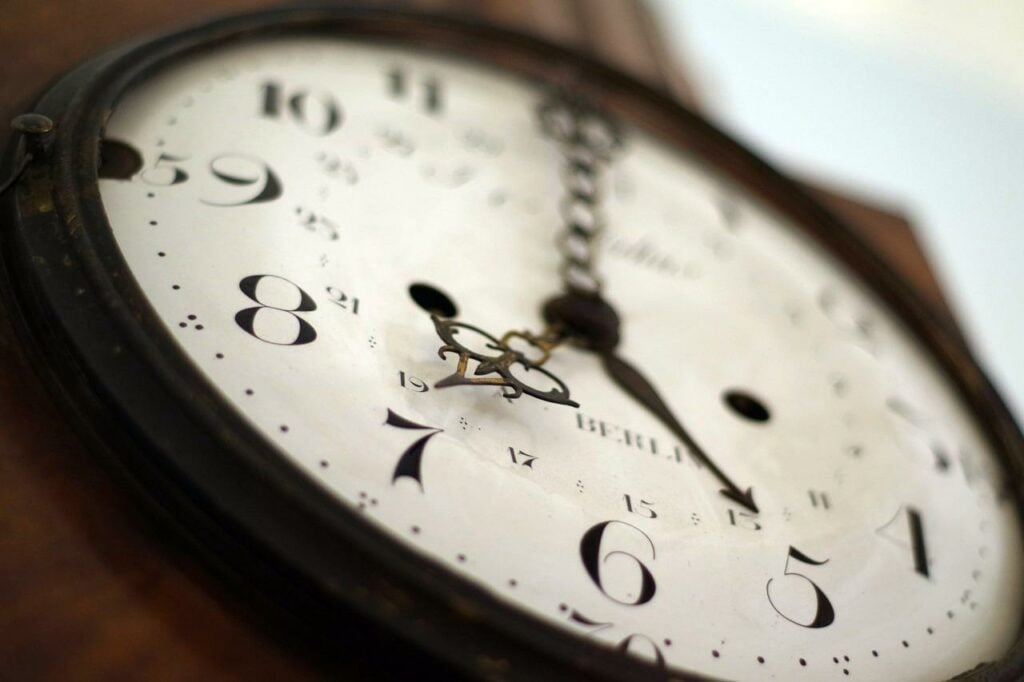 None of these rituals should be considered "safe." But you know that by now, right?
I've spotted this one exclusively on Korean sites — namely, in two posts on Naver dated 2011 and 2012 respectively, and one on Namuwiki originally published in 2018. These Korean sources all say the game is Western in origin, however, with one source in particular specifying the United States as its country of origin.
[Like what you read? Check out Dangerous Games To Play In The Dark, available from Chronicle Books now!]
Interestingly, though, I haven't been able to find this in English anywhere (and none of the Korean posts link out to the original source). Given the other factors at play here, this oddity suggests to me not that it was made up in Korean and given a gloss of "this originated somewhere else" to add to the mystery of thing — a somewhat problematic trope of exoticization we see often in Western internet-based ritual games — but rather that it did originate on an English-speaking website and has since been deleted or otherwise obscured.
So! Here's the ritual rendered back in English again. And remember:
As always, play at your own risk.
Players:
Requirements:
One analog clock or watch.
Four candles.
Matches or a lighter.
A sterilized needle.
A quiet room in which to play.
Questions — approximately 10 (see: Additional Notes). Queries. Information you seek. Knowledge you wish to learn.
Instructions:
Making The Preparations:
Prior to beginning, prepare your playing space: Clear a large area on the floor in the room in which you have chosen to play, removing anything flammable and ensuring a flat, sturdy surface. It is also recommended that you place a fire extinguisher within the room.
Wait until at least midnight, but no later than 3am.
When the time is right, bring your supplies with you to the playing space.
Arrange the candles in a cross shape on the cleared area of the floor. The candles should be roughly 20 centimeters (about eight inches) apart.
Place the clock or watch in the middle of the cross.
Turn out the lights.
Seat yourself near the clock and candles.
Take a deep breath.
Get comfortable.
You are now ready to begin.
Issuing The Invitation:
Using the matches or lighter, light each of the four candles. There is no specific order in which you must light them, although it is recommended that you begin with the northernmost candle and move clockwise.
Using the sterilized needle, prick your finger until it bleeds. Deposit one drop of blood onto the center of the clock at the middle of the cross.
Now: Issue the invitation. You may invite your correspondent(s) however you like, using whatever words come to mind; the only requirement is that you be respectful and treat the proceedings with the gravity they deserve.
Once you have finished speaking, wait.
Watch the candles. What do you see?

If the candles remain lit:

Your invitation has not been accepted; do not proceed. Apologize for the bother, extinguish the candles, clear up your supplies, turn on the lights, and vacate the room. You may try again another time, if you wish.

If one candle goes out:

Your invitation has been accepted and your visitor has arrived. You may proceed.

If two or more candles go out:

Your invitation has been accepted; your visitors have arrived — one for each candle that has extinguished itself. You may proceed.
Asking Your Questions:
You may now begin asking your questions. To do so, speak your question aloud, and then watch the clock face.
If you are successful, the hands of the clock will move to indicate the answer. (See: Reading The Responses for detailed instructions on how to interpret the clock's movements.)
If the hands of the clock do not move, your visitor(s) either does/do not know the answer, or does/do not wish to answer.
If you receive no answer in response to a specific question, do not ask it again. Do not ask any one question more than once.
You may continue to ask your questions and read the responses until you have asked a total of 10 questions. Then, you must make a choice:

If you are satisfied with what you have learned:

You may end the game here. Proceed to Ending The Game.

If you wish to ask more questions:

You must prick your finger again and deposit another drop of blood in the center of the clock. Then, return to Asking your Questions: Step 1 and proceed through Step 4 a second time. When you reach Step 5, make your choice again, and proceed accordingly.

NOTE: If continuing with another drop of blood will cause the game to run longer than ONE HOUR in total, it is NOT recommended that you do so. DO NOT allow the game to exceed one hour in length.
Ending The Game:
There is no guaranteed way to end the game.
You may, if you wish, try thanking your visitors for their time and expertise, instructing them that it is time to leave, relighting the candles that went out when they arrived, and waiting to see if the candles remain lit; if they do, then you may extinguish the candles again, clear up your supplies, turn on the lights and vacate the room.
This method may or may not work.
But it's worth a shot, isn't it?
…Isn't it?
Additional Notes:
Due to the use of open flames, this game should be regarded as a fire hazard. Should you choose to play, take common sense fire safety precautions As such, players should make sure to take common sense fire safety precautions before attempting to play: Make sure you have at least one fire extinguisher on hand; remove highly flammable items from the premises and/or your person; etc. Note that these instructions are for informational or entertainment purposes only; we bear no responsibility for anything that may or may not occur over the course of the game, should anyone be so foolish as to attempt to play.
The clock or watch may be of any variety — wristwatch, pocket watch, wall clock, etc. — as long as it is analog. Do NOT attempt to play this game with a digital clock of ANY kind.
This game is best played between the hours of midnight and 4am. Due to the fact that the game should also not be allowed to exceed one hour in length, it is not advisable to begin the game later than 3am.
You need not ask as many as 10 questions per drop of blood, but do NOT attempt to ask MORE than 10 questions on a single drop of blood. One drop equals 10 questions. That is the price you must pay. Do not be greedy. Do not cheat.
Reading The Responses:
When your visitor(s) has/have chosen to respond to your questions, their answers may be read by following the hands of the clock as they move around the clock face. As the hands move, they will spell out words and sentences which will serve as the answers to your questions.
Please refer to following diagram when interpreting the clock hands' movements: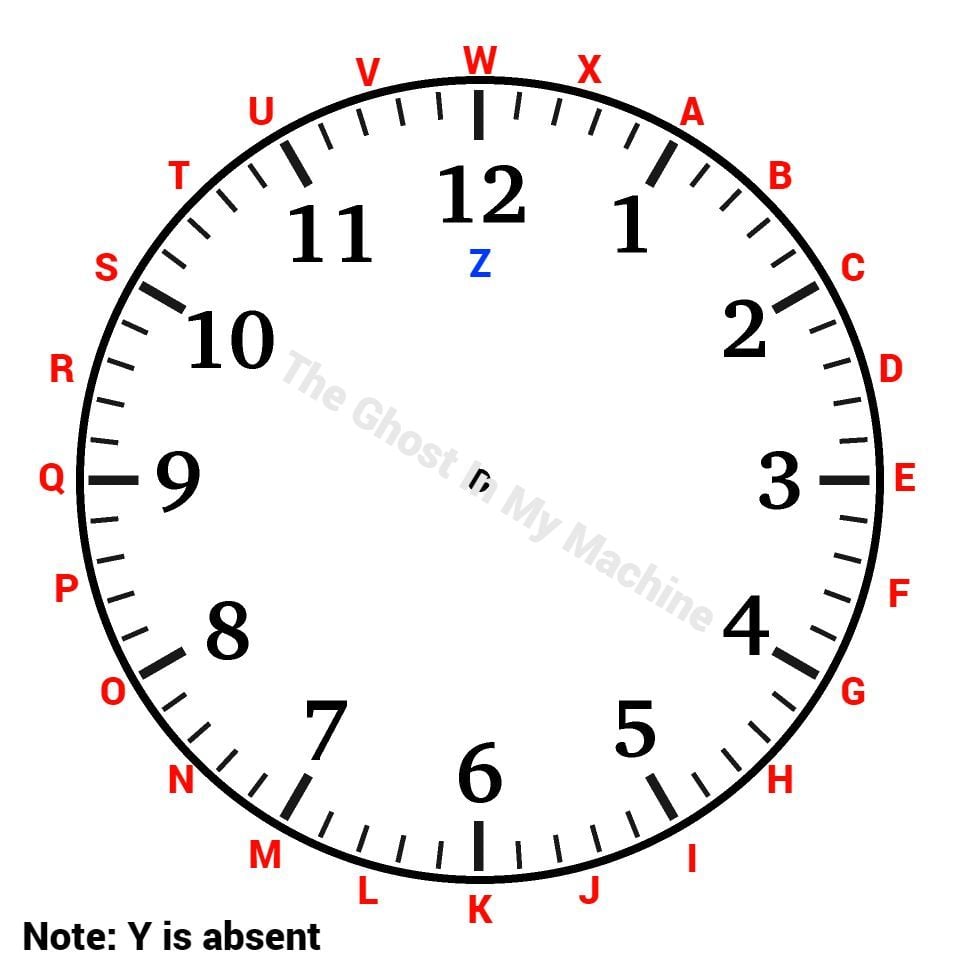 The hour hand provides the primary movement:
When the hour hand is pointed at the number 1 on the clock face, the position corresponds to the letter A;
When the hour hand is pointed between the numbers 1 and 2 on the clock face, the position corresponds to the letter B;
When the hour hand is pointed at the number 2 on the clock face, the position corresponds to the letter C;
Etc.
The second hand provides secondary movement: When it is pointed at the number 12, the position corresponds to the letter Z.
NOTE: There does not seem to be a way for the clock to indicate the letter Y, as the hour hand's potential positions cover only until the letter X and only one position — that for the letter Z — is specified in relation to the second hand's potential positions.
This may, understandably, cause some difficulty in interpreting the responses to your questions. Do what you can to fill in the blanks, and be flexible enough to think outside the box.
You must work with your visitor(s).
It's rude to expect them to do all the work for you.
A Final Warning:
You may ask any variety of question you wish — but as with all games of this type, be sure you want to know the answers before you do.
Once you know something, you can't unknow it — and sometimes, some things are better left alone.
***
Please don't copy, republish, or narrate this post on other sites without permission (TikTokkers, that includes you). Linking to it or sharing the URL is fine (and encouraged!), as is writing your own unique version of the game based on your own research, but copying and pasting, republishing, or otherwise reproducing the text of this piece in its entirety or near-entirety on other websites without permission, or summarizing it without credit and passing off the work and research as your own, isn't.
***
Follow The Ghost In My Machine on Twitter @GhostMachine13 and on Facebook @TheGhostInMyMachine. And for more games, don't forget to check out Dangerous Games To Play In The Dark, available now from Chronicle Books!
[Photo via Arcaion/Pixabay]