Previously: Otsukaresama.
Type: FC (Fearsome Critter).
Period/location of origin: Debatable. Reports of subject, known as the hodag, were passed around by word of mouth among logging camp communities in the upper Midwestern United States in the 19th century; however, some sources have also noted that subject may be related in some way to the water-dwelling spirit known in Ojibwe as Mishipeshu (in English, the Great Lynx), implying a much longer history. (Note, though, that this relation remains speculation only.)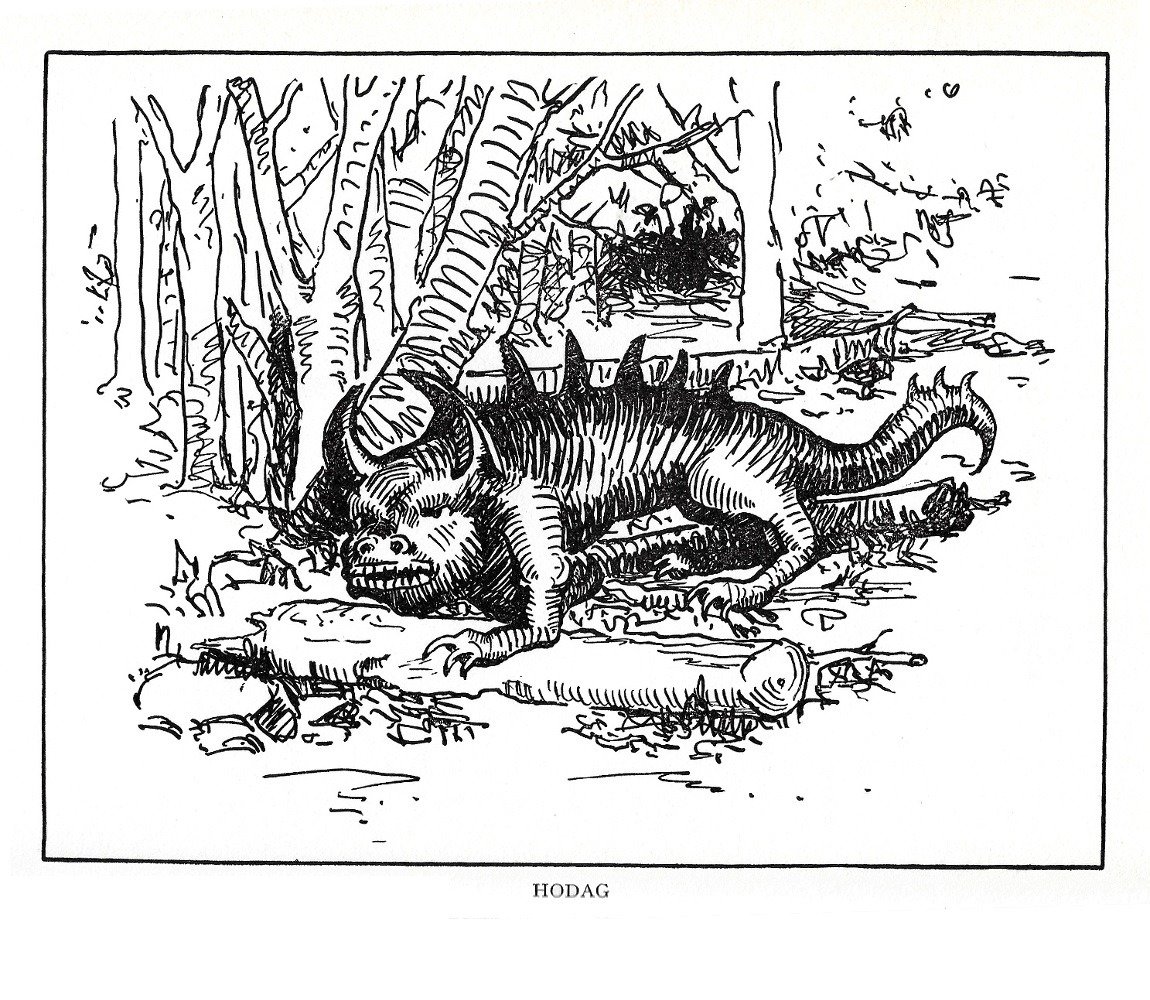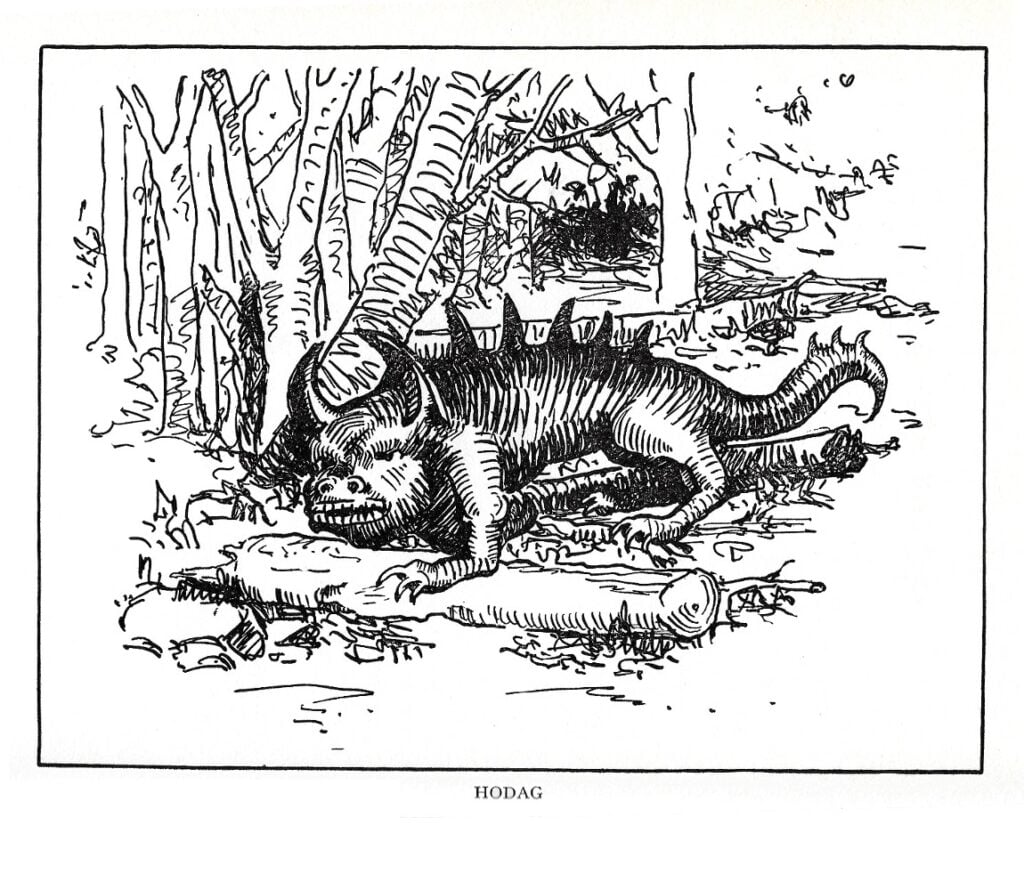 The earliest known reference to subject in print occurred in 1870 in Kent County, Michigan. Some reports also note that subject may have once been found in the states of Maine and Minnesota, although whether or not it still resides there has not been determined. Regardless, subject is perhaps best known for its reported 1893 appearance in Rhinelander, Wisconsin, the forest around which subject still calls home today. (See: Additional Notes.)
[Like what you read? Check out Dangerous Games To Play In The Dark, available from Chronicle Books now!]
Appearance: Subject appears to be a creature composed of a variety of features that would normally be seen on other animals — although precisely what that composition might be varies by report.
According to the primary report of its 1893 appearance, subject possesses "the head of a frog, the grinning face of a giant elephant, thick short legs set off by huge claws, the back of a dinosaur, and a long tail with spears at the end." Other reports, meanwhile, have described it as featuring "a knobbledy head" with "a pair of prominent, bulging eyes and two heavy lateral horns" that resemble those of "a male stag-beetle," "stout and powerful" claws, a tail with "a terminal hook," and "a row of jagged, stegosaurian dorsal spines." Still other reports describe a strikingly "mottled, striped, and checked" hairless body, with "a large spade-shaped bony growth" on its nose and "peculiar phalanges, extending up in front of the eye, so that he can see only straight up."
Similar to subject's basic appearance, subject's size and measurements have been described variously. It may measure anywhere from the size of a large dog to precisely seven feet long and 30 inches high.
All reports, however, agree on one key point: Subject is "distressingly ugly" and unsettling to behold.
Subject also apparently knows this about itself, however, and it finds this fact upsetting. It would be a kindness not to point it out to it, should ever encounter it in the wild.
Modus operandi: Subject has no other modus operandi other than simply to live. However, it is worth noting that subject may be considered dangerous to humans if encountered, and extremely dangerous if antagonized.
Subject inhabits forested regions; from the late 19th century onward, it has primarily lived in the Northwoods of Wisconsin, although as previously noted, it may have once resided in Maine and/or Minnesota.
Subject's primary diet consists of mud turtles, water snakes, muskrats, and porcupines, although it may occasionally enjoy a white bulldog as a Sunday treat. According to one report it "[does] not disdain human flesh," suggesting that while it does not regularly target humans for dietary purposes, it will not turn its (possibly horned) nose up at such a meal, should one present itself.
However, potential meals should have ample opportunity to escape, so long as they pay attention to their surroundings — or, more accurately, to the aroma of their surroundings. Subject reportedly carries with it a scent of buzzard meat and skunk spray, the pungent combination of which may be detected from some distance away. Those in the vicinity may consider this scent an early warning system; upon detection, it is recommended that you run.
Fast.
Subject's manner of birth is somewhat unusual: It is believed to rise from the ashes of cremated lumber oxen. These oxen, having been subject during their lives to a great deal of abuse and strong language from loggers and lumberjacks, are believed to require cremation as a purification method; however, in purifying an ox after death, the way is paved for the birth of a hodag, which — large, horned, and bad-tempered — may be viewed functionally as the embodiment of all the unpleasantness built up within the ox's soul as a result of its poor treatment.
It should be noted that this aspect of subject's nature is not subject's fault. Nor is it the fault of the ox from which it sprang. The fault lies solely with the humans who perpetrated the mistreatment of the ox in the first place.
Should one laugh at or otherwise mock subject, subject will immediately become aggressive towards whomever or whatever might be doing the laughing. These unwise beings will almost certainly not survive the attack. It is not recommended that one laugh at or mock subject.
As previously noted, subject is aware of how unpleasant it is to look at. As such, it is not uncommon for subject to weep loudly for extended periods of time. Should one find oneself within the presence of subject while it is engaged in a weeping episode, one may find oneself having to lend a comforting ear to the inconsolable creature until it has cried itself out.
Depending on one's perspective, an encounter with a weeping subject may be a worse fate than an encounter with an angry subject.
Proceed at your own risk.
Containment: Subject is known to be susceptible to three containment methods. Chloroform will subdue it, after which it may be captured and contained in much the same way one might capture and contain any other wild creature; in truly desperate situations, dynamite will destroy it; and, lastly, lemons will eliminate subject instantly.
But: Should one tread carefully and refrain from antagonizing subject, it should not be necessary to employ any of these containment methods. Live and let live, and all that.
Additional notes: The most notable report of subject appeared in a column published in an October 1893 edition of the local Rhinelander newspaper Near North. In this column, one Eugene Simeon Shepard recounted what he claimed to have been an encounter with subject which ultimately ended with him and a small group of other Rhinelander locals blowing up the creature with dynamite.
Three years later, Shepard published a second piece about subject, this time claiming that he had managed to capture one live using chloroform (see: Containment). He then put subject on display, first at the 1896 Oneida County Fair and later in a shed on the grounds of his own home. A photograph dramatizing Shepard's capture of subject circulated as a popular postcard for some time; staged in 1899, it featured Shepard himself on the far right of the image, brandishing a stick, and his own child, Layton Shepard, posing as if being attacked by subject.
Shepard later admitted that both of his reports and his subsequent display were hoaxes; he had spun the newspaper columns out from stories he had originally recounted within the logging camp communities in which he had once lived. The "specimen" he had displayed in 1896 was a sculpture he had created along with woodcarver Luke Kearney, with a body made of wood covered in ox hide and decked out with cattle horns arranged along the sculpture's spine. Shepard had also rigged the sculpture with wires so that it could be puppeted, faking movement; furthermore, his sons hid out of sight, providing growls and other noises for the fabricated creature.
Despite Shepard's admission, subject has since been embraced as a sort of regional mascot. Rhinelander still prides itself on being the Home of the Hodag; in addition to lending its name to everything from the local high school's sports teams and athletic facility to the annual Hodag Country Music Festival and a Hodag Run For Your Life run/walk event.
A large fiberglass sculpture of subject resides on the grounds of the Rhinelander Chamber of Commerce, while two others — one of which blows smoke and lights up — occupy the Rhinelander Ice Arena.
A great deal of hodag merchandise is available, for those who wish to bring a little bit of hodag magic home with them.
Recommendation: Just because one example of subject proved to be a fabrication doesn't mean that all examples of subject are a fabrication.
Should you see one in the wild—
—Or, more likely, should you smell one—
—Leave it be.
Otherwise… I hope you brought some lemons with you.
Resources:
The Hodag at the Wisconsin Historical Society.
"Capturing The Hodag" photograph at the Wisconsin Historical Society.
"The Hodag" from Henry H. Tryon's Fearsome Critters (1939).
"The Hodag" from William T. Cox's Fearsome Creatures Of The Lumberwoods (1910).
"The Hodag" from Luke Sylvester Kearney's The Hodag And Other Tales Of The Logging Camps (1928).
"In Search Of The Hodag" from CURB Magazine.
"Hodag: The Legendary, Ugly, Smelly Beast of Wisconsin" at the Skeptical Inquirer.
"Hodag: The Outlandish Story Of Wisconsin's Mythical Beast" from the Wausau Daily Herald.
What's The Hodag? at the Explore Rhinelander tourism site.
***
Follow The Ghost In My Machine on Twitter @GhostMachine13 and on Facebook @TheGhostInMyMachine. And for more games, don't forget to check out Dangerous Games To Play In The Dark, available now from Chronicle Books!
[Photo via public domain/Wikimedia Commons]