Previously: Screaming Skulls.
Type: CO (Cursed Object).
Period/location of origin: Dec. 18, 1970, Matsuyama University, Ehime, Japan. Note, however, that there is some debate surrounding subject's date of origin (see: Additional notes).
Appearance: Subject, officially titled "Shojo," or "Girl," but more commonly known as "Hikaru-san's Painting" or "Hikaru-san's Picture," appears to be a large oil painting of a young woman with long, dark hair, wearing a yellow shirt or sweater, seated in a chair with her gaze directed to the right. It is not an objectively beautiful painting; it is, in fact, somewhat unsettling, dark in its color palate and murky in its execution.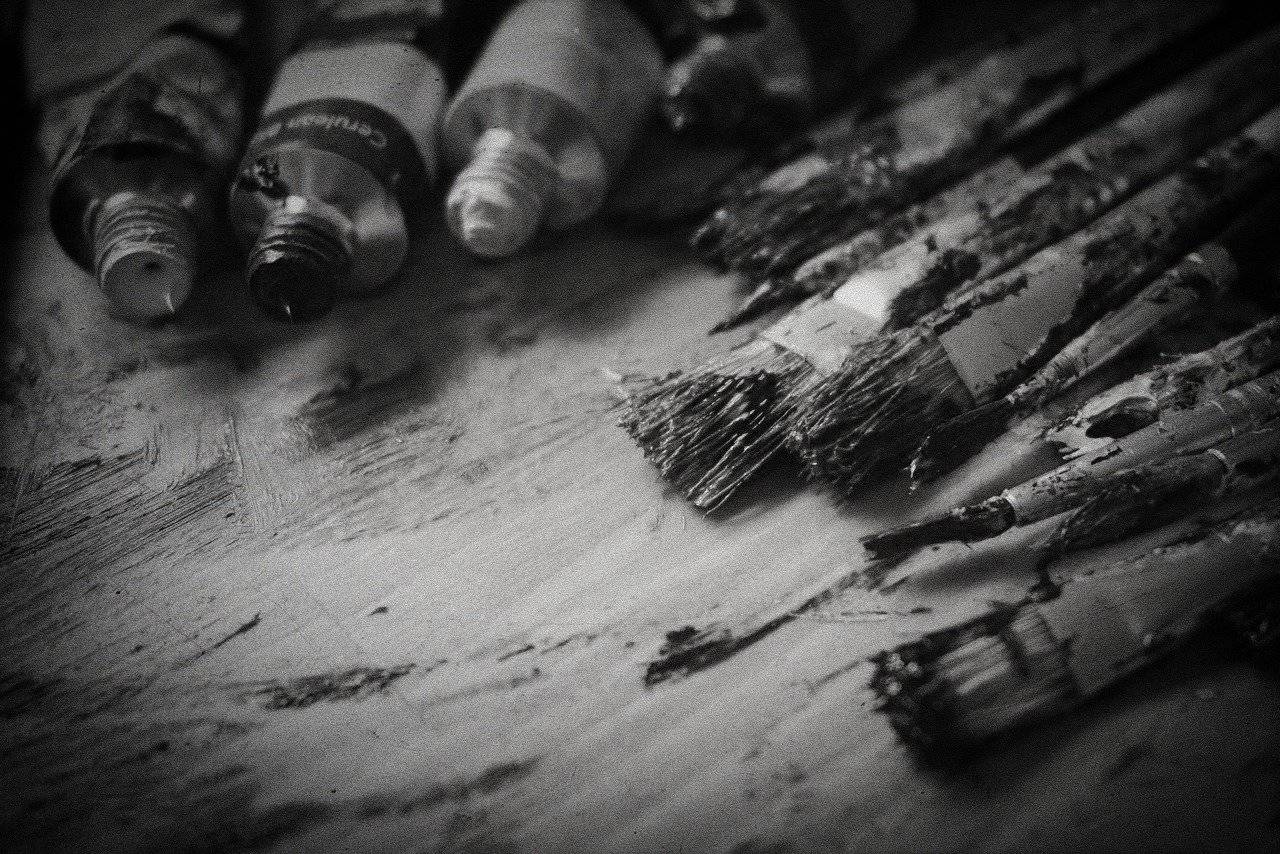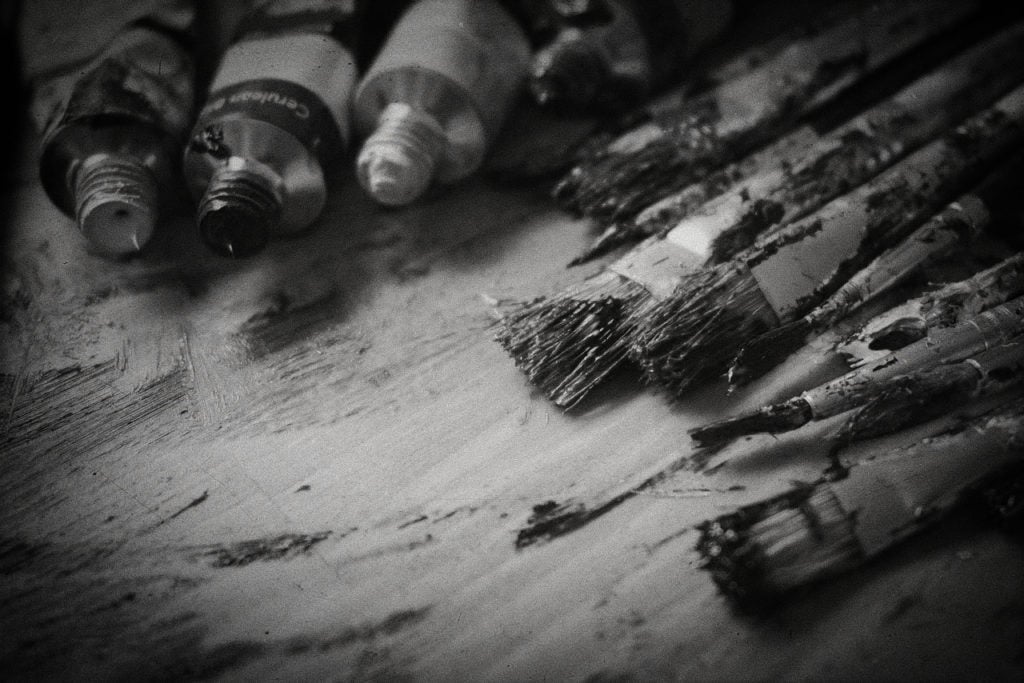 There is some debate over to whom the name "Hikaru" actually refers. According to some reports, "Hikaru" is the name of the young woman depicted in subject, with the name of the artist being Mitsuru Sato. According to others, however, the name of the young woman is unknown, with the name of the artist being Hikaru Sato. Evidence supporting the artist being Hikaru Sato is more convincing (see: Additional notes), but a determination has not been made either way.
Modus operandi: Subject is largely believed to have been imbued with a ju-on — a grudge, or curse — although precisely how and why subject came to be cursed is up for some debate.
[Like what you read? Check out Dangerous Games To Play In The Dark, available from Chronicle Books now!]
Should subject be hung in a place of prominence with high levels of foot traffic, targets may observe any or all of the following occurrences:
Subject's eyes may seem to follow you wherever you go.
Targets who scrutinize subject too closely may find themselves the victim of an accident or injury shortly thereafter. According to some reports, targets must not just view subject, but specifically point at subject with their finger for this outcome to occur.
In rare moments, the young woman depicted in subject may escape from the painting itself and wander freely around the environment in which subject is hung.
Any attempts made to destroy subject will result in failure. For instance, according to some reports, efforts to remove subject from the wall upon which it had long been hung and burn the painting to ashes did not succeed; indeed, following the attempt, subject miraculously re-appeared the next day in the same place in which it had previously hung, utterly unscathed.
The logical conclusion: Subject cannot be destroyed, only contained. (See: Containment.)
It is unknown whether subject's ultimately goal is to ensnare and harm as many targets as possible, or whether subject simply wishes to be left alone in its display space.
Both are equally likely.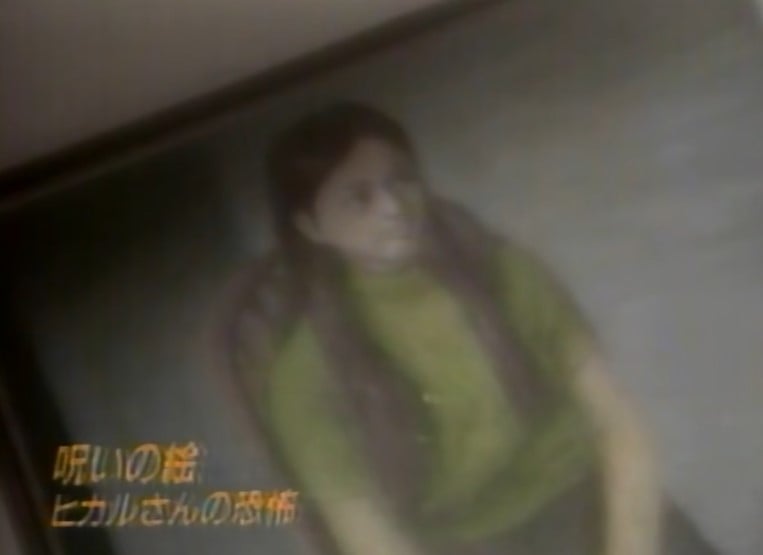 Containment: Subject's last known location is believed to be a warehouse somewhere on the campus of Matsuyama University. It is believed to have been removed to this location in or around 1989 or 1990. There have been no reports of targets falling prey to subject's machinations since this time.
Additional notes: Subject is said to have once hung inside a building formerly located on the campus of Matsuyama University. This building was known as 加藤会館 (Kato Kaikan); it seems to have been a student center or university co-op. Subject reportedly resided on a wall on a landing of one of the building's staircases throughout the 1970s and '80s.
Numerous unusual incidents were reported as having occurred around, near, or as a result of subject during the years in which it was on display — evidence, it is believed, of the curse connected to the painting. Students would speak amongst themselves of the painting's eyes seeming to following them as they walked by, or of rumors that the young woman sometimes stepped out of the painting late at night. Several students reportedly tried to destroy subject with fire, only to have subject reappear in the manner previously described (see: Modus operandi). When one of the students who had tried to destroy subject in this fashion noticed subject's reappearance, she reportedly pointed at subject, unnerved by its presence — and later injured that same arm in a vehicular collision soon after.
The circumstances under which subject was painted are not entirely known. According to some reports, the young woman depicted in subject was the romantic partner of the artist responsible for painting subject; furthermore, both are sometimes reported to have been students of Matsuyama University. Whether the model was the titular Hikaru and the artist Mitsuru Sato, or whether the artist is Hikaru and the model unnamed has not been determined; however, a painting discovered at Matsuyama University in 1997 which some believe to be subject contains writing on the back suggesting it is the latter: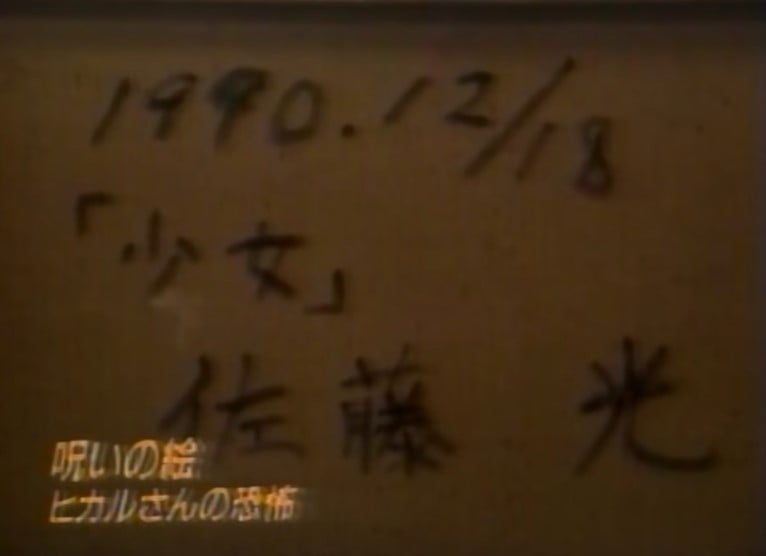 Translated into English, the writing reads as follows:
"1970.12 / 18
'Girl'
Hikaru Sato"
(Note: Although the year may appear to be 1990 to some eyes, it is generally accepted to be 1970, for the reasons laid out here.)
It is also worth noting that it is not known how subject came to be hanging at Matsuyama University, as there are reportedly no records of any students enrolled at the school under either the names Mitsuru Sato or Hikaru Sato at the time during which subject was allegedly created.
It is sometimes said that the young woman depicted in the subject was not just the artist's romantic partner and muse, but also that she suffered a terrible fate. It is said that this young woman was in the basement library of the university on the last day of term, but did not realize closing time had passed — or that campus security had also not realized she was still inside when they closed up for the summer and locked the door to the library tight. When security unlocked the library door at the start of the next term, they found scratch marks on the other side of the door — and the young woman's remains, still inside. If you listen closely in the basement, you can sometimes hear scratching sounds, or the call of a young woman's voice asking you to let her out.
Subject was reportedly painted by the young woman's partner before her final, fatal trip to the library — and after, it became imbued with her curse.
However, as some have observed, it is not only possible, but likely that these two stories — the story of the trapped student and the story of Hikaru-san's painting — were originally two separate stories which, over time, merged into one. If this is the case, it is likely that an episode of the long-running Japanese television program Kiseki Taiken Unbelievable is largely responsible for the coming together of these two stories.
Kiseki Taiken Unbelievable ran an episode featuring a segment on subject on Nov. 1, 1997. Although the segment focused primarily on the activity directly involving subject during the time it was hung in the Kato Kaikan building, it did bring in the trapped student story towards the end of the piece; the trapped student was not positioned as subject's artist's romantic partner, and the segment did not draw a direct line between the two stories, but did vaguely suggest that they might be connected in some way, or that one may have indirectly caused the other. Footage of this segment may still be found on video-sharing platforms such as YouTube.
(Note: It is sometimes reported that the episode of Kiseki Taiken Unbelievable featuring subject aired in 1996. However, this is not only incorrect, but impossible: It cannot have aired in 1996, because the television program did not begin airing until 1997.)
It has been observed that trapped student story is also what's classified as a "school ghost story" — in this case, one of the "Seven Mysteries of Matsuyama University." But following the Kiseki Taiken Unbelievable episode connecting the two stories, the lines gradually blurred, then erased. In the 2000s, when the story of Hikaru-san's painting began circulating the internet, the trapped student story was frequently pinpointed as the painting's cursed origin point.
The building in which subject formerly resided was demolished in 1989 to make way for the construction of a new building, Hachigokan (Building 8). At this time, subject is said to have been relocated to a warehouse on school property. Subject was still contained within the warehouse as of 1997, although whether or not it has moved again since then is unknown.  
Recommendation: If you find it… leave it where it is.
Some things are better off lost.
Resources:
Hikaru-san's Picture at Kowabana.
Hikaru's Painting at Mochigome's Blog. (In Japanese)
Picture Of Hikaru-san at samatsutei.hatenablog.com: 1, 2, 3, 4, 5, 6, 7, 8, 9. (In Japanese.)
Trapped Female Student at samatsutei.hatenablog.com: 1, 2, etc. (In Japanese.)
"The Most Terrifying Picture" thread on 2ch, post number 157. (In Japanese.)
Kiseki Taiken Unbelievable segment, Nov. 1, 1997: "Hikaru."(In Japanese.)
The Seven Mysteries of Matsuyama University. (In Japanese.)
Map of Matsuyama University's campus today.
***
Follow The Ghost In My Machine on Twitter @GhostMachine13 and on Facebook @TheGhostInMyMachine. And don't forget to check out Dangerous Games To Play In The Dark, available now from Chronicle Books!
[Photos via freephotocc/Pixabay, remixed by Lucia Peters; screenshot/YouTube (2).]