Previously: The Making Of "No Through Road."
They call it the Clock Man video — or, sometimes, the Nickelodeon Clock Man video.
It does have an actual name; officially, it's called "O Parádivé Sally" — a Czech phrase that translates into English as something like, "About Dressy Sally." But we didn't know that, those of us who deal in the strange and unusual — not for a long time. Heck, for a number of years, we didn't even know if the video actually existed — not for sure — let alone what it really was. All we had to go on was a memory — a story ­— told to us by a stranger on the internet who remembered watching this video as a young child decades ago. It was strange, this person said. Unsettling. Frightening, even — because, for a small child, what could be more terrifying than the thought of a man creeping out of a clock hung on your bedroom wall and kidnapping you while you're asleep in bed?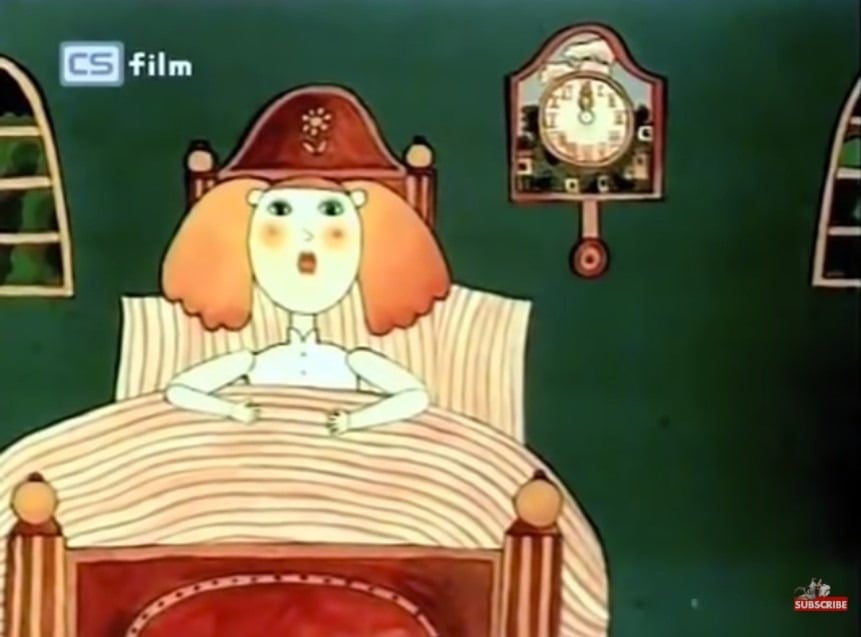 That was what this stranger told us.
That was why he called it the Clock Man video: He named it for the haunting image of a man climbing out of a clock that been stuck in his mind for all these years.
[Like what you read? Check out Dangerous Games To Play In The Dark, available from Chronicle Books now!]
He didn't know what the video was really called, either — but he wanted to know. He wanted to find it.
Because the mystery of the Clock Man video, it turns out, isn't about what the video means. The mystery of the Clock Man video is what the video was in the first place. The mystery was about where it come from, and where it went when it vanished from view for years and years. And the story surrounding the Clock Man video — not the story of the Clock Man video, the story surrounding it — is about how it was found again. It's about how it came back into our cultural consciousness, thanks to some enterprising internet sleuths.
And it all starts with something simple:
A single glove.
A Story About A Glove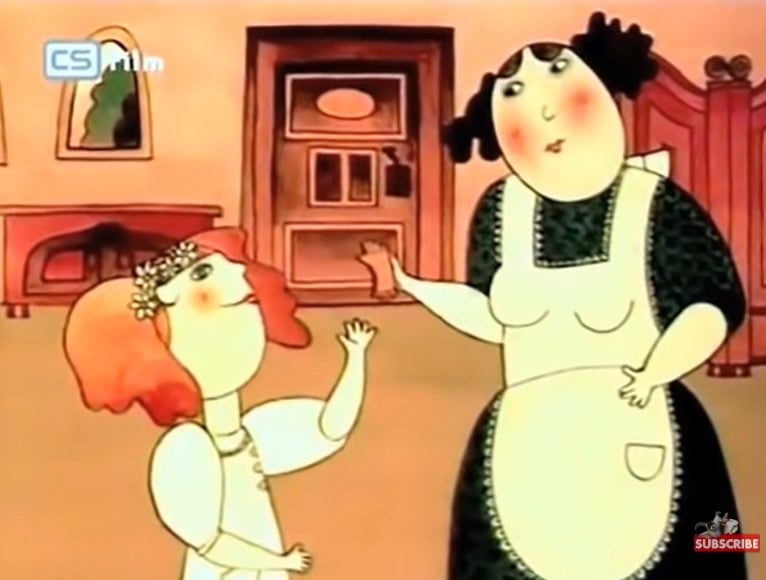 Okay, yes, I just said that the mystery of the Clock Man video isn't about its meaning — but we're going to talk about it for a moment anyway. It's helpful when considering the rest of the mystery — and besides, aren't you curious?
Here is what the Clock Man video really is:
In 1976, Art And Animation Studio, also known simply as AAA Studio, produced "O Parádivé Sally" in conjunction with Czech film production company Krátký Film (now Krátký Film Praha a.s.). Directed by Dagmar Doubková, the seven-minute animated short centers around a young girl — the titular Sally — and how she deals with losing one of her new gloves. Told through images and voiceover narration, the story is a relatively straightforward fairy tale about lying, truthfulness, and the importance of doing the right thing over the easy thing.
It goes something like this:
Sally is gifted a pair of new gloves. Her mother instructs her to take special care of them — but Sally manages to lose one anyway while she's playing outside. After searching all over her village for the missing glove, she's left with no choice but to check the house of the town wizard (because this is a fairy tale, and what would a fairy tale be without a wizard?). The wizard hasn't seen her glove, but he does conjure up another one for her — under one condition: When she returns home, she must tell her mother the whole story of what happened to her gloves. Otherwise, he cautions, she'll have to return to his house to "do some work" for him.
Sally agrees, but fails to follow through: Upon returning home, she keeps her mouth shut instead of telling the truth.
That night, after Sally goes to bed, the clock on her wall begins behaving oddly. First, it speeds up; then it stops entirely. And then it turns into a window — and who should crawl out of it and into Sally's bedroom but the wizard, who proceeds to snatch Sally up from her bed and take her back to his house. There, he asks her why she broke her word, to which she replies that it was just so hard to tell the truth — and besides, since her mother didn't notice anything wrong, she figured it would be okay to just brush everything under the rug. The wizard responds by telling her that sometimes, you have to do the hard things, even if it would be easier not to — so to teach her a lesson, he sets her a task: She must crochet stars for him out of magic yarn. If she fails to finish tonight, she'll have to keep coming back until the task is done.
She does finish in one night, and the wizard is pleased with her work. He also, however, tells her that the stars will fade unless she always tells the truth from here on out. And he reveals something else to her, too: Her mother once crocheted stars for the wizard, too.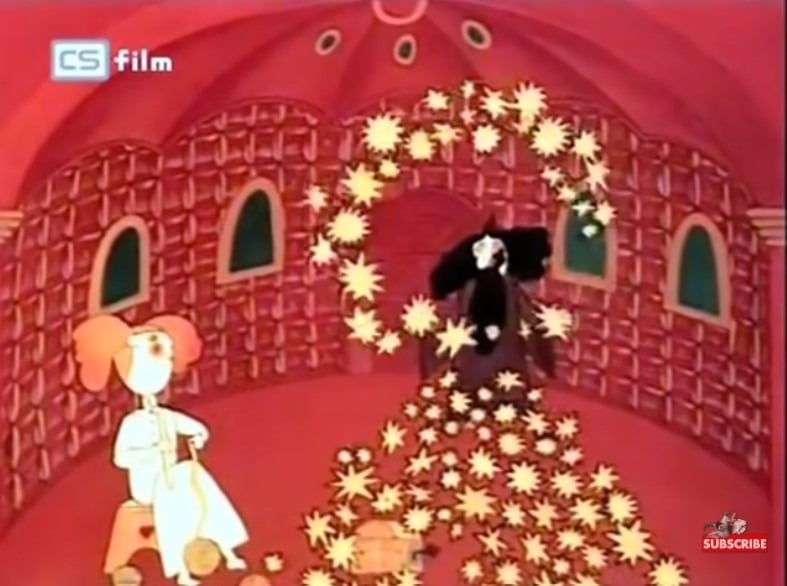 Sally then returns home, with a second pair of gloves in hand to give to her mother. And they live happily ever after.
It's actually quite a pleasant story, dreamy rather than nightmarish and with a happy ending instead of a horrific one. But "O Parádivé Sally" isn't just fairy tale-like in its animated form; it actually is a fairy tale — that is, it began life as a piece of prose. And in this form, it has quite a different tone and a dramatically different ending.
Written by Jan Vladislav, the pen name of Czech poet and translator Ladislav Bambásek, "O Parádivé Sally" first appeared in the 1971 volume O kočičím králi a devět dalších hrůzostrašných pohádek, or About The Cat King And Nine Other Terrifying Tales. It was heavily based on the English folktale "The Old Man at the White House," which was collected in Yorkshire by folklorist S. O. Addy and published in the journal Folklore in 1897 — so much so that I'd actually argue that "O Parádivé Sally" is a straight-up translation of "The Old Man at the White House," rather than merely based off of it. The beats are the same in both versions, from the setup to the ending. And they both, notably, end at the point that's merely the middle of the story in the animated version: Sally is spirited away by the old man as a punishment for transgression — and then she's never seen again.
The end.
Interestingly, though, the message of the story changes from the English version to the Czech one: Whereas the wizard in Vlasdislav's story instructs Sally to be honest with her mother about what happened to her missing glove and how she acquired the replacement, the old man in the story collected by S. O. Addy instructs her to keep it a secret. What's more, in English, it's Sally's mother who ultimately dooms her child to a terrible, yet unknown fate, rather than Sally herself: She assures Sally that she'll bar the door and keep the old man out, then forces her to tell her what actually happened to her gloves. But that night, the old man — who is clearly magical, even if he's not identified as such — gains entry into Sally's house anyway, announcing his presence as he approaches in the way that so many folktale monsters do: "Sally, I'm up one step," "Sally, I'm up two steps," and so on — all the way until he reaches her bedroom door. The last thing he says is, "Sally, I have hold of thee!!!"
And… that's it. That's the story.
There is, perhaps, a reason that S. O. Addy wrote as a footnote in the English version, "It is hoped that this tale will not be reprinted in any book intended for children."
But the 1976 short film packaged the Czech version of the tale much more whimsically, adding in the crocheted stars and the happy ending, and making it a somewhat more child-friendly story in the process. Crucially, the animated short added, too, the image of the wizard climbing out of Sally's clock. It's this version of "O Parádivé Sally" that eventually made its way to the United States, courtesy of a then-growing form of home entertainment: Television.
And here, the plot thickens — and the mystery truly begins.
The Search For The Clock Man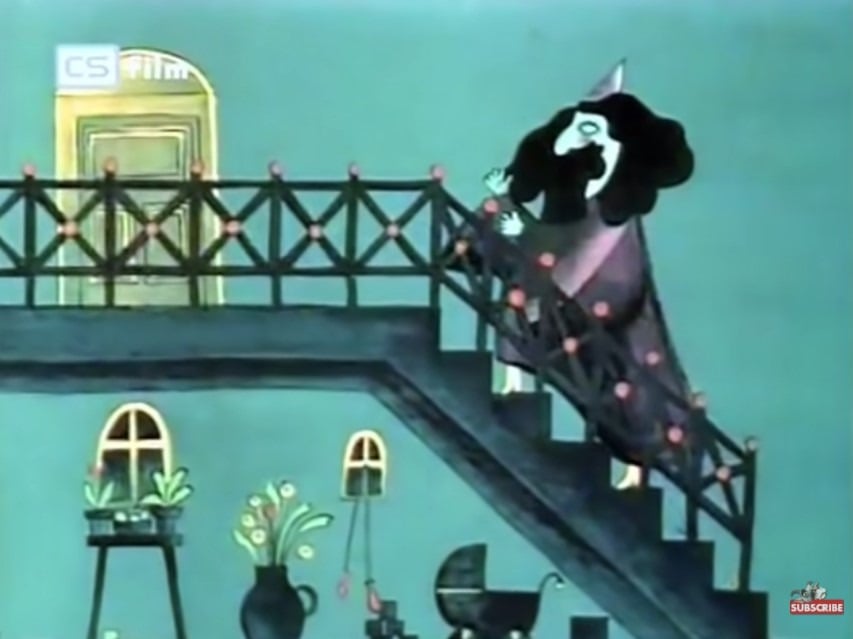 Sometime in the early-to-mid-1980s — maybe around 1984, although maybe not; memory is often fallible — a child is home sick. He has the flu, so he's camped out on the couch; there's not much he has the strength or attention span for besides watching television. At some point, he tunes the television to Nickelodeon, where he finds the program known as Pinwheel to be on. It's a fun program, full of humans and puppets and the occasional animated short. It's kind of like Sesame Street, in some ways; the two programs, though unrelated, share similar formats and sensibilities.
But he's not prepared for what he sees on this episode of Pinwheel. Not today — not while he's sick and feverish.
It's animated. That much he remembers, although he can't be sure if it's hand-drawn animation or stop-motion. There's a child — a boy, maybe? But maybe not — who is in bed, asleep. Suddenly, though, something… happens to the clock on the wall. A dark mass appears within it. The mass becomes a face, with a big, bushy, black beard. The face becomes an entire person — a man, who, horrors upon horrors is climbing out of the clock.
He looms over the child in the bed.
He picks up the child in the bed.
He vanishes with the child, leaving the bed empty.
It is, to the child sick at home, the most frightening thing he has ever seen.
And it will stay with him for years — for decades — until, one day, he has an idea:
Maybe he's not the only one who saw this terrifying video all those years ago.
Maybe others have, too.
And maybe, if they work together, they can find it.
This is the story that a user of the Flood Forums — the general interest boards at Bungie.net — going by the name Commander Santa told in a post published on Jan. 12, 2012. The description he gave of the short is as follows:
"This short animation was terrifying as a child. The scene is still burned into my mind (28 years later). It's of a young boy sleeping in his bed. Above his bed is a ticking clock. All the lights in the room are off and it is very dark. Suddenly the clock begins to slow down it's ticking and eventually it stops…on midnight. When the clock stops a Greenish/Bluish man climbs out of the clock. The boy wakes up just in time to see this man dressed in black grab him out of bed and kidnap him by carrying him through a window. The 'Clock Man' takes the boy on some kind of terrifying adventure and brings him back to his bed before sunrise."
He also included a rough illustration he had drawn, showing, to the best of his ability, what he remembered about the cartoon.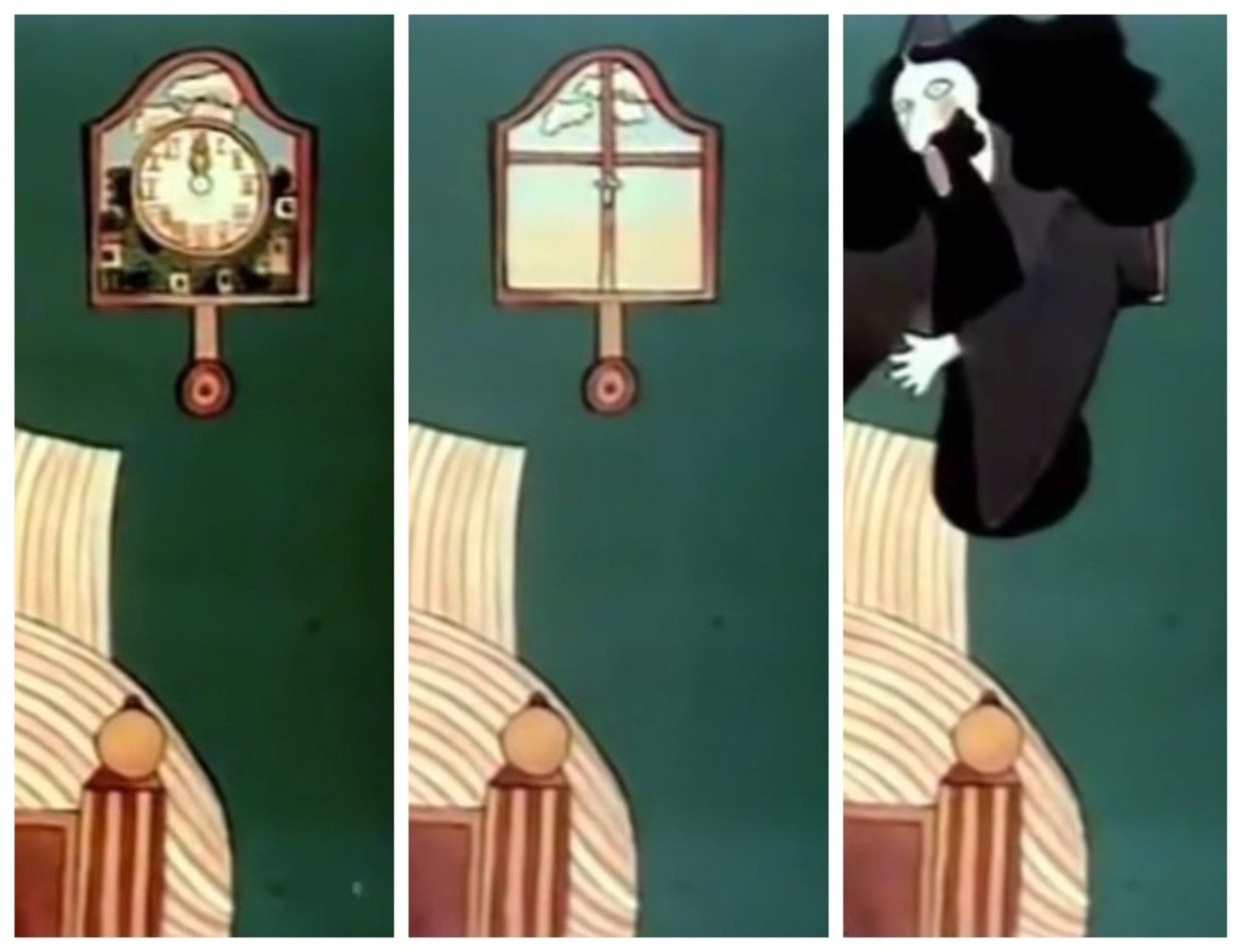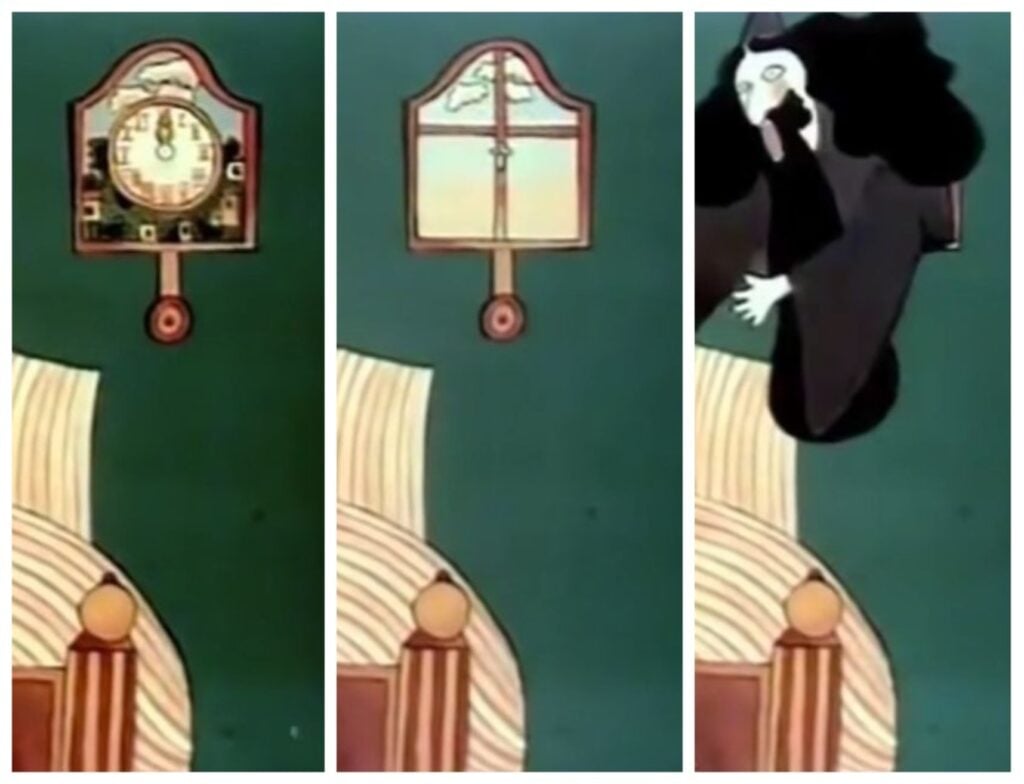 Commander Santa wrote that he had already searched a number of sources — Wikipedia, TV Junk, Retro Junk, YouTube, and others — thoroughly for any information about this short, but came up empty. He wanted to know if anyone else recalled the short, and if so, whether they knew where he could get a hold of it. "It's been a very long time since I've seen that short animation and it has haunted me for almost 30 years," he wrote. "I can't begin to tell you how happy I'd be to see it one more time before I pass away."
The story struck a chord with many; indeed, in the first 24 hours of Commander Santa's post going live, a whopping 800 comments amassed within the thread as the hunt began. But it was tough going: Numerous shorts were suggested and quickly ruled out; communications with former Pinwheel personnel and Nickelodeon and Viacom executives yielded little of use; and although a few other descriptions of similar-sounding shorts emerged that had promise, conclusive evidence that the "Clock Man" or "Clockman" short even existed — let alone of what it even was — was not forthcoming.
This lack of evidence soon began to wear down the searchers, so much so that some began to claim that the whole thing was made up or a hoax. To be fair, Commander Santa's story does have a lot in common with the "lost episode" genre of creepypasta; some, in fact, found the story to line up so neatly with elements of Kris Straub's classic "Candle Cove" creepypasta that they, as Commander Santa later wrote, "deemed [him]" nothing more than "a troll and a liar."
This might have stopped the search in its tracks, had the Lost Media Wiki not taken up the cause.
Founded in November of 2012 by an Australian named Daniel — known more commonly by his online moniker, dycaite — the Lost Media Wiki is dedicated to the search for and preservation of pieces of media considered to be rare, obscure, and/or difficult to find or access. Dycaite and the Lost Media Wiki came to the Clock Man mystery late; it was only in 2016 that they began looking into it, but when they did, it renewed the search on a fairly large scale, as well.
Dycaite documented the Wiki's role in the hunt pretty thoroughly, so I'll send you over there for the breakdown of their leads, most of which ended up being dead ends. What's really worth noting, though, is this: Dycaite did manage to get in touch with a writer from Pinwheel, Michael Karp, who subsequently put him in touch with Tippi Fortune, who had acted as the show's executive producer. Fortune, in turn, gave dycaite the name of the company from which Pinwheel had acquired most of its shorts: Coe Films.
Although no one knew it at the time, this chain of contacts and the name of Coe Films resulted in all of the pieces falling into place. And then, in December of 2017, the mystery was finally solved: While looking into another potential lead — a short called "The Wizard" — Lost Media Wiki forums user nitratenerd stumbled upon a WorldCat listing for a different short called "Sally." The description sounded about right — and when nitratenerd located a video matching the listing on YouTube… well, it, too, sounded about right.
Getting in touch with Commander Santa was, at that point, somewhat difficult; he was no longer active on Bungie.net, so dycaite took to another forum he knew Commander Santa to frequent. And there, once Commander Santa had been alerted to the Lost Media Wiki's discovery and watched the video himself, the original poster confirmed it: "Sally" was, in fact, the "Clock Man" short he had seen on Pinwheel all those years ago. He had gotten some of the details wrong in his original recollection, of course — but that's to be expected; again, memory is often fallible.
The idea of the thing was correct, though:
A child. A clock. A window. A wizard.
And a kidnapping.
From Czechoslovakia To Pinwheel: A Brief History Of "O Parádivé Sally"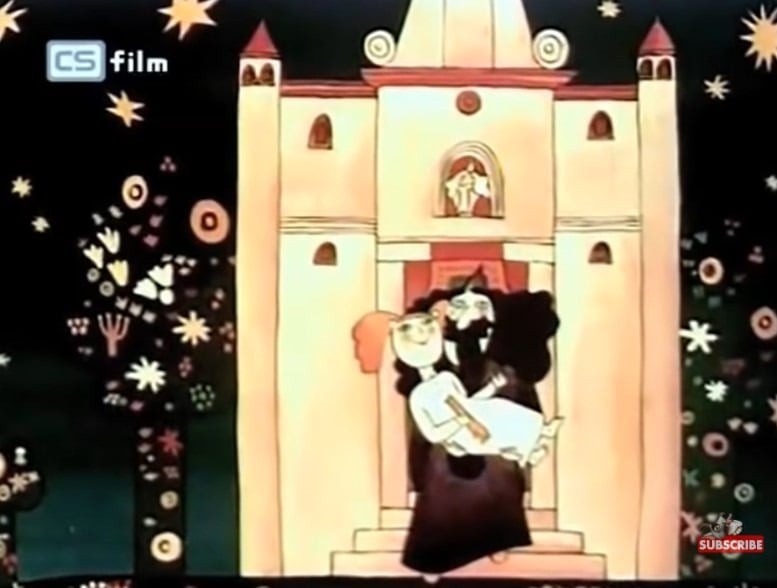 There are a few blank spots left in "O Parádivé Sally's" English language history, but thanks to Commander Santa, dycaite, the Lost Media Wiki, and all the other media detectives who worked on the mystery, we know enough now to be able to sketch out a rough timeline of how "O Parádivé Sally" got from what was, at the time of its creation, Czechoslovakia to the United States; from there, how it got to Pinwheel; and from there, how it was finally rediscovered online. It goes a little something like this:
As previously noted, "O Parádivé Sally" was made by Art And Animation Studio in 1976. In 1978, the short was acquired by the Learning Corporation of America (LCA), a division of Columbia Pictures originally founded in 1967 geared towards producing educational films. LCA dubbed the film over in English and gave it a shortened title: "Sally." Here, it gets a little hazy, but it's believed that at some point, this version of the short — the LCA dub titled "Sally" — made its way into the hand of Coe Film Associates, a distributer in the United States founded by veteran film executive Bernice Coe in 1972 which specialized in bringing short films and documentaries to television. And Coe Film Associates, Tippi Fortune told dycaite and the Lost Media Wiki, was one of the major suppliers of shorts to Pinwheel.
When I say Pinwheel here, by the way, I'm talking about Pinwheel, the television show — not to be confused with Pinwheel, the television channel. The name, you see, wasn't just the title of the program; it was also, eventually, the name of the channel on which it aired. both the title of the program and, eventually, the channel on which it aired.
On Dec. 1, 1977, the brand-new local cable system in Columbus, Ohio, QUBE, launched among its community channels (that is, channels available to subscribers at no additional cost) the channel C-3. Aimed specifically at preschool-age children, C-3's primary offering was Pinwheel, a program featuring a mix of live-action segments starring both human and puppet characters and a collection of animated shorts typically imported from Europe or Canada. C-3 soon grew to be so closely associated with Pinwheel that it quickly became the convention to refer to the channel itself as Pinwheel, as well.
Due to its growing success, Pinwheel expanded in 1979, relaunching as an entire network full of programming for kids: Nickelodeon. After the relaunch, Pinwheel the show would continue to air on the network until 1990, despite the fact that all of the episodes — some 260 of them — were produced only between 1977 and 1984. This is common for daytime children's television programs; they're often aired daily, in blocks, and continuously, which also means that they're rerun literally all the time. Pinwheel the show, in fact, was broadcast in three-to-five-hour blocks daily after Pinwheel the channel became Nickelodeon in 1979. Think of it as a precursor to Nick Jr.
This, then, is how it found its way in front of Commander Santa's feverish eyes: Home sick from school in the early-to-mid-'80s, the child naturally gravitated towards the recently-minted kid's channel, Nickelodeon, for entertainment. At the time, Nickelodeon was in the habit of airing one of its original hits, Pinwheel, for hours at a time during the daytime. The hope was to entertain children who were still too young for school while their older counterparts were in the classroom — but although Commander Santa was school-age, he, too, was included in daytime Nickelodeon's audience that day. And on that particular day, one specific episode of Pinwheel aired: The one including "Sally."
Commander Santa just happened to be in the right place at the right time to catch it.
Why did the episode become lost? Largely because Pinwheel has never seen a major home release. Some episodes can be found on DVD these days, but they're all compiled by fans — meaning we're at the mercy of whatever footage those who love the show have managed to locate and repackage over the years.
This is why one mystery about "Sally" still remains: We don't precisely when it aired, because no one has managed to locate the precise episode — or its airdate — on which the short appeared.
We do, however, know why the short itself wasn't found until 2017: That's when AAA Studio — which still exists! — uploaded it to their YouTube channel. Nitratenerd located this version in December that year — that is, not quite three months after its upload date of Sept. 22, 2017. This, in turn, means that when Commander Santa originally posted about the short in 2012, there was a very good reason he hadn't been able to find it on YouTube: It wouldn't be available on the platform for another five years.
AAA Studio subsequently uploaded the English dub in January of 2018, so if you, too, recall watching "Sally" on Pinwheel sometime in the early- or mid-'80s, you can now relive those memories with the exact version you would have watched back then. And if you feel like broadening your horizons a bit, you can even watch it in Portuguese now, too: AAA Studio uploaded that version in January of 2020.
And so, the Nickelodeon Clock Man mystery draws to a close. And, like the story of "O Parádivé Sally" itself, there's a moral to be learned here:
Don't underestimate the power of storytelling.
Stories stick with us, you see.
At their best, they keep us searching.
Because, after all, isn't always the destination that matters.
It's how you get there that counts.
***
Follow The Ghost In My Machine on Twitter @GhostMachine13 and on Facebook @TheGhostInMyMachine. And don't forget to check out Dangerous Games To Play In The Dark, available now from Chronicle Books!
[Photos via AAA Studio/YouTube (4)]