Previously: Lightless City.
Note: Please don't copy/paste or republish the text of this post on other websites without permission.
As you may have guessed from the title, the Kurokami-sama ritual game is Japanese in origin. Saya Yomino of Saya In Underworld is, as far as I know, the first to have translated it and brought it to the English language internet; her post about it went up towards the end of 2018. However, according to a handful of Japanese sources I managed to dig up, the story is a few years older than that; it was apparently in vogue in the Kanto region — particularly Tokyo — in early 2014. Like many contemporary Japanese urban legends, this one began circulating bulletin boards first before making its way into the broader cultural landscape — although it's unclear whether it originated on those boards, or whether it simply proliferated on them.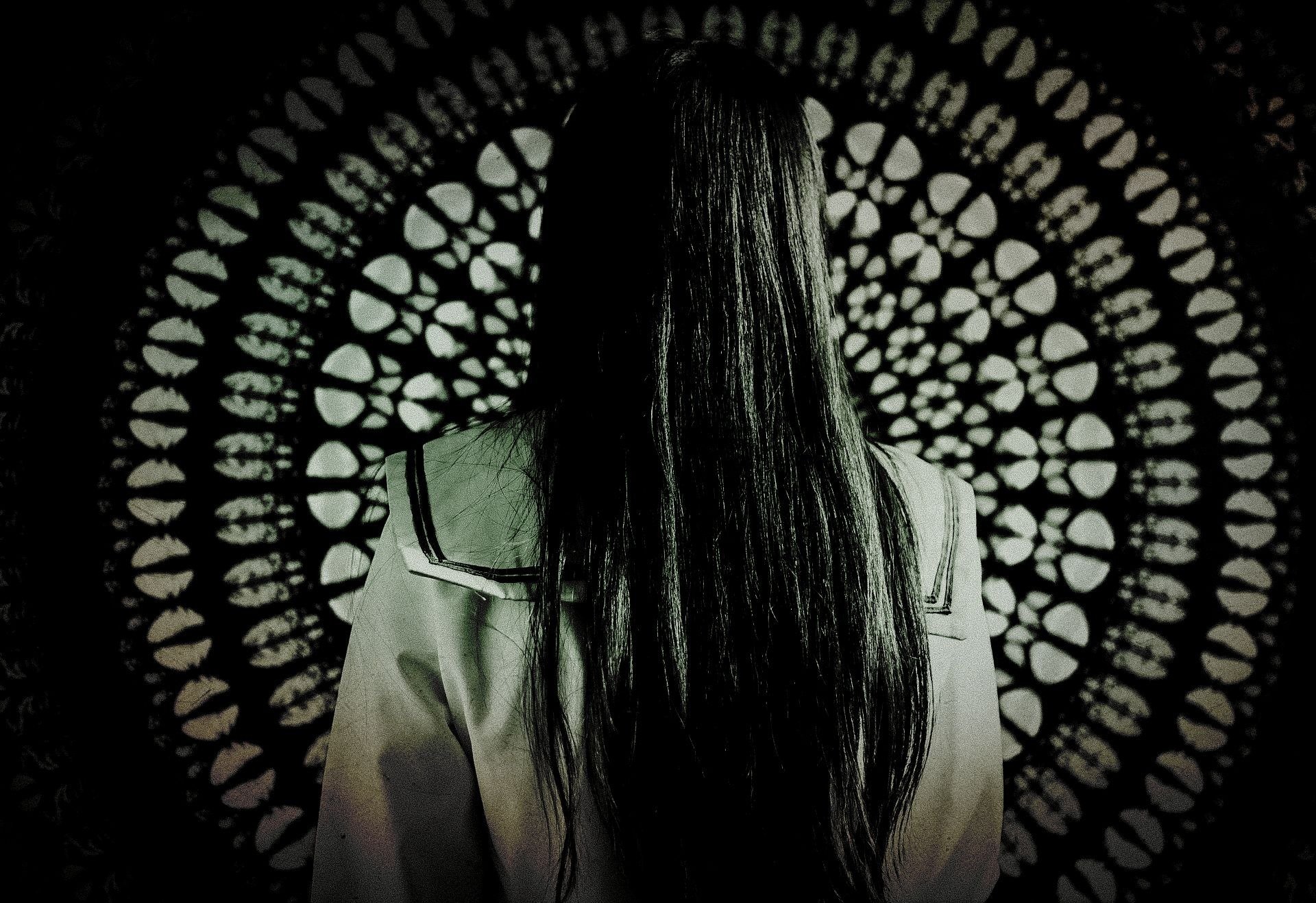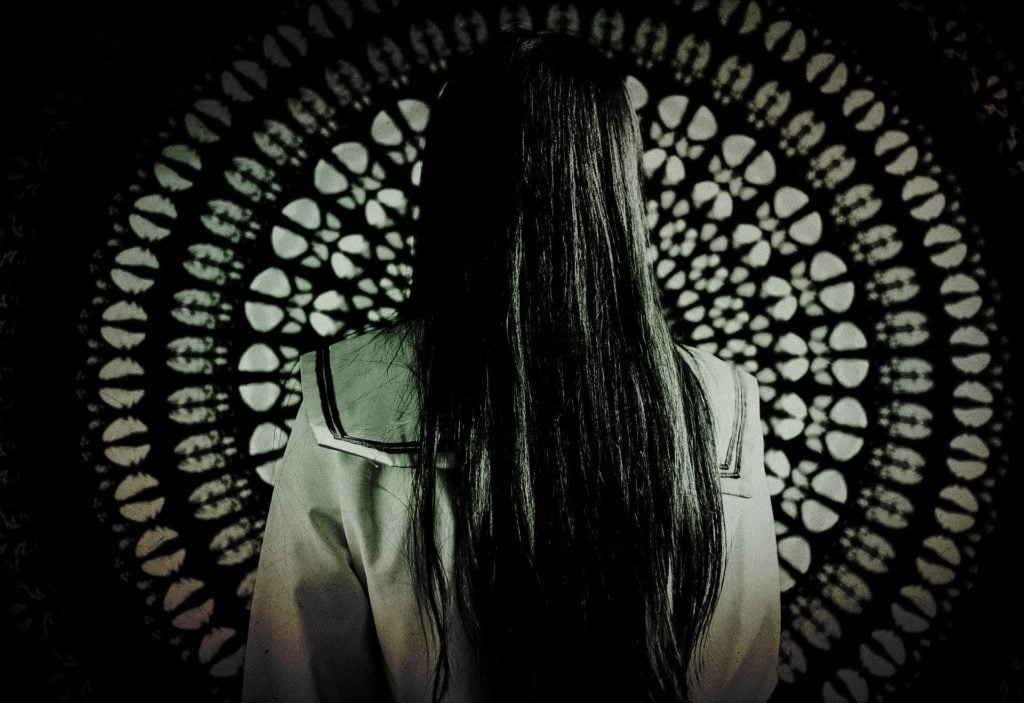 Like Lightless City and the Stranger Ritual, Kurokami-sama is a game of revenge. (Don't attempt it unless you're okay causing harm to other people — which, honestly, isn't something anyone should be okay with). It's both the name of the ritual and the entity you appeal to in it. Although it's not entirely clear who or what Kurokami-sama herself is, the characters with which the name is written — 黒髪, meaning "black hair" plus the honorific 様, or "-sama" — implies she has black hair. She might be an onryo — a vengeful female spirit dressed in white and characterized by the long mane of black hair covering her face — but she's also been described simply as a being covered entirely in black hair, so the jury's still out here.
[Like what you read? Check out Dangerous Games To Play In The Dark, available from Chronicle Books now!]
As is common for urban legends, there's a moral to be learned from this one. A story accompanying the rules of the ritual states that a girl who was being bullied performed the ritual and soon saw those who bullied her begin to suffer, while her own fortunes improved dramatically. However, after sharing how to perform the ritual with someone else who was also being bullied, there was an immediately reversal: She began to suffer, while those who bullied her thrived. Eventually, she disappeared entirely; no one knows where she is, although it's implied that she may not be around anymore at all (or at least, not on this plane of existence). In teaching someone else the Kurokami-sama ritual, the bullied became the bully — and thus, she became the target of Kurokami-sama's ire.
Note, by the way, that Kurokami-sama, should not be confused with Kuraokami. Written with the kanji 闇, meaning "darkness," and 龗, meaning "water dragon," Kuraokami is an entirely different being — a deity who arose from the body or blood of the fire god Kagutsuchi after his father, Izanagi, killed him as retribution for Kagutsuchi having killed his own mother, Izanami, in childbirth. Depicted as a dragon, Kuraokami is the Shinto god of rain and snow, rather than a force for revenge — despite the nature of his own birth.
Kurokami-sama is quite simple to perform.
However, that doesn't necessarily mean that it's safe.
As always, play at your own risk.
Players:
Requirements:
A clock or other time-keeping device.
A single strand of your own hair.
A reachable location high off the ground and with access to the outside.
A name — the name of someone who has wronged or mistreated you.
Instructions:
The Preparation
Wait until night has fallen. Keep an eye on the time.
Near or at midnight, go to your chosen location. Position yourself as high up as you possibly can, making sure you have access to the open air,
Carefully pull a strand of hair from your own head.
The Invocation:
Hold the strand of hair in your hand. Speak the name of the person who has mistreated you.
Continuing to hold the strand of hair, repeat aloud the actions this person has taken against you — what they have done directly to you, what they have done which indirectly harmed you, what they have said to you yourself or about you to others. List everything; forget nothing.
When you have finished airing your grievances — and still holding the strand of hair — speak the following words: "Let my grudge be cleared."
From your lofty perch, face the night and say, "Kurosami-sama, I beseech you to avenge my wrongs."
Open your hand and release the strand of hair. Let it fly off into the darkness.
Return home. Sleep, if you can.
The Results:
Pay attention in the coming days, weeks, months, and years. Keep an eye on your enemies — on the people whose names you offered forth. Watch them closely, but do so from a distance. Do not interact with them if you can help it, though if you must, do not behave any way other than neutrally. If you see them beginning to suffer — to lose their families, their friends, their health, their wealth — then you will know that Kurokami-sama has heard you.
Pay attention, too, to your own fortunes. If you see yourself beginning to thrive — to gain love, health, wealth, power — then you will know that Kurokami-sama has deemed you worthy.
Be careful, though. These are gifts; don't abuse them.
Kurokami-sama's justice is swift, and can be reversed at any time.
Additional Notes:
The only requirement for the location is that it high off the ground and with access to the outdoors. The top of a tall building will work just as well as a mountain ridge. Similarly, you yourself do not need to be outside while you perform the ritual; you must simply have access to the open air. For example, if you choose for your location the top of a tall building, standing on the highest floor before an open window will work just as well as standing on the rooftop itself will.
You may perform this ritual using more than one name at a time. Should you choose to invoke the names of multiple people who have wronged you, list them each in turn, along with all of your grievances against them, one by one during Steps 1 and 2 of The Invocation.
Kurokami-sama is believed to be most active between the hours of midnight and two o'clock in the morning. It is unknown whether it is necessary to perform the ritual precisely between those hours; however, it is suggested that you do so, as you are more likely to reach Kurokami-sama during that time. Think of it as if you were calling her on the phone: If she's asleep, she probably won't answer.
A Word Of Warning:
Do NOT attempt to perform this ritual if you yourself have wronged other people. Nor should you allow yourself to wrong others after the ritual's completion. Your fortunes will only improve with the decline of those of your enemies if you are pure of heart. If you are not, the ritual may backfire: Your own fortunes will worsen, while those of your enemies will improve.
Kurokami-sama may decide that it isn't your enemies who deserve to suffer a terrible fate.
She may decide that it's you yourself who deserve it.
***
Please don't plagiarize this post. Linking to it or sharing the URL only is fine (and encouraged!), as is writing your own unique version of the game with sources cited and linked to, but copying/pasting, republishing, or otherwise reproducing the text of this piece in its entirety or near-entirety on other websites without permission isn't.
***
Follow The Ghost In My Machine on Twitter @GhostMachine13 and on Facebook @TheGhostInMyMachine. And don't forget to check out Dangerous Games To Play In The Dark, available now from Chronicle Books!
[Photo via zhishusang/Pixabay, remixed by Lucia Peters]