Previously: The Island Of The Dolls.
(CW: Suicide.)
The castle sits on Shawnee Road just a mile or so from the Kansas River, with views that are, as they say, to die for: If you stand at the building's highest point, you can apparently see all the way to downtown Kansas City, Missouri — an impressive feat, given that Sauer Castle is located in the Kansas City located in Kansas, not the one in the state next door.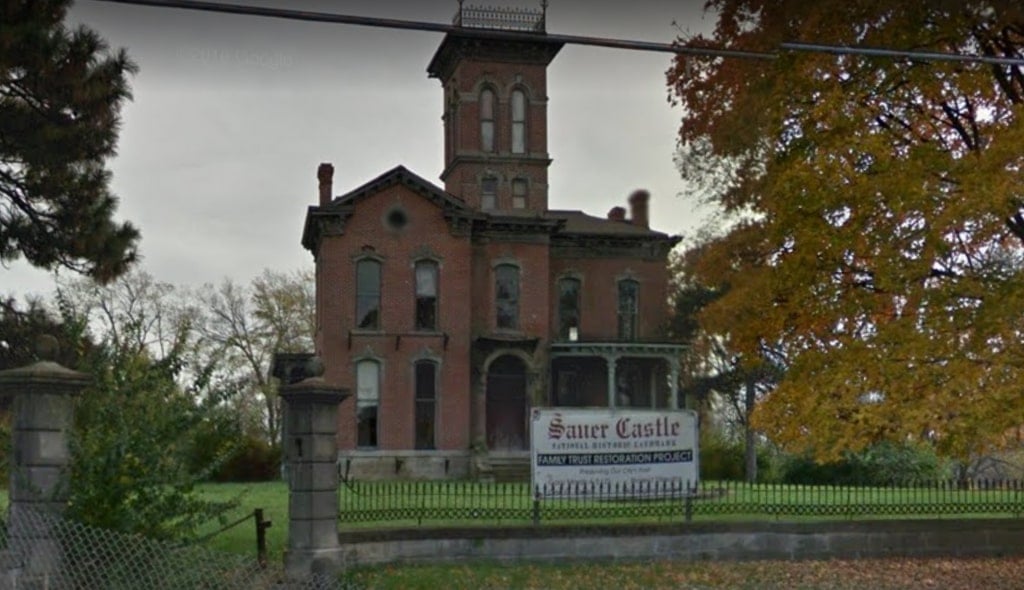 [Like what you read? Check out Dangerous Games To Play In The Dark, available from Chronicle Books now!]
It's not really a castle, of course; it's a house made of brick and stone and wood. But oh, how grand it once was! Two and a half stories tall with a four-story tower rising up out of the center, it holds 12 rooms in all, a veritable fortress of luxury. The front door on the north-facing façade is made of solid walnut and set into an arched stone framed etched with detailed carvings; two stone lions flank the door, perched next to the small flight of stone stairs leading up to it. The windows are double-hung and set into arched, carved lintels; there are balconies and an L-shaped wooden veranda; and there's the tower, of course, which was once adorned with metal cresting along its ridge. It's considered to be one of the finest examples of Italianate Villa-style architecture in the state of Kansas.
Or at least, it would be if it weren't falling to pieces.
And if a certain… reputation hadn't begun to cling to the place because of its advanced state of decay. Many, you see, believe Sauer Castle to be haunted.
(Fun fact: It is also, as of January 2022, on the market. That's right: If you want to buy Sauer Castle, you can actually do so — assuming you've got the funds to do so, of course. The asking price is currently $10 million. Here's the listing, for the curious.)
The records are incomplete, but we do have a rough idea of the history of the place. Anton Sauer, a German immigrant who had been born in Essen in 1826, lived for some time in Australia, and later come to the United States via New York, is often referred to as a "businessman"; he had a hand in lots of pies throughout his lifetime, including a tannery, a grocery, and freight interests, although never seems to have distinguished himself in any particular field. He had married his first wife, Francesca, at the age of 18 in Austria, with their family eventually expanding to include five children: Gustav, Anton Jr., Julius, Emil, and Johanna.
After Francesca's death — believed to have occurred sometime in the 1860s — Sauer relocated his family from New York to Kansas City, due at least in part to his desire to seek a better climate for his own health: Whether or not he knew it at the time, he had tuberculosis and his days were numbered.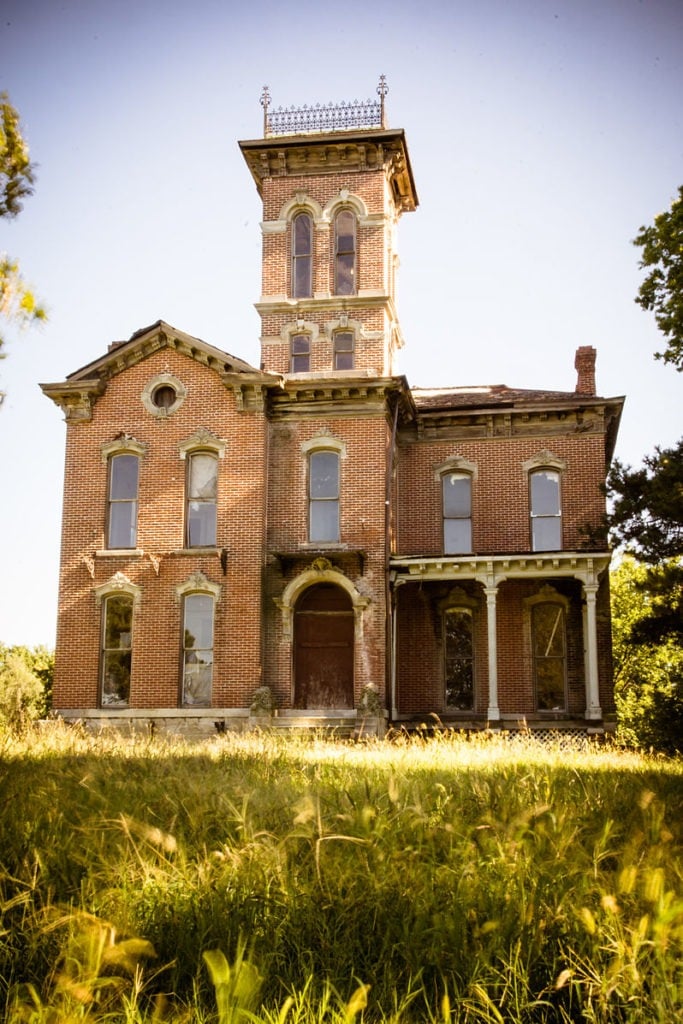 Sauer and his family are believed to have arrived in Kansas City by 1867; then, in 1869, he married Maria "Mary" Einhellig Messerschmidt, who, like himself, was both a German immigrant and a widow. Mary had two children of her own — daughters, Mary and Anna — and in the years following their wedding, the couple would have five more girls: Eve, Josephine, Antoinette, Clara, and Helen.
A large home would be required to house such an expansive family, so Sauer began planning: He would build a grand house, for all the children he and his new wife already had, as well as those they would have in the future. With the help of Mary's own brother-in-law, Sauer located a 63-acre tract of land on which to build around 1871 — and construction began. The architect is believed to have been Asa Beebe Cross, the first professional architect to work out of Kansas City. Workmen and supplies were brought in from St. Louis, while the marble used for the many fireplace mantels came from Italy, Vermont, and Kentucky. The grounds were developed, adding a greenhouse, wine cellar, milkhouse, smokehouse, carriage house, stable, and vineyard. The price tag for the house, which is estimated to have been completed in November of 1872, is thought to have been around $20,000 at the time, with much more being spent on the grounds.
Alas, though, Sauer lived in the house for fewer than seven years before his death: In August of 1879, he died of advanced tuberculosis in the second-floor master bedroom. The rest of the Sauer family continued to live there long after his death; indeed, the house stayed in the family until the 1950s. It's changed hands several times since then, and the 63 acres of land have gradually been sold off so that only about 10 acres remain. Since 1988, it's been owned by Carl Lopp, a descendent off the Sauers, who lives in New York — and although Lopp insists that he plans to rehabilitate the property, it has instead grown more and more derelict with each passing year.
No one lives there.
No one has lived there for decades.
So, it's perhaps unsurprising that it would develop a reputation for being haunted.
It's said that strange lights sometimes appear in the tower, for example; they might also drift around the land surrounding the house. Voices — laughing voices, crying voices, raised voices shouting and yellow — are said to sound suddenly from the house, despite its vacant state. Doors have been known to open and close all by themselves. The people who owned the house briefly in 1987 — Cindy Jones, her husband, and her father-in-law — reportedly heard unexplained noises coming from the attic, witnessed fireplace covers shaking on their own, and experienced strange "coincidences" that seemed too on-the-nose to be… well, coincidences. An apparition or two is even said to manifest from time to time: One, a woman, might be seen on the widow's walk at the top of the tower; the other, a young boy, might appear anywhere in the house, presumably in his favorite places to play.
But that's not all. Other stories tell of treasure buried somewhere on the property — or of bodies buried somewhere on the property — or of strange, mysterious tunnels running underneath the property.
So: What might have caused this alleged activity? Well… that's where the story starts to unravel somewhat. In all likelihood, the tales take their cues from a few things that did actually occur; to be fair, rather a lot of members of the Sauer family suffered untimely deaths. But the alleged hauntings take these true stories to the extreme, making it a prime example of how easily fact can turn to fiction.
Many of the Sauers did actually live long, eventful lives: Records are incomplete — an 1889 fire in the sexton's cottage at Union Cemetery, where the family's plot is, destroyed a great deal of the paper trail — but Eva, Josephine, and Anna all lived into their 80s or 90s and presumably died of old age. Clara, meanwhile, died at the age of 50, and although I haven't been able to find the cause of death, she had suffered an injury of the spine as a child and was in ill health throughout her life — in other words, an early death is perhaps unexpected. I was also unable to discover what happened to Johanna, Gustav, Antoinette, the younger Mary, or Anton Jr.
However, several members of the Sauer family did meet ill-fated ends: Julius died in 1897, a victim of a high-speed train crash, at the age of 47; it's estimated that Emil died in 1875, possibly of tuberculosis, in his early 20s; and Helen didn't survive past infancy, dying in 1879 at the age of 14 months. The tragedies continued through successive generation, as well; Eva's son, John Harrison Perkins, had three children total with his wife Cecelia — but one of them, also named Cecelia, did not survive. She drowned in a swimming pool on the grounds of Sauer Castle at the age of two.
Perhaps — similarly to the Lemp family of St. Louis, Missouri — the untimely deaths of the Sauer family have at least in part given rise to the legends clinging to the home in which they once lived. Indeed, the documented deaths that occurred are often assumed to be causes for the strange lights and noises that allegedly might be observed around the property.
But sometimes, these stories are attributed to events that may not have actually occurred. It's commonly said, for example, that at least one person died by suicide in the castle; however, a number of different stories about exactly who it was and why they did exist, all of which change depending on who's doing the telling. In one version, the wife of a Civil War soldier receives word that her husband is coming home on a specific ship; however, when she goes to meet the ship at port, he is nowhere to be found. She assumes he has been killed, returns home, and completes suicide in her grief — only for it to have been a misunderstanding: He simply missed the boat. In another version, a husband — it's not clear who — commits a murder-suicide in the house. In another, it's John Seaman Perkins — Eva Sauer's husband — who completes suicide rather than allowing himself to die slowly due to his ailing health. And in yet another, it's Maria Einhellig, the second Mrs. Anton Sauer, who completes suicide some decades after her husband's death; according to this story, she's said to have lived in the house until she dies by this means in 1921. It's meant to be her spirit that paces the widow's walk at night.
But the ease with which several of these stories are debunked greatly diminishes the possibility that a death by suicide could account for some of the alleged activity. The Civil War story, for example, certainly isn't true; the Civil War ended in 1865, six years before construction on the house began and two years before the Sauers even arrived in Kansas City. Furthermore, the story about Maria Einhellig Sauer is also contradicted by historical records: She died in 1919, not 1921, and at the home of her daughter Eva Sauer Perkins, located at 3704 Pennsylvania Ave. in Kansas City, Mo. The cause of death is listed on her death certificate as "apoplexy, nephritis, fractured hip from fall at home" — at the age of 79, she took a nasty fall and died from complications that arose from it. There are no records of a murder-suicide occurring on the property, either, so that story is likely straight-up fiction.
The one possibility that remains is John Seaman Perkins. I was unable to ascertain his cause of death; his obituary states only that he died in 1930 at the age of 73 and lists the family members by whom he is survived. But in the Heritage Magazine article from 1976, J. R. Russell does note, "On May 20, 1930, [John Seaman] Perkins, 73, took a handgun and shot himself. He was reportedly very despondent over his declining health." The location of death, however, is listed in the records as his home at 943 Shawnee Road, which would have been a few doors down from Sauer Castle at that point — but maybe it's close enough to count. Either way, though, I've been unable to verify his cause of death by other means, so in my opinion, this story may still not be totally true.
As for the other legends? The buried treasure? The underground tunnels? These, too, are unlikely to be true; indeed, the house itself is built on solid rock, which would make such constructions virtually impossible. The Heritage Magazine article postulates that the tunnel myth might actually be the result of some confusion surrounding a different area legend — that of the Quindaro Slave Tunnel, an alleged tunnel said to have been part of Kansas City's Underground Railroad network — so that might be where the origins of that particular story lie. It's anyone's guess where the buried treasure thing came from.
But about the bodies allegedly buried on the property: Again, there are no murder-suicides recorded as having occurred at Sauer Castle's address, so the more colorful tales are completely fictional. What did happen, though, is this: Helen Sauer — the youngest of Anton and Maria Sauer's children — died in July of 1879… and at the time of her death, the family also knew that Sauer himself didn't have much time left, either. Accordingly, they temporarily buried her remains in the garden; then, when Sauer died from tuberculosis a month later, both father and daughter were interred in the family plot.
In its current state, the castle does nothing to dispel the many myths and legends that still surround it even now. Easily visible from Shawnee Road, it is huge and dark, surrounded by chain link fencing and with nearly all of its windows smashed in and gaping. Sauer Castle was nominated for the National Register of Historical Places in 1976 and added to the registry itself in 1977; however, it has suffered consistent vandalism issues, and despite Carl Lopp's purchase of the property in 1988, renovation has been slow to come.
The lack of building activity has long frustrated residents, growing in intensity as time continues to pass by. Said attorney Loren Taylor to the Kansas City Star in 2015, "I'm on the Landmarks Commission, and we're all furious about it"; recently implemented laws prevent the local government from intervening in the property's decay. "Every year, [the condition of the house] is getting worse," said Kansas City resident Jason Simmons to WDAF-TV Kansas City in November of 2017. "This summer, the past storms we've had with the big winds, it's really taking a toll on the house, the roof, on the tower. I don't know if it's going to last a harsh winter."
According to Becky Ray of the website Paranormal Activity Investigators, Lopp published a lengthy post on the Sauer Castle Facebook page in 2015 refuting much of the public narrative. "The Castle is not about to fall down or be destroyed," he wrote. "She is structurally solid and sound and the work that needs to be done is merely cosmetic. There is nothing endangered about the Castle and the people that want to palaver about that have no idea what they're talking about. … I have my own plans and timetables and rest assured the Castle will continue to be maintained and improved over time."
And about the ghost stories? Lopp had this to say, according to Ray: "There are no ghosts and no evil spirits inhabiting the Castle or the property. … There are no buried treasures, no secret tunnels, no bodies buried there and nobody hanging in the tower."
Perhaps all that's there now are the ghosts of memory.
But then again, memory is one thing that no amount of renovation can remove.
Recommended resources:
National Register Of Historic Places Nomination Form: Sauer Castle.
Kansas Historical Society – Documents pertaining to Sauer Castle.
Sauer's Castle at HauntedPlaces.com.
Sauer Castle at Paranormal Activity Investigators.
The Fate And Future Of Wyandotte County's Sauer Castle.
As Sauer Castle Decays, KCK Neighbors Fret Over Landmark.
KCK Residents Frustrated With Condition Of Deteriorating 150-Year-Old Sauer Castle.
***
Follow The Ghost In My Machine on Twitter @GhostMachine13 and on Facebook @TheGhostInMyMachine. And don't forget to check out Dangerous Games To Play In The Dark, available now from Chronicle Books!
[Photos via screenshot/Google Maps; FatherStorm/Wikimedia Commons.]