Previously: Cicada 3301.
Whenever we think of horrifying, unsolved instances of children disappearing, the one that probably comes to mind first for most of us is the story of the Beaumont children. But although the Beaumont children are one of the most famous cases, they're far from the only one — and some of them are even more perplexing. Like, for example, the case of the five missing Sodder children.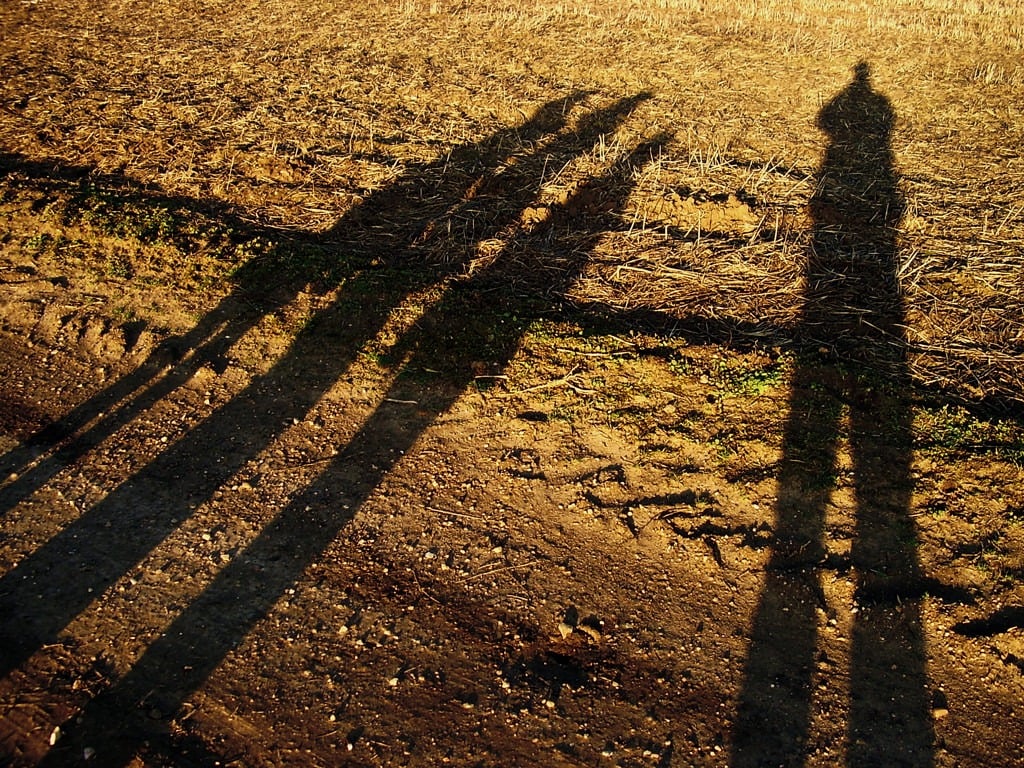 On Christmas Eve, 1945, the home of the Sodder family of Fayetteville, West Virginia, burned to the ground. This in and of itself is tragic enough; the family of 12 to whom the house belonged — parents Jennie and George Sodder and 10 children — lost literally all of their earthly belongings. But their belongings aren't all that they lost: After that night, five of the Sodder children were never seen again.
Their remains were never recovered. We have no idea what happened to them.
[Like what you read? Check out Dangerous Games To Play In The Dark, available from Chronicle Books now!]
In 1895, Giorgio Soddu was born in Tula, Sardinia, a province of Italy. When he was just 13 years old, he made his way to the United States, taking the name George Sodder as he did so — a practice not uncommon for immigrants. An older brother had accompanied George, only to turn right back around and head back to Italy as soon as they arrived in America, leaving the teenager on his own. But George was an enterprising young man; he found work as a supply carrier for railroad workers, then as a driver, and finally as the proprietor of his own trucking company. He eventually met and married another Italian immigrant, Jennie Cipriani, having 10 children between the years of 1923 and 1943 — an average of approximately one child every two years. They settled in Fayetteville, West Virginia, a firmly middle class family.
In 1945, their youngest child, Sylvia, was two years old, while their oldest, John, was 23. Nine of them were home at the time of the Christmas Eve fire: Marion, 17; George Jr., 16; Maurice, 14; Martha, 12; Louis, 9; little Jennie, 8; Betty, 5; and Sylvia and John. The 10th Sodder child, Joe, was away in the Army, although as Defrosting Cold Cases points out, virtually no information is available about Joe.
Here's what we know about the sequence of events on the evening of Dec. 24, 1945:
At 10pm, eight of the Sodder family members were awake: Mother Jennie and children Marion, Martha, Jennie, Betty, Maurice, Louis, and Sylvia. George Sr., John, and George Jr. had already gone to bed. Marion, Martha, little Jennie, Betty, Louis, and Maurice stayed up later than their usual bedtime; Marion had brought home gifts for little Jennie, Betty, and Martha acquired from the store at which she worked, and when they requested a later bedtime from their mother, she agreed as long as the two boys were still up. Jennie then took Sylvia upstairs and went to bed.
At 12:30 a.m., Jennie awoke to the telephone ringing and went downstairs to answer it. The telephone call was puzzling; Jennie later reported that the voice on the other end, which she did not recognize, belonged to a woman asking for a person of whom Jennie had never heard. It sounded like there was a party going on in the background. Jennie assumed it was a wrong number and told the woman on the other end so; the woman gave a "weird laugh," after which Jennie hung up. As she headed back to bed, she discovered that the lights were still on and the curtains were still open — unusual, given that the children usually took care of these chores on nights they stayed up later than their parents. The front door was also unlocked. Marion had fallen asleep on the sofa, but the absence of the other children prompted Jennie to believe they had retired to their bedrooms in the attic. Jennie turned out the lights, closed the curtains, locked the door, and went back to bed.
At 1 a.m., she heard something heavy hit the roof, then roll off.
At 2 a.m., she awoke to the smell of smoke.
She, her husband, John, Marion, George Jr., and Sylvia all made it out of the house. When George Sr. realized the five other children had not, and that the staircase to their bedrooms was a mass of unsurpassable flames, he attempted to find other ways to get back inside and rescue them — only for all them to be foiled: The ladder that usually lay propped against the house was missing, and his coal trucks, which he thought he might be able to back up against a window to reach the upper levels of the house, wouldn't start, although they had operated without issue earlier in the day. Attempts to call the fire department also met with failure; Marion had run to a neighbor's house to use the phone but couldn't get an operator response, and neither could another neighbor who had noticed the flames and attempted to make a call from a nearby tavern.
By the time the fire department could be roused, it was 8 a.m., and the fire had long since burned the house the ground. But Maurice, Louis, Betty, little Jennie, and Martha were still nowhere to be found.
Initially the children were believed to have perished in the blaze, and death certificates were issued just before New Year's. The fire was ruled to have been the result of faulty wiring. Still, though: Questions remained, and eventually, George and Jennie Sodder began to suspect that their children were alive.
But where had they gone?
Numerous mysterious circumstances surround the fire itself: The missing ladder and inoperable coal trucks; the unreachability of the fire department; a stranger who had approached the home in the fall asking about work, commenting about the house's fuse boxes, "This is going to cause a fire someday"; a man attempting to sell the Sodders life insurance threatening, when George Sr. declined, "Your goddamn house is going up in smoke, and your children are going to be destroyed"; a man parked along the road in the days leading up to Christmas, watching the children come home from school. The life insurance salesman had also criticized George Sr. for speaking his mind about Mussolini, whom George did not like: "You are going to be paid for the dirty remarks you have been making about Mussolini," the insurance salesman reportedly said.
And of course, there's the lack of remains for the seemingly dead children. A cremation at optimum temperature — 1400 to 1800 degrees — takes about two to two and a half hours, but the family's home was destroyed in approximately 45 minutes. If the fire burned so briefly, how would it have been possible for the children's bodies to have been cremated so completely as to leave nothing behind?
George and Jennie Sodder became convinced that something had happened to their children that night — but not death. They searched ceaselessly for years; additionally, reports came rolling in of alleged sightings of the children, sometimes accompanied by several adults, sometimes not. George and Jennie created flyers and, in 1952, erected a billboard, offering first $5,000, then $10,000 as a reward for information leading their children's recovery. They followed up every lead, but each one arrived at a dead end.
Perhaps oddest of all, though, is this: In 1968, Jennie received a piece of mail. It was a photograph featuring a man, seemingly in his mid 20s, with dark, curly hair and dark brown eyes. Written on the back was a note: "Louis Sodder. I love brother Frankie. Ilil Boys. A90132 or 35." There was no return address, but the postmark was from Kentucky, so the Sodders sent a private investigator to the state to see what he could dig up. The detective not only failed to turn up any leads, but also failed to turn up again at all: The Sodders never heard from him again. Although there are certain similarities between the young man in the photograph, it has never been determined conclusively to be Louis; additionally, the note written on the back has never been decoded.
George Sodder passed away a year after they received the photograph, and Jennie followed 20 years later in 1989. The billboard came down after Jennie's death, and a new house stands on the site of the former Sodder house now. For what it's worth, most experts believe the five missing children died in the fire — but not everyone is convinced. The youngest Sodder child, Sylvia, is an old woman now, but according to Smithsonian Magazine, she does not believe her siblings met their fate in the blaze that destroyed their home. Theories still abound as to why the fire happened, what really caused it, and where the missing children went; however, as the Charleston Gazette-Mail notes, Sylvia and her family also know that without new evidence, they will never truly know what happened to the missing children.
But with the house and their parents both gone, one thing is certain: The Sodder children will never be able to come home again.
Recommended reading:
The Children Who Went Up in Smoke.
Mystery of Missing Children Haunts W.Va. Town.
Defrosting Cold Cases: The Sodder Children.
What Really Happened to Children?
The Strange Disappearance of the Beaumont Children.
***
Follow The Ghost In My Machine on Twitter @GhostMachine13 and on Facebook @TheGhostInMyMachine. And don't forget to check out Dangerous Games To Play In The Dark, available now from Chronicle Books!
[Photos via Andrew Stawarz, Roadgeek Adam/Flickr; Wikimedia Commons]